Your December 2021 horoscope is here
Your monthly horoscope is here—time to get ready for a relationship overhaul...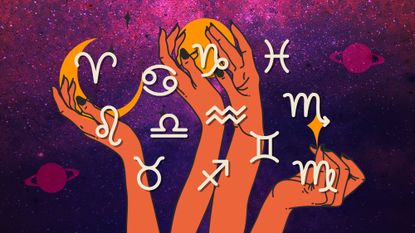 (Image credit: Future)
Welcome to your monthly horoscope for December! Can you believe we made it to the end of 2021? While December is the last calendar month, astrologically speaking it's actually the beginning of 2022. This is mainly because a lot of the planetary cycles that will affect us in 2022 will begin during the month ahead.
As the month begins, there's a sense of anticipation with the arrival of the December 3rd New Moon Solar Eclipse. This powerful lunar event is bound to bring a new beginning, but also the ending of a situation that began around May of 2021. Besides the Sun, Mercury, Mars, and asteroid Vesta will also visit the fiery and happy-go-lucky sign of Sagittarius. As one of the most optimistic and festive signs, the Archer is bound to infuse us with a sense of hope for the future. And indeed, we have a lot to look forward to when it comes to growth, romance, and abundance as Jupiter enters dreamy Pisces on December 28.
---
---
However, before we can fully experience the gifts Jupiter in Pisces brings, the Universe will be throwing some curveballs our way. Neptune, the master of illusion, will be active this month, which is set to cloud our judgment at times. For this reason, December is not a month to make any major changes or power moves.
Venus, the planet of pleasure, love, and money will start its retrograde on December 19 as the Moon becomes Full in Gemini (December 18) and the Winter Solstice arrives (December 21). From now until the end of January, relationships of all kinds will experience an overhaul. Chiron, the centaur of healing, will also be pretty active around this time, so prepare to revisit some old relationship material that was previously swept under the rug.
While entering a new year under a Venus retrograde might be intense and bring some drama to that New Year's kiss, know that the retrogrades of Venus are blessings in disguise. Have trust and don't shy away from putting in the work and the goddess of love shall reward you in the end!
December 2021 horoscope: what does the monthly horoscope have in store for you?
Aries
Sagittarius is your pal, so you're bound to feel in your element during most of the month, dear Aries. The energy will be focused on your sector of learning and far-away horizons, making the first half of the month an amazing time to travel or sign up for an interesting class or course. Things do get intense as Venus retrogrades in your career sector. Suddenly, what others think of you becomes ultra-important. At a deeper level, it's an opportunity for you to rethink if your current profession still speaks to you and how that relates to the role you want to play in society.
Taurus
November was full of surprises—and in December, you're beginning a new phase! The Universe will be sending you messages, so don't hesitate to dive into astrology and Tarot to decode them. As Venus, your planetary ruler, goes retrograde, you're about to get a big lesson on how you assert yourself at work and in your closest relationships. December 11 and 25 are days to watch when it comes to using your power in healthy instead of manipulative ways. If you're single and looking, an instant attraction could lead to a profound and karmic relationship. Just make sure you're attracted to this person for the right reasons, Taurus.
Gemini
For you, Gemini, the focus for the month ahead will be on connection as the planets in the sky activate the sectors of your chart that deal with relationships. If you're looking for a fresh start, the powerful December 3 Solar Eclipse can grant you exactly that. This month's Full Moon is all about you! Since it's happening in your sign on December 18, your desire to be and feel seen will deepen. Finding a balance between autonomy and dependence is what this energy is really about, so don't hesitate to put yourself first, while still respecting other people's boundaries.
Cancer
Having Venus and asteroid Juno in your seventh house of partnerships has been bringing you attention and the desire to commit. But as Venus retrogrades, all sorts of doubts are invading your mind—whether single or already committed. Since this is a long-term transit, don't be too fast to approach the subject, dear Crab. Instead of acting, sit, observe, and take note of the themes that surface for you now. As hard as this transit can feel, it's a golden opportunity to deal with the deeper romantic issues for once and for all so you can move into a better relationship space in the year ahead.
Leo
Good news for you—after November's intensity, you're in for some fun! In December, the cosmos illuminates the areas of your chart that relate to fun and friendship, so take advantage of this energy by attending dinner parties and events that seem fun to you. Once Venus starts retrograding in your sixth house of daily routine, it's time to start making considerable life changes so you begin getting out of life what you truly need. What truly nurtures you and satisfies you? The next six weeks are key when it comes to answering that vital question, Leo!
Virgo
It's a big month for you, Virgo. This month's powerful lunations are highlighting important themes in your life. The ending of a home project or situation could suddenly arrive under the December 3 Solar Eclipse. Two weeks later, the Gemini Full Moon could throw you into the limelight for a job well-done or a career project coming to completion. You've worked hard enough, so go ahead and bask in the glory—because let's face it, your ego could use a little attention right now. If you are offered a new job or position around this time, try buying yourself some time before deciding.
Libra
December is a mixed bag of energies for you, Libra. While the beginning of the month could be chill and easy, the second part of December comes with a few difficulties but also with the opportunity to transform and heal. As Chiron gets activated in your sector of relationships, old issues from the past resurface as an opportunity to overcome them. Around the same time, Venus' retrograding in your home sector starting December 19 brings a six-week period that will ask you to revise (or redefine) your living situation so you can find the emotional and spiritual support that you need. You got this!
Scorpio
After a month of change, December's energy has you focused on the more tangible side of life. Sagittarius rules your second house of money, bringing a new beginning in your connection with the material world. You've been transforming the way you express yourself and exchange information for many years now; and as Venus retrogrades in your communication sector, you're up for another overhaul. Whether written, thought, or spoken, your words have power, Scorpio—so for the next six weeks, you're about to really understand how your reality is truly a manifestation of your inner dialogue.
Sagittarius
Your time to shine has arrived, dear Archer! With the Sun illuminating your sign, you're heading into your future with a sense of rebirth! The December 3 Solar Eclipse is your golden opportunity to start anew, so don't miss out on the chance to set intentions for the year ahead. On December 13, active Mars enters your sign, heralding a six-month period primed for asserting yourself. Venus' retrograde does happen in your financial sector, however, so for the next six weeks, avoid buying any big-ticket items or spending money frivolously.
Capricorn
December has a very introspective tone for you. During the first half, you will make the best out of this month's energy by resting and restoring your energy. As the Sun enters your sign on December 21, you will be more active. But because Venus starts its retrograde in your sign two days before, you will also feel the need to dive deeply into your motives and desires. From now until the end of January, the cosmos will push you to rethink the way you present yourself and interact with the outside world. Dive in and start unraveling that new version of yourself, Capricorn!
Aquarius
It's been quite the year, Aquarius—so you will be glad to know that December comes with less tension and obstacles. As Venus retrogrades in your sector of subconscious mind, you might begin having serious questions about your future. Dig deep—but avoid making any major moves this month, as it's not yet time for them. The best news of the month is Jupiter preparing to leave your sign on December 28, which could coincide with an unexpected gift that could put a smile on your beautiful face to welcome the new year. Enjoy!
Pisces
For you, Pisces, the month begins on a busy note as the Sun illuminates your career sector. Things do get intense as the December 3 Solar Eclipse rises in the sky, so try keeping a light schedule this week. The retrograde of Venus occurs in your eleventh house of friendships, so get ready for a six-week period of rethinking some of your bonds and connections. Two days before the end of the year, Jupiter enters your sign, bringing you the best year yet to make your dreams come true. What will you manifest for yourself in the year ahead, Pisces?
Athena Antares is a traveling writer, astrologer, and mystic who believes in adding a touch of magic to everyday life. She has written horoscopes for numerous lifestyle publications and has dived deeply into astrological magic and manifestation spell work. In her spare time, Athena enjoys exploring new places, spending time in nature, and reading charts for her worldly clientele.