When is the next full moon? The July Buck Moon means business
We know you've asked, 'When is the next full moon?' Wonder no more: our calendar and astrologer-backed tips are here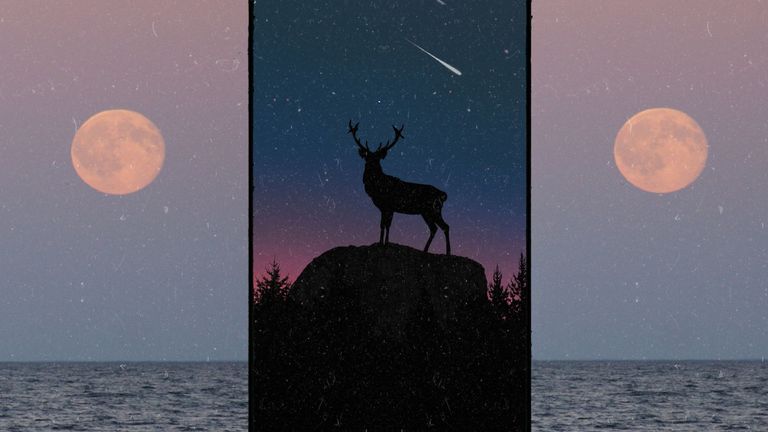 (Image credit: Future)
When is the next full moon? If you want to keep your 2022 planners up-to-date—great gifts astrology fans love, by the way—you've come to the right place.
Not only do we have the lunar schedule down pat, but with the help of cosmic professionals, we provide insight into specific celestial event. After all, every transit evokes a different energy.
Some of the best astrology events in 2022 are courtesy of la bella luna, so let's dive in and learn more, shall we? (And don't forget to check out these A+ full moon memes for a good laugh!)
When is the next full moon?
This July, we'll be experiencing the Buck Moon, which will take place in Capricorn.
"Capricorn can be a more challenging energy to be in," admits numerologist and astrologer Kaitlyn Kaerhart. (opens in new tab) "It's really grounded and earthy, but it's also ruled by Saturn, so it's about being practical."
This somewhat stern atmosphere is going to force you to make sure all of your ducks are in a row, regardless of what you're focusing on in your life at the moment. If there's something you've been avoiding, now's the time to get it done. Procrastination be damned!
"The Capricorn energy just wants you to get serious about life," Kaehart says. "Wherever you're feeling friction, that's where your work is."
And even better news? Those tough moments that come our way during this time might seem like a breakdown, but they are actually a breakthrough, according to Kaehart, so persevere and you'll be on the right path.
She also notes to reflect back on your December 21, 2021 new moon in Capricorn, as it could be telling of what you're going to wrap up in your life now.
"Think about what projects you started then, what plans you set in motion that are now starting to take shape," she says. "Go back and look through your emails, look through your photos and see if there's some theme that's coming up now that started back then."
What is the full moon schedule for 2022?
January 17, 2022: the Wolf Moon
February 16, 2022: the Snow Moon
March 18, 2022: the Worm Moon
April 16, 2022: the Pink Moon
May 16, 2022: the Flower Moon
June 14, 2022: the Strawberry Moon
July 13, 2022: the Buck Moon
August 11, 2022: the Sturgeon Moon
September 10, 2022: the Harvest Moon
October 9, 2022: the Blood Moon
November 8, 2022: the Frost Moon
December 7, 2022: the Cold Moon
The meaning behind a full moon
In astrological terms, a full moon is seen as a culmination, a climax. People often mistake the full moon for a time to manifest, whereas that practice is more appropriate during a new moon. (Our new moon calendar 2022 will help you with any questions you might have.)
Each month, as the moon enters different phases, the energy will shift. Don't fear a full moon, though—it's not necessarily frightening, but a time to push away from areas in your life that are no longer serving you.
How will the full moon affect me?
"It's really important to know what part of your chart is being activated by the moon cycles and it's really easy to locate transits," Kaerhart says.
Luckily for astro newbies, she's provided a brief explainer below to show us how each phase will personally resonate with us.
Full moon rituals
Astrologer Renée Watt (opens in new tab) thinks full moons are an opportune time for banishing spells.
She suggests writing down what you'd like to move past, particularly in reference to your career, on a piece of paper. You'll also need a small black chime candle and a dish of saltwater.
"Once you've completed your list, take a bit of the saltwater and wipe down your chime candle from base to wick while saying 'I banish these professional obstacles from my life,'" Watt says.
She continues: "Tear the paper away from you several times, and scatter the papers around your candle in a counterclockwise motion while repeating your banishment phrase. Leave the dish of saltwater near your other materials, light the candle, and allow it to burn all the way down."
Even though this seems pretty final, there's still one last step to note.
"The next day, gather any melted wax that was leftover from the candle and your pieces of paper. Bury these items in your backyard, or in an area of your neighborhood that you don't often cross. Pour the remaining saltwater over your buried paper while saying, 'So mote it be.'"
Full moon folklore
The names for each full moon can be credited to Native Americans. In order to keep track of the seasons, tribes gave recurring full moons unique monikers.
Full moon astronomy
For those who might not feel as savvy about the solar system, our friends at Space.com say that a full moon occurs when it is on the opposite side of the earth from the sun. This allows the moon to be illuminated fully by the light of the sun. In essence, you'll see a full, round moon!
Be sure to take a look at our calendar of 2022 astrology events to see what's coming up after the Buck Moon: retrogrades, conjunctions and all.
Cute astrology-themed gifts
Brand
Colour
Price
Refine ☵
Sort By
Danielle is a writer for woman&home and My Imperfect Life, covering all-things news, lifestyle and entertainment.
The heart of her time at Future has been devoted to My Imperfect Life, where she's been attuned to the cosmos and honed in on astrology coverage within the Life vertical. She's partial to writing pieces about the next big TV obsession—anyone else impatiently waiting for "Conversations with Friends"—and keeping you up to date on new trends like the latest must-have from Zara.
Before her time at Future, Danielle was the editor of Time Out New York Kids and a news editor at Elite Daily. Her work has also appeared in Domino, Chowhound, amNewYork and Newsday, among other outlets.
When Danielle is not working, you can usually find her reading a new book, coffee at hand, or attempting a new recipe. (Recommendations always welcome!)