Does Love Island provide clothes for the contestants? Here's how outfits work on the show
Ever wondered, does Love Island provide clothes for the Islanders? An insider's guide to their fashion choices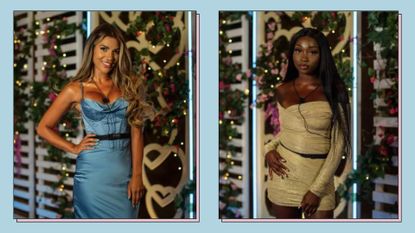 (Image credit: ITV)
If there's one thing that rivals the attention we give to the couplings, it's the Islanders' outfits. With a carousel of stylish 'fits on screens each night, you might be wondering, does Love Island provide clothes for the contestants to wear? Especially considering that the suitcases dumped Islanders leave with seem raaaaather light for several weeks in the villa, (Need to catch up? Here's how to watch Love Island UK if you go on holiday.)
We're always excited to see what the singletons pick to wear on the show, things were shaken up massively for Love Island 2022 as the show pivoted to a more sustainable approach (more on that later). Because, while their relationships may not last—although these Love Island UK couples are still together)—their swimwear should.
Does Love Island provide clothes for the contestants?
The Islanders are welcome to wear their own clothes on the show, but in previous years they've also been gifted outfits for the villa. This ensures they always look on-trend, and never run out of options during the weeks away from home, whether they're heading out on a glam date or want to relax by the firepit.
Many of the stylish looks are supplied by Love Island's official partner, which for three seasons until 2021 was I Saw It First. Other brands to send in clothes include PrettyLittleThing and Oh Polly. A representative for the latter previously told OK! (opens in new tab) of the process of dressing the contestants: "Each Islander takes in their own product and obviously wants to make sure [it] makes them look their best and reflects their personality." They also work in advance of the series starting and revealed they get requests for items from spokespeople of those preparing to enter the villa.
Although the show doesn't have a specific dress code, allowing the Islanders to get creative with their outfits, there's one rule: they can't wear any branded clothing or footwear, with the exception of brands that sponsor the show. This was the case with the "R" logo of Rewired, which was embossed onto items such as hats, hoodies and T-Shirts used by some of the line-up 2021.
In past years it's proven financially smart for brands to help dress the contestants; The Independent (opens in new tab) reported in 2021 that the show can draw an audience of three million per episode, meaning great advertising reach for those items worn by the singletons. Indeed, I Saw It First saw a 67% increase in sales and a 254% boost in Instagram followers during the 2019 series. And last year, eventual winner Millie Court triggered a 127% spike in online searches for "marble dress" and a 114% rise in "hot pink co-ords" as viewers tried to replicate her outfits.
Who was the fashion sponsor for Love Island in 2022?
Love Island UK season eight took the show's fashion sponsorship journey in a very different direction. This time they teamed up with eBay, meaning Islanders were given a stylish wardrobe of second-hand clothes to wear instead. The move to support sustainable fashion followed criticism of past partnerships, as fast fashion brands are often accused of encouraging a disposable attitude toward garments.
Of the news, Mike Spencer, the executive producer of Love Island, said (opens in new tab): "As a show, we strive to be a more eco-friendly production with more focus on ways in which we can visibly show this on screen. This partnership will see our islanders get to dive into the shared wardrobes, and help themselves to some incredible preloved clothes sourced from eBay."
Jemma Tadd, head of fashion buying at eBay, also said: "Love Island is a worldwide phenomenon, nobody can deny it. It's a really exciting opportunity for us to change the conversation around fashion. I really hope that is going to lead to meaningful change in the industry."
Nothing is confirmed yet but, given the positive responses to the new sponsorship setup, we predict that eBay will return to sponsor the upcoming season of Winter Love Island 2023. Yay for the planet!
Best Love Island gifts and merch to shop now
Brand
Colour
Price
Refine ☵
Sort By
Lauren is a freelance writer and editor with more than six years of digital and magazine experience. Most recently, she has been the Acting Commissioning Editor of Women's Health—where she co-produced the Going For Goal podcast—and has previously also written news and features for titles including The Telegraph, Grazia, Stylist, Dazed, The Sun's Fabulous, Yahoo Style UK and Get The Gloss. She covers all aspects of lifestyle, specializing in health, beauty, and travel. Can't live without: oat milk lattes, new podcast episodes, long walks, and great skincare.