Which OG 'Love Island' UK couples are still together? All the pairings still going strong after the show
Wondering which 'Love Island' UK couples are still together? We review which pairings have gone the distance...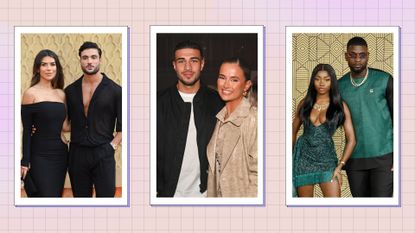 (Image credit: Getty Images: (L to R) Karwai Tang/WireImage | David M. Benett/Dave Benett/ | John Phillips)
Love Island 2023 may be well and truly over (sob) but as we look to the 2024 installments, we can't help but wonder which *past* Love Island UK couples are still together, and whether any of the newest entries will go the distance. Because while the aim of the show is to find love, not *that* many Love Island couples have actually stood the test of time...
Despite this though, there are a few fan-favorite duos who really did hit the
romance jackpot whilst in the villa and are still going strong to this day. For instance, Molly-Mae Hague and Tommy Fury, who provided some of the most memorable Love Island moments of all time, recently got engaged and welcomed their first child together in January 2023!
We've even had a few Love Island exes reconcile this past year, including season 7 winners Millie Court and Liam Reardon and season 9's Ekin-Su Culculogiu and Davide Sanclimenti.
So, let's go ahead and recap all of the loved pairings who are still making it work outside of the villa—from season 1 all the way up to the most recent summer season. And if you want to reminisce on their stories, make sure you know how to watch Love Island UK on catch-up...
Which 'Love Island' season 10 couples are still together?
Love Island's 2023 summer series ended just two months ago, so which couples are still going strong?
Unfortunately, a few of the Islanders in couples parted ways fairly quickly after the end of the series; namely, Ella B and Mitchel Taylor, who were dumped in week 9 of the show. Despite attending a party thrown in their honor a couple of weeks ago, Ella revealed that they ended things just a month after the show finished.
On her Instagram story, she wrote: "Hi Guys...Unfortunately myself and Mitch have decided to end our relationship. I really wanted things to work out and I'm gutted that our journey together has come to an end. I wish Mitch all the best and hope he finds his happiness. It's time for both of us to start a new chapter."
That being said though, it now looks like Mitch and Abi might have potentially rekindled things after their rather messy romance saga in the villa. But before we get swept up in that recent development, these are the season 10 pairings still in the honeymoon phase...
Sammy Root and Jess Harding
Hurray—our season 10 winners Sammy Root and Jess Harding are still going strong after taking the crown (and the £50,000)!
The couple somewhat surprised the nation by becoming the winning couple, but the pair have gone from strength to strength after leaving the villa, having attended multiple glitzy events with one another, and sharing that while they've both made mistakes, they trust each other "100% now".
When discussing their future with OK! magazine, they also shared that while they're in no rush to hit any big milestones, they do think about their future plans.
Jess confessed, when asked about whether the pair would move in together: "We're not in a rush to do that. We want to go travelling. Oh, and we're going to have twins! We'll have a boy and a girl!"
They also touched on future marriage plans. Sammy says: "I never ask someone to be my girlfriend if I didn't see myself marrying them. To this, Jess replies: "There's no point thinking you're going to be with someone for a short time."
Whitney Adebayo and Lochan Nowacki
Fan faves and season 10 runners-up Lochan and Whitney are also happily still coupled up two months after the finale of the show.
After meeting during the Casa Amor episodes, the couple have confirmed that, following their stint on the show, they are now officially boyfriend and girlfriend!
There hasn't been any other official news from this pair, but according to their Instagram, they've been spending plenty of time together having fun and heading to events.
Ella Thomas and Tyrique Hyde
Ella and Tyrique are another Love Island season 10 success story (so far)! The couple, who definitely experienced their ups and downs in the villa, ended up being the longest-serving pairing on the show and are happily still coupled up.
On her Instagram stories, Ella even shared that the pair are looking to move in together as soon as possible. In response to a fan question about living together, she said: "So ASAP. We're trying to move fast. We're trying to find one right now which takes time, but as soon as we find the perfect place then we're gonna be moving."
It's not clear where the pair will be living, but in the story, Ella confessed that she was missing her loved ones in Glasgow, suggesting that she and Tyrique will likely be residing somewhere around Essex, where he is from, or London. Ella has recently signed a deal with PrettyLittleThing, so it's likely that she'll need to spend a fair bit of time in the UK capital!
Molly Marsh and Zachariah Noble
This couple went on a serious rollercoaster in the villa; they got together towards the very beginning of the series, but their romance was seriously scuppered when Molly was shockingly booted from the villa in week three.
Zac went on to 'get to know' Love Island returnee Kady McDermott, but when Molly re-entered the villa a week later, the pair quickly reunited and coupled up once again.
Luckily, Molly and Zac are still going strong—and they've even taken a pretty big step in their relationship since leaving the villa after the finale.
Taking to her Instagram, Molly shared a video, revealing: "Tattoo Reveal… SO! Me & Zac headed to @debutstudios and got some new tattoos by @alexlloydtattoo,"
"I decided to get both mine and Zacs Zodiac signs on my wrist & a cute little butterfly on my thumb to start my finger tattoos! I couldn't be happier!"
As with the other couples, Zac and Molly have also been attending glitzy red carpet events together, so it certainly seems like they're having a lot of fun.
Which Love Island season 9 couples are still together?
Just three couples remain together from the 2023 winter series of Love Island, with Ron Hall and Lana Jenkins the latest couple to split following their time on the show.
Season nine's runner-up couple admitted that they struggled with the distance between them, as he lives in Essex, while Lana is based in Manchester. Of their break-up, a source told MailOnline: "Lana and Ron really put everything into their romance and have tried to make things work for some time now.'
"Unfortunately, they have decided to separate, which is a decision they have made amicably and of course, they still remain good friends."
So who are the couples still going strong?
Kai Fagan and Sanam Harrinanan
Yay—we are beyond pleased to hear that the 2023 winter series' adorable winners Kai and Sanam are still happily together!
The couple have shared numerous snaps of and with each other on social media since their series ended, and have been spotted out at plenty of celeb events together, hand-in-hand. In fact, Sanam recently posted an adorable message to this series' Islanders, saying of herself and Kai, "We started as two random people on a tv show and it blossomed into us finding love within each other #loveisland.
"Good luck to all the remaining islanders in the villa! We hope you find something truly special in there 🧡🖤."
So far, there hasn't been any update on whether the couple plan to move in together, or any further news on what their future holds. But for now, it appears they are simply enjoying being together—good for you, guys!
Will Young and Jessie Wynter
Perhaps season 9's most eccentric couple, Will Young and Jessie Wynter have delighted Love Island viewers both inside the villa and in the weeks after leaving, with plenty of hilarious TikTok videos and social media posts.
And it looks as though their fun-filled relationship has endured, as the pair are still together as of September 2023, after being seen attending the ITV summer party with one another. In fact, the couple recently returned back to the UK after a months-long trip to visit Jessie's family in Australia, including a few stop-offs in the US.
On Instagram, Jessie thanked her beau Will for making the trip, saying, "And just like that we're back at the Farm ! It is always difficult leaving home and my family, but now I have a second place to call home 🫶🏼 I had the most amazing time showing Will what my life was like before I met him! Loved introducing him to my family 🥰
"It really meant the world to me and my family that he travelled across the world to meet them. 🥰 As sad as it is leaving Australia we are both happy to be back with Will's family on the farm and can't wait to see what the next few months hold for us. ❤️"
So sweet! We suspect good things for this couple...
Tanya Manhenga and Shaq Muhammad
Tanya and Shaq are another Love Island season 9 couple who are still together; yay!
The couple, who came fourth overall on the show, are actually the longest-running couple, getting together fairly early on in the show and still going strong now/
Similarly to their fellow cast-mates, Shaq and Tanya have put in plenty of public appearances, and regularly show their love for each other on Instagram. But most recently and significantly, they've taken a pretty huge step in their relationship by moving in together!
Sharing a snap of their new kitchen on Insta, Tanya wrote: "WE HAVE A NEW HOME 🏠❤️ Guess there's no escaping now 😅 Have to thank God always for this next step in our lives. Looking forward to this next chapter 🫶🏾" So sweet!
We're so glad to see that at least a few of our season 9 faves are still happily coupled up.
Which Love Island UK couples are still together from other seasons?
So of the entire Love Island history, who else is still together?
While there are a few season 8 couples who haven't gone the distance (Paige Thorne and Adam Collard, and Gemma Owen and Luca Bish), there are plenty of other couples from previous Love Island UK seasons who have been together for years now—and are going from strength to strength!
We delve into which Love Island couples are still together, and how their relationships have progressed since their time in the villa...
Ekin-Su Cülcüloğlu and Davide Sanclimenti
After emerging victorious from the Love Island 2022 final, our fave season 8 couple were happily loved up for a while—but since then, it's been a bit of a rollercoaster for Davide and Ekin-Su.
Back in July, Davide announced their break-up on Instagram, just days after the two attended a premiere together. In the break-up message, Davide said, "Ekin-Su and I are no longer together. I am grateful for the memories and opportunities we shared together and I wish her nothing but the best."
However, the pair seem to have reunited just a few months later! The popular couple hinted at a reunion in August, sharing that they were actually both on holiday together in Turkey. And since then, they've also attended the National Television Awards together in London, suggesting that they are officially back together. We hope it's for keeps this time...
Viewers were totally won over by the pair's enemies-to-lovers relationship in the villa, with Ekin-Su's dalliances with fellow Islander Jay Younger sparking one of our favorite Love Island quotes ever: "You are a liar, actress, go the f*** out!"
Since Davide and Ekin-Su left the villa as champions, the pair went on to work together, on Ekin-Su & Davide: Homecomings, an ITVX show. The two even moved in together in Manchester, and seemed happy. However, they were also dogged by awkward rumors during this period, with reports that Davide was texting models behind his girlfriend's back surfacing earlier this year.
Tasha Ghouri and Andrew Le Page
Fans will be delighted to hear that Tasha and Andrew are still together as of September 2023, and are only getting more adorable by the day.
The first couple to become official in the villa, Tasha Ghouri and Andrew Le Page have not only moved in together since their time on Love Island, but they have also got matching rose tattoos, taken a luxury trip to Australia together, and have swiftly become one of our favorite TikTok duos.
They also regularly attend fancy events together—looking ever-so-stylish as they do—and have publicly poked plenty of fun at *that* Coco and Andrew Casa Amor confession together since leaving the villa.
Tasha has even hinted at an engagement, revealing in a Q&A YouTube video with Andrew that she has their whole wedding planned already!
Dami Hope and Indiyah Polack
Dami and Indiyah are also still very much an item, with Dami having moved from Ireland to London after the show to be closer to her. But not only that, a few months ago they also announced that they had moved in together. N'aww!
Since leaving the villa, Indiyah has been busy signing brand deal after deal—most recently she was named as the first-ever ambassador for Pretty Little Thing Marketplace, and she joined Love Island Aftersun as a regular panelist. But despite their busy schedules, they're still making time for date nights and posting loved-up selfies together.
In an interview with PWR magazine in March, Dami and Indiyah also shared how much their bond has strengthened since leaving the villa, and moving in together. Indiyah said, "Me and Dami are a lot closer now since we've come out, it's been easier as times goes along. Every day, you learn more about each other, and I've gotten to know how he is as a normal person [outside of the villa]."
The couple also adorably marked their one-year anniversary a couple of weeks ago, with Indiyah writing on her Instagram: "Happy 1 year anniversary to us! You take the words out of my mouth every time, and I'm so grateful and happy that I get to do life with YOU, here's to many more anniversaries and an amazing life together.
"I love you so so much and it still blows my mind that a year ago we didn't know a thing about true love but I can say I found it with you, here to get on your nerves 4ever♥️ my whole heart, ya spuds really did turn into kisses☺️♥️"
Tommy Fury and Molly-Mae Hague
Molly-Mae Hague and Tommy Fury have become the ultimate Love Island power couple and are of course still together. But not only are they still together, they very recently got engaged!
In a sweet video posted recently, the couple revealed that they got engaged on a cliff-top on 23 July, with their adorably daughter Bambi, 7 months, in attendance too. So adorable!
In their professional life, they've continued to climb since leaving the villa, too. Not only is Tommy the highest-paid male from Love Island thanks in part to his boxing career, but Molly-Mae has been ranked as one of (if not the) most successful Love Islanders of all time. As of recently, she was the creative director of Pretty Little Thing (though she has now quit the role), and is CEO of her own company, Filter by Molly-Mae.
The two fell in love on the 2019 season of the show, coming in second place to Amber Rose Gill and Greg O-Shea, and are the only couple from their season to still be together. Since leaving the villa, the pair have of course welcomed their first child, and have also bought and renovated a home together.
Millie Court and Liam Reardon
It's also been somewhat of a rollercoaster for season 7's Millie Court and Liam Reardon, who are recently back together after a temporary split, in which Liam spent his time trying to find a new beau via the show Celebs Go Dating (whoops).
Millie and Liam broke up back in July 2022, and it looked as though each of them were living their best single life, with Millie moving in with fellow Love Island contestant Chloe Burrows, while Liam took his chance on reality TV.
However, the pair clearly couldn't stand to be apart for too long, with recent pictures circulating of the couple kissing and cuddling on a holiday together.
Liam and Millie are also said to be keen to take a step away from the limelight after rekindling their relationship, as it was reported fame post-Love Island caused a lot of the issues in their relationship to begin with.
Speaking to the Mirror recently, Liam confessed, "Me and Millie, we're doing well. I live on my own, she lives on her own and we're seeing each other throughout the week and it's going nice. We're not putting too much pressure on it.
"We just feel like before it was a case of me, her and everybody else in the relationship and, you know, it's between me and Millie and that's kind of it. Like I said, baby steps, but I'm enjoying the process."
"It was partly the reason why we went our separate ways back last year, so now we want to kind of just have some sort of control."
Nas Majeed and Eva Zapico
These two were our favorite TikTok duo back in 2020 quarantine. Despite their relationship not getting much air time on the show, Nas and Eva—who also met and began their romance in Casa Amor during the 2020 winter edition of the show—have been an official couple since leaving Love Island.
Although they didn't isolate together, the pair managed to keep their spark alive and revealed to fans that they were moving in together. The pair are pretty active on social media, and according to Instagram, they went on vacation to Venice in summer 2022. In fact, Nas recently shared a sweet tribute post to Eva, saying that he 'Can't believe we met 3 Years Ago to this day! ❤️' Aww! One of the show's unexpected success stories, we'd say.
Camilla Thurlow and Jamie Jewitt
Camilla and Jamie melted our hearts when they fell for each other in season three, after Camilla's rough patch in the villa with Johnny (proving that karma is real).
The two bonded over their philanthropy work and sparks soon began to fly between this genuinely lovely couple. They left the villa together in 2017 and got engaged in February 2021, after welcoming their first baby into the world in October 2020. They then tied the knot in September 2021 and welcomed baby number two in May 2022. They're easily one of the show's best success stories!
Dom Lever and Jess Shears
Similarly, season three's Dom and Jess were quick to take the next step with one another after leaving the villa in 2017.
The couple got married live on Good Morning Britain back in 2018 (yes, really!) and have since had two babies together, the second of whom they welcomed in June 2022. We do love a happy ending. The pair stay fairly off-the-radar these days, but they post lots of adorable family snaps on Instagram—so cute!
Olivia Buckland and Alex Bowen
Alex and Olivia were the first couple to get married after meeting on the show in season two. The couple tied the knot in 2018, after falling in love during their time in the villa in 2016.
As we saw on 2020's Love Island reunion special, the two live in their dream home together and seem to be doing pretty well with their individual careers and joint business ventures. The cherry on the cake is that the couple welcomed their first child together in June 2022, a baby boy named Abel Jacob Bowen. Aww!
Nathan Massey and Cara Delahoyde
Season two winners Nathan and Cara were drawn to each other from day one in the villa, and the rest, as they say, was history. Fast forward to now and the two—who, like their pals Alex and Olivia, got married in 2018—have two kids together (one boy and one girl) and remain happy and in love. We can't believe there are so many adorable Love Island babies now—our hearts can't take it!
Amy Hunt is a lifestyle writer and editor, and was previously Lifestyle Channel Editor at womanandhome.com, having been with the brand since 2015. She is passionate about everything from entertainment to books, to homes, food and wellness. When she isn't editing, researching or writing articles, he's busy burying her nose in a gripping thriller, practising yoga, or buying new homeware.