Does Megan leave on 'Too Hot to Handle'? An update on the season 5 singleton
She finds herself embroiled in a dramatic love triangle, but does Megan leave on 'Too Hot to Handle' season 5?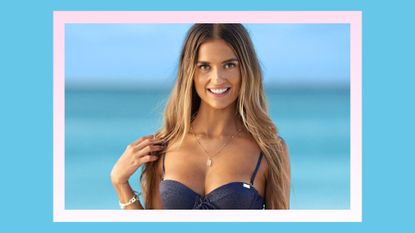 (Image credit: Netflix)
Was the drama simply too much? Does Megan leave on Too Hot to Handle season 5?
Netflix's Too Hot to Handle has all the makings of a great reality dating show, as it tricks a group of sexy singletons into believing that they're on a show all about partying and sexual attraction when in reality, they're being put on a strict no-sex retreat.
Even five seasons in the show remains a hit, as contestants keep the drama coming as they struggle to keep their hands off each other and break hearts all over the island. However, even though each season features a whole new batch of singletons, they tend to fall into two camps: those who can't resist getting physical despite Lana's rules and those who struggle with the pain of past relationships.
Season five's Megan Thompson falls into the latter category. A love triangle between Megan, Alex Snell and Elys Hutchinson heightens the tension this season, so much so that Megan threatens to exit the house early. But does she actually end up leaving? (And do Megan and Alex end up together?) Here's what we know.
*Warning: spoilers ahead!*
Does Megan leave on 'Too Hot to Handle'?
Megan has not had an easy time on Too Hot to Handle so far. From Louis Russell to Alex, she always seems to be coming last, never managing to secure the guy. So, it's understandable why Alex's decision to share a bed with Elys and the fact Megan had to find out about their date from another woman may be taking a toll on her feelings and leaving her wanting to leave the house early.
However, after sleeping on her decision and voicing her unhappiness to Alex about how he went about things, Megan decides it's in her best interest to stay on the retreat. "I should've seen the red flags. I'm making mistakes that I always make in the outside world," she says, adding that she doesn't know where she's going wrong but ultimately saying that she is going to stay on the retreat.
Megan's realization that she needs to do some healing from the pain of her past relationship makes her the first contestant this season who's acknowledged that they might need Lana's help. And some viewers already feel it's the right one as, even after knowing Alex had feelings for Elys, Megan was still okay pursuing a relationship with him just because he said he fancied her.
Who knows what Megan's decision to stay at the retreat might bring for her, especially now that those Too Hot to Handle new arrivals just walked in?
Why did Megan want to leave the 'Too Hot To Handle' house?
From his first moment on the yacht, Alex had his eye on Elys. However, despite feeling the attraction, Elys was stuck between her deeper feelings for Alex and her horniness for Hunter. She spent most of the first day getting to know Hunter so when it was announced that they were on Too Hot To Handle and not Love Overboard as thought, she decided to share a bed with Hunter, as he's who she knew best.
There were two other couples at the beginning, apart from Hunter and Elys: Louis and Hannah, and Isaac and Courtney. This left Megan and Alex as two of the only Too Hot To Handle singles who were uncoupled at first.
Elys' initial decision didn't deter Alex from wanting to get to know her; in fact, you could say it only made him want her more. But when Lana sat the group down in episode two and revealed that Hunter and Elys broke two rules, deducting $12,000 from the cash prize, he realized that his chance with Elys was pretty much over and it was time to look elsewhere. It was at this point he decided to explore things with Megan.
Megan and Alex's relationship seemed to be going well because the two were already sharing a bed and had a great chat. Megan was aware that Alex had a wandering eye when it came to Elys but ignoring everything, she tried testing her luck with Alex. She confessed: "In the past when a guy has got me and another option, they usually go out for another option." She used the opportunity to ask Alex whether he likes her. After hearing a yes, she told viewers in her confessional: "Maybe this could be the first Too Hot to Handle wedding in the villa." We would slow your horses a bit there, Megan, as Lana was ready to stir you a storm.
In episode three when Lana gave Alex the choice of going on a date with Elys, he decides the opportunity was too good to pass up and left the oblivious Megan soaking in the bath while he snuck out. Elys and Alex's date went so well that they came back and announced that they were going to share a bed, which effectively ended any relationship Alex and Megan had.
Who does Megan end up with on 'Too Hot to Handle' season 5?
By the end of episode four, Megan is single and not really looking to mingle. Megan's ego is a bit bruised by this point as she lost Louis to Hannah and then to Christine even though she and Louis had good banter. Alex is definitely lost at sea to Elys, which leaves Megan to crack on with learning from Lana and hoping that a bombshell comes in and picks her.
The first four episodes of Too Hot to Handle season 5 are streaming on Netflix now, with the new episodes dropping on Friday, July 21.
Liv is a freelance journalist currently studying English at university. She loves covering everything from entertainment and politics to lifestyle and travel. As well as writing for My Imperfect Life, Liv has bylines in The Times, HuffPost, Den of Geek, Bustle The Metro and The Bookseller.