Is the 'Emily in Paris' controversy the reason why the Golden Globes are cancelled in 2022?
All the drama, explained.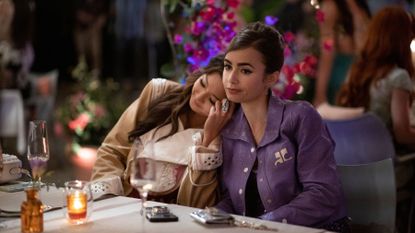 (Image credit: Carole Bethuel/Netflix © 2021)
When Emily in Paris dropped on Netflix in autumn 2020, the show was embraced as a light-hearted and fluffy feel-good drama to keep us all entertained during yet another round of lockdown restrictions caused by the pandemic.
The show, starring Lily Collins as the titular lead, was the talk of social media with some yearning for a trip to the French capital, while others pointed out the many cliches the series included.
It wasn't until award season, however, that things took a controversial turn when the show, created by Sex & The City's Darren Star was nominated for a Golden Globe, while other critically-acclaimed dramas like Michaela Coel's I May Destroy You—that many felt was an important piece of television—were snubbed entirely.
At the time, the choice made by the Hollywood Foreign Press Association (HFPA) opened up a wider conversation about the organization's lack of diversity and historic track record of excluding stories created by people of color. Since then, things have escalated with many boycotting the Golden Globes altogether and NBC—the channel that usually airs the show—canceling the 2022 ceremony.
Here's everything you need to know...
Did the 'Emily in Paris' controversy get the Golden Globes cancelled?
It all began back in February 2021 when the Golden Globe nominations were announced, including two for Emily in Paris: Best Television Series—Musical or Comedy, and Lily Collins for Best Actress in a TV Series—Musical or Comedy.
The decision caused a huge backlash as many were frustrated that the show was picked for a nomination over the likes of HBO's I May Destroy You and Insecure— both critically-acclaimed shows created by Black women.
Even Deborah Copaken, a writer on Emily in Paris, wrote an essay for The Guardian about how I May Destroy You deserved to be nominated over the Netflix show. "Now, am I excited that Emily in Paris was nominated? Yes. Of course," Copaken wrote. "I've never been remotely close to seeing a Golden Globe statue up close, let alone being nominated for one. But that excitement is now unfortunately tempered by my rage over Coel's snub. That I May Destroy You did not get one Golden Globe nod is not only wrong, it's what is wrong with everything."
A few weeks later, on February 21, The Los Angeles Times published an investigation into the HFPA, exposing the organization's culture of corruption and highlighting its longstanding issue with diversity by noting that the group has zero Black members among its 87 voting members.
Things got even worse when they revealed in a separate report that in 2019, more than 30 members of the HFPA visited the set of Netflix's Emily in Paris and were gifted a two-night stay at the five-star Peninsula Paris hotel by the Paramount Network, raising questions about bribery.
However, when the 2021 Golden Globes did take place a week later on February 28, Emily in Paris never actually went home with any awards, and hosts Amy Poehler and Tina Fey joked about the investigations into the HFPA in their opening monologue, saying: "Everybody is understandably upset at the HFPA and their choices. Look, a lot of flashy garbage got nominated, but that happens, OK? That's, like, their thing, but a number of Black actors and Black-led projects were overlooked."
They continued: "We all know that award shows are stupid. They're all a scam invented by Big Red Carpet to sell more carpet. The point is, even with stupid things, inclusivity is important, and there are no Black members of the Hollywood Foreign Press. I realized, HFPA, maybe you guys didn't get the memo because your workplace is the back booth of a French McDonald's, but you've gotta change that. So, here's to changing it."
On May 3, the HFPA vowed to change its bylaws, introducing a new membership process in a bid to diversify its organization. A few days later, Netflix CEO Ted Sarandos wrote a letter to the HFPA, saying the streaming service was "stopping any activities with your organization until more meaningful changes are made".
Amazon Studios then joined Netflix in boycotting the HFPA, saying: "We have not been working with the HFPA since these issues were first raised, and like the rest of the industry, we are awaiting a sincere and significant resolution before moving forward."
It didn't take long for a slew of actors to follow suit, including Scarlett Johansson who told Variety that she refused to answer questions from members of the HFPA, claiming their remarks "bordered on sexual harassment", while Tom Cruise returned all three of his awards. Ultimately, NBC—the channel that historically airs the show—canceled the streaming of the official Golden Globes 2022 ceremony, meaning the upcoming award show will not be televised next year.
Despite this, nominations for the Golden Globes 2022 were announced on Monday, December 13, 2021. Whether the nominees will attend the show or not, is another question.
Sagal is a journalist, specialising in lifestyle, pop culture, fashion and beauty. She has written for a number of publications including Vogue, Glamour, Stylist, Evening Standard, Bustle, You Magazine, Dazed and Wonderland to name a few.