Everything you need to know about eyebrow threading—from cost to pain levels
Intrigued by eyebrow threading? Here's everything you need to know about the popular brow grooming method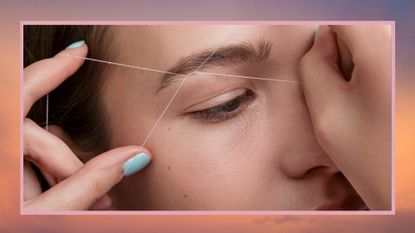 (Image credit: Getty Images)
Whether you have a regular brow appointment or you're more partial to a DIY session with your tweezers, you've probably heard of eyebrow threading. We'll get into the finer details shortly but this centuries-old technique, which hails from Asia, involves using thread to remove brow hairs and create a more even shape.
"Freshly threaded brows have such transformational powers," says Vanita Parti, founder and CEO of Blink Brow Bar. "You immediately open up the eyes by de-fluffing brows, removing excess stragglers, and creating two neat lines of symmetrical brows.
"By lifting the arch, you [also] instantly lift, sculpt, and enhance your cheekbones," she continues. "Adding a brow tint to the process enhances eye color even more, making eyes appear brighter and fresher." For those debating which hair removal is best for their brows, we've taken a deep dive into eyebrow threading below in our expert-led guide.
Meet the expert on eyebrow threading
Vanita Parti MBE is the founder and CEO of UK-based brow salon chain Blink Brow Bar. Here she has advised My Imperfect Life on just about every aspect of eyebrow threading, from how the treatment works to how long results last and what to expect in terms of pain levels.
Your need-to-know eyebrow threading guide
What is eyebrow threading?
We've touched on this a little already but, as Parti explains, eyebrow threading "consists of rolling twisted cotton thread over the hairs, which removes hairs from their follicles in one swipe. While you lie back in your chair, our therapists will ask you to gently hold your eyelid and your forehead to hold the skin taut to avoid catching it while they shape your brows to perfection." The result is a nice clean and defined eyebrow shape.
"It's a great way to define overplucked or sparse brows, as threading allows therapists to precisely remove any unwanted hairs to find your natural shape while still leaving enough brow hairs behind to grow," Parti adds.
What are the benefits of eyebrow threading vs other treatments?
The key benefit of eyebrow threading is that it's extremely precise. "You have much more control and can create a brow shape that is best suited to you and can balance your face shape," Parti explains.
Our expert also notes that it can be a particularly good option for sensitive skin types who want to achieve their perfect eyebrow shape. "It's much gentler, less irritating and kinder to the skin than waxing, which is why it's our preference [at Blink Brow Bar], as it removes the hair without tugging on your skin," she says. "If waxing tends to leave your brows raw or red for longer than you would like—especially if you are going about your day after!—you might find eyebrow threading more suitable [for you]."
How long does eyebrow threading last?
The results of eyebrow threading will typically last for a good few weeks. As Parti explains: "The amazing thing about threading, versus other forms of eyebrow maintenance, is that it can remove hairs of every length, meaning a clean and precise shape with no half-grown hairs that could grow out within a week. Once threaded, your brows won't need re-doing for another four weeks, on average."
Does eyebrow threading hurt?
Just as with tweezing or waxing, you will feel some level of discomfort while having your eyebrows threaded, though it's pretty minor. "It is a form of hair removal, so it is never going to be totally pain-free—however, the results are so worth it, and the pain is definitely manageable,"
A good threader will also take steps to reduce any soreness post-treatment. "We like to apply Aloe Vera gel after the threading, followed by a soothing, calming massage around your eyes to work in the cooling gel and stimulate blood flow to reduce puffiness and redness," Parti confirms.
How much does eyebrow threading cost?
The price of a threading appointment will vary depending on the location and quality of your chosen salon and the experience and qualifications of your therapist.
Pricing can range from under $10/£10 to as much as $30/£30, and will vary if you add an extra service such as a tint.
Lucy is a beauty journalist who has written for titles including Marie Claire, Cosmopolitan, OK!, woman&home and Women's Health, as well as regularly contributing to My Imperfect Life. Her work covers everything from skin and haircare tips to trying and testing the latest beauty launches, and interviewing celebrities and experts. A certified dog person, her other interests include mental wellbeing, books, piña coladas and not getting caught in the rain.