Rihanna breaks into Sephora ahead of Fenty Skin drop
Yup, Fenty Skin is dropping into Sephora - soon!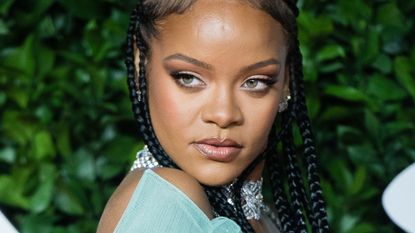 (Image credit: LONDON, ENGLAND - DECEMBER 02: Rihanna arrives at The Fashion Awards 2019 held at Royal Albert Hall on December 02, 2019 in London, England. (Photo by Samir Hussein/WireImage))
Leave it to Rihanna to make skin minimalism a 'thing' before it actually became a trend. Ever since Fenty Skin launched back in July she has changed the conversation around skincare. As a result we've Googled the hell our of 'vitamin C-rich Barbados cherry' and we've added 'fat water' to our beauty glossary.
But, more impressively, we've paired back our skincare routine to just three carefully edited products. And now you can score the Total Cleans'r Remove-It-All Cleanser, Fat Water Pore-Refining Toner Serum and Hydra Vizor Invisible Moisturizer Broad Spectrum SPF 30 Sunscreen at Sephora.
Rihanna has just announced that Fenty Skin will drop into Sephora on the 26th December (alongside Boots and Harvey Nichols in the UK). She was even seen 'breaking and entering' into Sephora after hours to set up her Fenty Skin Collection. The one-minute advertisement shows her using a power drill to install a Fenty Skin campaign poster next to her perfectly placed products.
What makes Fenty Skin so good?
Rihanna is ushering in a "new culture" of skincare, one that waves goodbye to a Korean 10-step skincare routine and takes the guesswork out of buying products.
We're not talking three different types of cleanser, multiple serums, plus both essence and toner options. Fenty Skin is kicking off with just three products: cleanser, vitamin C serum and moisturizer with SPF.
Speaking about Fenty Skin, Rhianna said: "I wanted it to feel approachable, easy, and to take the pressure off choosing a routine, so I created one for everyone."
To that end, all of the Fenty Skin products are lean multi-taskers. They feature clean, vegan, gluten-free and oil-free formulas, and are powered by gold-standard ingredients such as hydrating hyaluronic acid, anti-inflammatory niacinamide and brightening vitamin C courtesy of that Barbados cherry.
If those benefits aren't convincing enough to make the switch to Fenty Skin, Rihanna has demo'd exactly how nicely the line plays under her best-selling makeup.
"As you can see there's no streaking from the moisturiser and it was literally seconds ago that I applied it," she says. What's more, there's also "no chalky cast from the SPF, there's no flashback" and "good makeup starts with good skin." And let's face it, Rih's skin is pretty fly.
What products are in the Fenty Skin line?
The hydrating cleanser doubles up as a makeup remover, working itself into a creamy lather to remove all traces of makeup, including oil-based foundation and mascara. It's made with Barbados cherry, as well as oil-controlling ginko biloba and soothing green tea. Bonus: the packaging is made from 40 percent Post-Consumer Recycled materials.
Rihanna's favourite product, this serum-meets-toner targets stretched pores and improves the look of dark spots and fights shine. The name 'fat water' comes from its thick consistency, which delivers a hefty dose of hyaluronic acid to moisturize, and witch hazel to regulate oil production when patted into the skin.
No need to layer on moisturizer and then sunscreen - this does both without pilling or leaving a greasy or white chalky residue on the skin (courtesy of the universally flattering pink hue). This one's got antioxidant Kalahari melon and niacinamide (aka vitamin B3) for an all-day glow. It also comes in refillable packaging, so when you run out, you can just pop a new $30-dollar cartridge right in.
Fiona Embleton is a multi-award-winning beauty editor who has tested over 10,000 products in her 10 years + of writing and shooting beauty stories. For the past four years, she was the Senior Beauty Editor at Marie Claire, having previously worked in the role of Beauty Editor at both Stylist and Cosmopolitan. She has recently gone freelance and alongside My Imperfect Life, she has written for titles including ELLE UK, ELLE Canada, Buro 247, Harper's Bazaar Arabia, Vogue Scandinavia, and ES Magazine. Beauty journalism allowed her to marry up her first-class degree in English Literature and Language (she's a stickler for grammar and a self-confessed ingredients geek) with a passion for make-up and skincare, photography, and catwalk trends. She loves jumping on the latest internet-breaking beauty news, dissecting the best red carpet looks, and having the crème de la crème of dermatologists, make-up artists, and hairstylists on speed dial so she can tap them for the best advice. She's a discerning beauty shopper and knows it can be confusing trying to navigate what's hype and what really works. So if she really likes something, you can trust that she has reached that opinion by vetting it against everything else she's ever tried. Her career highs? Interviewing Cate Blanchett and winning a Jasmine Award for the deeply personal feature Cancer Stole My Mother's Scent.