'Firefly Lane' season 2: when will the sophomore installment hit Netflix?
We're all dying to see 'Firefly Lane' season 2 and learn about Kate and Tully's fate—here's what you need to know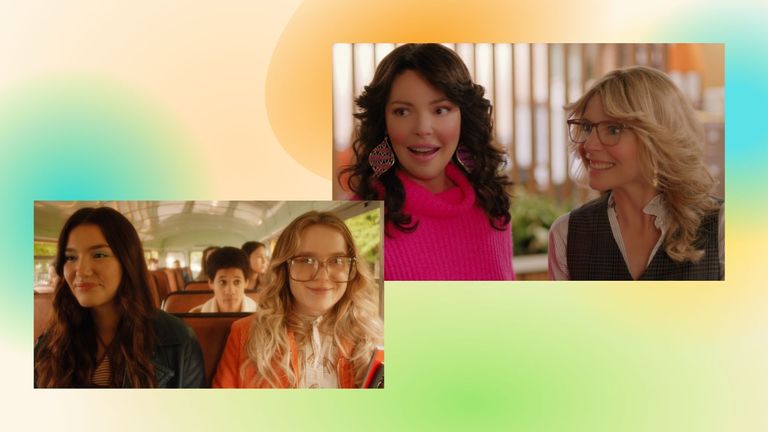 (Image credit: Netflix)
Breaking news straight from KPOC: Firefly Lane season 2 is officially a go, according to Katherine Heigl (Tully) and Sarah Chalke (Kate).

The show's leading ladies took to Zoom in 2021 to share the exciting announcement over a glass of wine. We'll cheers to the fact that those agonizing cliffhangers from the Firefly Lane ending will be addressed. (The suspense is killing us!)
Let's dive in, but fair warning: *SEASON 1 SPOILERS AHEAD!* If you have yet to finish the novel-turned Netflix hit, proceed with caution.
---
---
We closed out the 10-episode debut season with more questions than answers: What happened to Johnny? What happened to Bud? And—most importantly—what did Tully do to Kate? In a matter of minutes, it appears as if the lifelong friendship dissipated right before our eyes. Firefly Lane girls are in fact, not forever.
"This issue between Tully and Kate—we can't say much," Sarah Chalke said during the Zoom announcement. "But what we can say is that it's family-related."
Well, now we have even more questions!
Watch the 'Firefly Lane' season 2 announcement
When is 'Firefly Lane' season 2 coming out?
Kristin Hannah's beloved story of two best friends will continue on screen, much to fans' delight. (Though where we will inevitably pick up, the best friends will be anything but.)
We can't wait for a marathon, but we'll have to be patient: the show won't stream until 2022. A specific date has yet to be revealed.
Back in Vancouver for season two of Firefly Lane on @netflix and missing these faces…a lot. Like a lot a lot…no one said it would be easy…but let's hope it's worth it. pic.twitter.com/YgNWFF4xb2August 24, 2021
See more
Heigl confirmed the news along with pictures of her three adorable children, writing: Back in Vancouver for season two of Firefly Lane on and missing these faces…a lot. Like a lot a lot…no one said it would be easy…but let's hope it's worth it. @netflix"
When inevitably asked if she knew about the release date, Heigl couldn't confirm and merely tweeted: "No but it will be in 2022."
She also responded to another fan fishing for spoilers with a cheeky: "Haha I wish ❤️"
'Firefly Lane' behind-the-scenes
Heigl's costar Sarah Chalke also gave fans a peek at some behind-the-scenes production snaps from season two on her Instagram stories, including shots of her getting fitted for an 80s-tastic wig. Because what is Firefly Lane without some epically retro hairdos?
What will happen in 'Firefly Lane' season 2?
Well, the most crucial plot of all will be to get to the bottom of what horrible betrayal has ended Kate and Tully's 30-years-long friendship. The second season will likely focus on this whilst also explaining what happened to Johnny in Iraq—did he survive the bombing?
We'll hopefully also pick up where we left the teenage versions of the girls to find out where Tully goes when the police arrest her mother for selling drugs and she's ripped away from Kate's arms in that heartbreaking scene. And what does she do after quitting her job at The Girlfriend Hour?
Plus, we're curious how closely the TV adaptation will follow the books. In the bestselling novels, one of our beloved main characters passes away. What can we expect from the series? (Although we can't confirm anything just yet, it's safe to assume that you'll want to have some tissues handy.)
Who is returning for 'Firefly Lane' season 2
The usual suspects will return, including:
Katherine Heigel (Tully)
Sarah Chalke (Kate)
Ben Lawson (Johnny)
Yael Yurman (Marah)
Roan Curtis (young Kate)
Alissa Skovby (young Tully)
Who is joining 'Firefly Lane' season 2?
Rumor has it that Heigel's Grey's Anatomy peers are set to make an appearance in the series. According to Deadline, Greg Germann, who starred in four seasons of the medical drama, will play Benedict Binswanger, the governor of Washington State in the 80s—which means he must be involved in some KPOC story!
The publication also revealed a few other newbies to expect: Ignacio Serricchio as sports reporter Danny Diaz (who has the hots for Tully), India de Beaufort of Zoey's Extraordinary Playlist, who will play an up-and-coming journalist with feelings for Johnny, and Jolene Purdy (The White Lotus), who will star as talent agent Tully has on her radar.
Ahead of the new season, keep the anticipation strong by listening to all of the glorious Firefly Lane music, including Nikki And The Corvettes, Dexys Midnight Runners, Elton John, Eva Cassidy, and more. Plus, pick up the fan-favorite book from Kristin Hannah that inspired the series. It'll make for the perfect beach read this summer!
Looks like we'll see you in Seattle in 2022!
Sagal is a journalist, specialising in lifestyle, pop culture, fashion and beauty. She has written for a number of publications including Vogue, Glamour, Stylist, Evening Standard, Bustle, You Magazine, Dazed and Wonderland to name a few.