'Firefly Lane' ending explained: what did the final episode meant for Tully and Kate's friendship?
Netflix's 'Firefly Lane' ending left us with a lot of questions. Especially with that MAJOR cliffhanger...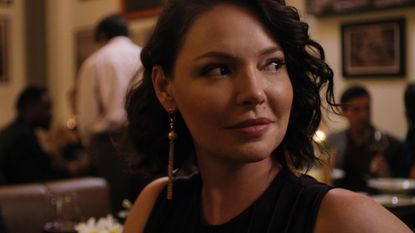 (Image credit: Netflix)
We love nothing more than a deep delve into TV shows and Firefly Lane—which we're still obsessed with—is certainly no exception. But what happened in the Firefly Lane ending?
Firefly Lane, like many other Netflix shows including the likes of Bridgerton, Inventing Anna, and Too Hot To Handle, had us hooked, glued to the TV screen for the entire 10 episodes.
*Warning* The below contains spoilers, so unless you've seen the show already, or just want the juicy details, you've been warned.
If you've seen season one of Firefly Lane then like us, you'll have a lot of questions. The Netflix series, starring Katherine Heigl and Sarah Chalke, had us hooked from the very first episode and the season finale has left us yearning for more, thanks to the mountain of cliffhangers it ended in. So what's next for our new favorite BBFs? If we can call them that anymore!
Firefly Lane ending: what happened?
Firefly Lane, which is based on New York Times best-selling author Kristin Hannah's 2008 novel of the same name, tells the story of two best friends: Kate and Tully. The pair, who are now in their 40s, have been inseparable since meeting in the eighth grade in the '70s, and their 30-year friendship has become a stabilizing force in their lives.
However, at the end of season one, we're shown a jump in time where Kate and her daughter Marah attend her father's funeral, but she and Tully are estranged. We're not shown what has happened between the two but one thing is clear—Kate has been betrayed by Tully in a major way.
So naturally, the question on everyone's lips was what did Tully do to Kate? And did Kate's husband Johnny survive the explosion in Iraq? We. Need. Answers.
Before that, however, let's recap what happened in the tenth and final episode.
Who died in the Firefly Lane ending?
At the Firefly Lane ending, someone dies and the plot is set up—to keep us guessing—using the mechanism of time jumps. Similar to This Is Us, we're shown different stages of Kate and Tully's lives: from their teen years in the 70s to their first industry jobs post-college in the 80s, all the show's present day, which is 2003.
However, towards the end of the season, we are transported to the future which reveals much has changed. We see Kate preparing to attend a funeral with her daughter. At first impression, it is unclear whose funeral they are attending, with the show teasing that it could be Tully's. But in the final episode, we find out that it is Kate's father Bud's funeral. But is he the only one that dies at the end of the episode?
Back in real time, Kate and Tully have another one of their wholesome bestie moments as they comfort each other after Kate's husband Johnny leaves for Iraq and Tully has just quit her show, The Girlfriend Hour. The two make plans to work together on their own TV show with Tully as host and Kate as a producer, while reassuring one another of their love. Meanwhile, Johnny, who is out in Iraq reporting on an investigative story, is caught in a bomb explosion.
Did Johnny die in Firefly Lane?
The final episode of Firefly Lane shows Johnny being hit by a huge explosion in Iraq. However, it is unclear whether he is just severely injured or if the explosion has killed him. We're also not sure in what time frame this takes place—is it when he has just left Kate in Seattle and arrived in Iraq, or is it at the same time as Bud's funeral?
Well, both scenarios are possible. It could be that Johnny died in Iraq years before Bud's funeral, hence why he isn't attending with Kate and Marah. But he and Kate have been going through divorce proceedings since the first episode. And although it looked like they may have rekindled when they slept together the night before he left for Iraq, they could very well still have gone through with the divorce—which could mean that Johnny attended the funeral separately.
---
---
Is the Firefly Lane book different to the TV show?
Yes, the Firefly Lane book is different to the TV show. In the book, Johnny doesn't die but another major character does—Kate.
Yep, in the novel, Kate passes away after suffering from late-stage cancer. However, Netflix has chosen to leave this storyline out, for the first season at least, as it would completely ruin any chance of potential follow-up seasons. After all, the show is all about Kate and Tully's friendship, meaning it wouldn't work without both women. But of course, that isn't to say that the creators of the show don't have more in store come the second season of Firefly Lane.
The sequel to the book follows the aftermath of Kate's death, focusing on Tully and Marah's relationship and Johnny's grief, so if we were going to go on the books, perhaps the second season could follow a similar pattern, only with Johnny dead instead of Kate?
Only time will tell...
Sagal is a journalist, specialising in lifestyle, pop culture, fashion and beauty. She has written for a number of publications including Vogue, Glamour, Stylist, Evening Standard, Bustle, You Magazine, Dazed and Wonderland to name a few.