Who are Flavia Laos and Ethan Smith from 'Too Hot to Handle' season 4?
Flavia Laos and Ethan Smith have arrived to shake up the villa during 'Too Hot to Handle' season 4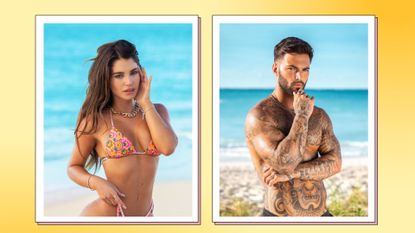 (Image credit: Netflix)
Meet the wild cards of Too Hot to Handle season 4: Flavia Laos and Ethan Smith.
Netflix's hit reality dating show is back for a fourth season and while fans thought they could just sit back and enjoy this season's sexy new singletons (meet the Too Hot to Handle season 4 cast), it seems Netflix has other plans. The series decided to add some more dramatic flair to the mix in the form of two bombshell singletons who in their first five minutes are already stirring up serious trouble.
The premise of Too Hot to Handle is to stop ten singletons from engaging in any kind of sexual activity in order to help them create meaningful romantic bonds. However, there's a twist because the contestants picked for the show are people who avoid commitment, love to have flings, or a bit of both. So, can we really blame them for struggling with not breaking the rules (like Kayla and Seb)?
But as viewers have seen from previous seasons and the first few episodes of season four, the show does actually help to create a few budding romances—well, before the show decides to test the strength of the budding new couples, that is. And this season's test comes in the form of the Latina siren Flavia Laos Urbina and British hunk Ethan Smith, who has already caused a very dramatic break-up between two contestants.
But who exactly are Flavia and Ethan? Here's what we know.
*Warning: spoilers ahead!*
Who is Flavia Laos Urbina from 'Too Hot to Handle' season 4?
Age: 25
Job: Influencer
IG Handle: @FlaviaLaosU
Hometown: Lima, Peru
If our boys were dreaming of a Peruvian princess, then Lana grants their wishes when Flavia appears. Flavia boasts over four million followers on Instagram so she's never short of attention. This senorita will not take kindly to Lana telling her what to do, so the guys and gals will need to watch out!
When Flavia arrives on the show, she chooses Sebastian "Seb" Melrose to go on a date with. Despite the two flirting up a storm, Seb declines to kiss Flavia, even though he has a free pass for a kiss issued by Lana, in favor of continuing his romance with Kayla Richart.
As confident as they come, Flavia doesn't let a little bit of rejection knock her down, as she moves on quickly to pursue Creed, who was having a budding romance with Sophie. With Flavia saying all the right things and complimenting Creed's smile and "perfect hair," Creed ends up friend-zoning Sophie for Flavia. As you can expect, Sophie does not take this well and ends up angrily labeling Creed the ultimate "f**kboy." This leaves things visibly awkward when it comes to bedtime, as Sophie seethes in one corner of the room while Creed jumps into bed next to Flavia. Talk about moving quickly!
Who is Ethan Smith from 'Too Hot to Handle' season 4?
Age: 26
Job: Model
IG Handle: @SmithEthan
Hometown: Somerset, UK
Like Flavia, the tattooed British hunk has never struggled with getting attention, especially from the ladies. Turning heads wherever he goes, Ethan has a strong chance of finding someone special on the show—as long as he lets his heart do the talking instead of his head.
Ethan's choice for his first date was Sophie but also, like Flavia, his hopes for a quick kiss were dashed as she opted to continue perusing things with Creed. However, he didn't stay sad for long as his head was quickly turned towards Hawaiian native Brittan. Describing her as lush and not caring about her romance with James, Ethan decided to go after what he wanted and flirted with Brittan enough that she decided to take Ethan up on his offer of sharing a bed. Who else can't wait to see where this romance goes?
The first half of Too Hot to Handle season 4 is streaming on Netflix now, with the remaining episodes dropping on Thursday, December 14.
Liv is a freelance journalist currently studying English at university. She loves covering everything from entertainment and politics to lifestyle and travel. As well as writing for My Imperfect Life, Liv has bylines in The Times, HuffPost, Den of Geek, Bustle The Metro and The Bookseller.