Did Kayla and Seb from 'Too Hot to Handle' break any rules?
Kayla and Seb from 'Too Hot to Handle' season 4 certainly had a connection, but did they physically give in to their feelings?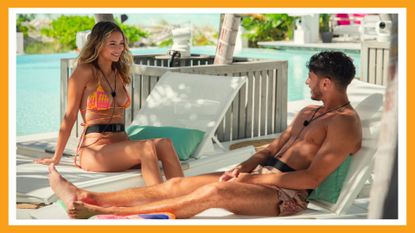 (Image credit: TOM DYMOND/NETFLIX)
Contestants on Netflix's dating show Too Hot to Handle are not known for their strict adherence to the rules, and season 4 contestants Kayla and Seb gave Holly and Nathan—who hold the show's record for the most rule breaks—a serious run for their money.
Like previous editions of the sex-free dating show, Too Hot to Handle season 4—which premiered on Netflix on December 7—gave us a lineup of hot singles from around the world. Unknowingly, the gang signed up to abstain from any and all sexual contact, in order to form a more meaningful love connection. If they achieve this, they'll have a shot at winning a $200,000 prize. But every 'rule break' means this cash sum dwindles.
And you may expect, the quest for abstinence doesn't always last long—and it certainly didn't in season 4. They are stuck in a villa in the Caribbean with some incredibly attractive individuals, after all! So it's understandable why Too Hot to Handle season 4 cast members Kayla Richart and Sebastian "Seb" Melrose didn't waste any time in breaking Lana's (the portal that issues the instructions) rules. From kissing multiple contestants, to doing some more 'expensive' things, we take a look at what exactly Kayla and Seb got up to in the villa...
Did Kayla and Seb break any rules on 'Too Hot to Handle'?
Kayla and Seb both garnered some serious attraction when they entered the villa. Kayla turned the head of almost every guy in the house at one point, which is understandable when you remember they were expecting a summer of fun, not celibacy.
But after playing the field a bit—with Seb making out twice with Jawahir Khalifa and Kayla having a little dalliance with Nigel Jones before finding out he was two-timing her with computer-science student Dominique Defoe—Seb and Kayla realized they both fancied each other like crazy, and didn't mind sacrificing the prize pot to get down and dirty. And that they did!
Kayla and Seb broke multiple rules, from kissing to taking showers together. In fact, the pair actually did 'the deed' too—the ultimate rule-break. Kayla looked distraught to think that Seb could choose new arrival Flavia over her, and wanted to try and lock her man down with shower sex. The action resulted in a $50,000 (or £40,962) fine. But, to fans, it looked as though the couple could be the real deal; and maybe even become this season's Emily and Cam.
The magnitude of their fines led Lana to send Seb and Kayla to the suite room to challenge them even further, and to help them work on building a more emotional relationship. Meanwhile, Lana also gave the other contestants an opportunity to save some money by allowing them to forfeit $10,000, which would cover all the potential rule breaks Kayla and Seb may have made in the suite. If the group decided to put their trust in Seb and Kayla instead though, and the two ended up breaking the rules, each contestant would have to pay for each rule break individually.
While their fellow contestant James supported forfeiting the money, other cast members decided to trust the couple. And, luckily, they didn't break the rules (that night, anyway).
By the end of episode 5, only $117,000 (£95,852) remained in the Too Hot to Handle prize pot as contestants—mostly Kayla and Seb's—rule breaks resulted in a loss of $83,000 (£67,997).
Holly and Nathan's collective rule breaks in season three totalled a whopping $141,000 (£115,305), and Kayla and Seb's rule breaks added up to a total of $68,000 (£55,709). So while they didn't quite beat them, they did come close!
Are Kayla and Seb from 'Too Hot to Handle' still together?
Despite their rules breaks in the Too Hot to Handle villa, the season 4 pair do seem to be making their relationship work outside of the show.
After the series finished airing on December 14, 2022 (which is when the last five episodes dropped), Kayla, in an interview with Cosmopolitan, revealed though that things have been slightly complicated between the pair since the show ended. She confessed, "My love life right now is… It's complicated. So like we're not officially together. We were officially together after the show, we were officially together for a few months but it was just like a lot. We had to take a step back and start dating again."
Netflix is known for telling dating show contestants not to reveal anything about their lives or relationships before a show has finished airing—especially when something like Too Hot to Handle, Seb and Kayla's show, is filmed so far in advance.
In fact, Kayla herself has revealed that season 4 of the show was filmed pretty much a year before it aired on TV, telling Capital FM, "[It was filmed] a year ago. Like pretty much exactly, like right around this time we were there."
So while it appears things have been a little rocky for the couple over the last year since the show ended, Kayla and Seb seem to have reunited in the last few week, sharing some super cute social media posts dedicated to one another.
In one recent post, Kayla wished her man a happy birthday, writing: 'Happy birthday Bebe 🫶🏽 You are capable of anything you want to achieve in this life and I'm so proud of you! A true business man, motor sport athlete, and certified lover boy. I love you ❤️ cheers to 25! 🥂'
Adorably, Seb commented back, 'I have been blessed by God to have met someone like you. Not only have a met someone who I love and adore, we got to watch our relationship unfold all over again ❤️ life's like a movie when you're around ❤️ thanks for the live and support always'. Sweet!
Catch up on all episodes of Too Hot to Handle season 4 on Netflix now.
Liv is a freelance journalist currently studying English at university. She loves covering everything from entertainment and politics to lifestyle and travel. As well as writing for My Imperfect Life, Liv has bylines in The Times, HuffPost, Den of Geek, Bustle The Metro and The Bookseller.