Get to know the 'Too Hot to Handle' season 4 cast
Let's meet the 10 sexy singles who make up the 'Too Hot to Handle' season 4 cast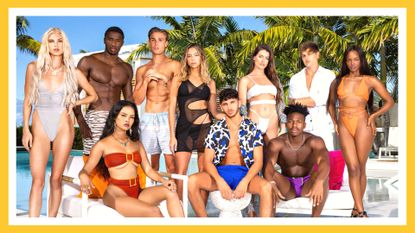 (Image credit: Netflix)
One of our favorite reality dating shows is back—and as usual, the Too Hot to Handle season 4 cast doesn't know what they're in for.
The hit Netflix reality series follows 10 lucky contestants who think they have signed up for a summer of flings or, in the case of Too Hot to Handle season 4, a fake dating show called Wild Love that uses the power of adrenaline to spark a romantic connection, hosted by TV legend Mario Lopez.
But it's actually a show that will test your limits as TV's favorite cone robot, Lana, sets the group of singletons the challenge to live in one villa together while abstaining from all sexual contact, including self-pleasure. If they succeed, the contestants will split the prize money, and for every rule they break, they have to pay a fine.
Unlike past seasons, we won't get all ten episodes at once—instead, season four will be broken up into two batches, with the first five episodes dropping on Wednesday, December 7, and the second releasing the following week on Wednesday, December 14.
So, who are the contestants this time around? Here's everything we know about the Too Hot To Handle season 4 cast.
*Warning: spoilers ahead for Too Hot to Handle season 4*
Who's in the 'Too Hot to Handle' season 4 cast?
1. Imogen Ewan
Age: 24
Job: Beauty Therapist
IG Handle: @ImogenEwan
Hometown: Sydney, Australia
Aussie Imogen may be small, but she knows what she wants, and what she wants is Creed McKinnon. The girls already on the show are going to have to keep their eyes on this pocket rocket because we have a feeling she is going to swoop in and steal someone's man.
Not a stranger to reality TV as she starred on the Australian game show Take Me Out, Imogen's arrival during the second half of Too Hot to Handle season 4 was drama filled. She set her sights on Creed, who was originally with Sophie Stonehouse but dumped her after he laid eyes on his current partner Flavia Laos Urbina. Will Creed succumb to Imogen's Australian charm?
2. Shawn Wells
Age: 25
Job: Model
IG Handle: @ShawnWells_1
Hometown: Florida, USA
In episode seven of Too Hot to Handle season 4, we see the arrival of the Floridian Adonis, Shawn. Not shy in the slightest, Shawn has no problems perusing a girl who's already taken and from what we've seen already, it's clear that Shawn is ready to turn up the heat at the Too Hot to Handle retreat.
When we first meet Shawn, he has the choice of picking a date with any of the girls on the retreat and, of course, he chooses none other than Kayla, much to Seb's agony. But don't fret because despite Shawn's hardest efforts Kayla stays true to her man, leaving Shawn to pursue another hottie in the form of Jawahir, who is currently with Nick. As we said, no girl is off-limits for Shawn. We just hope Jawahir can stay strong!
3. Brittan Byrd
Age: 22
Job: Model
IG Handle: @Brittan_Byrd
Hometown: Hawaii, USA
Blonde bombshell, Brittan Boyd brings her good looks and confidence to Too Hot to Handle, as she knows what she wants and from the trailer (and her Instagram), it seems like what Brittan wants is a good time. The 5-foot-8 Hawaiian native has previously modeled for Zephyr Magazine and Modern Luxury Hawaii Magazine, to name a few.
4. Creed McKinnon
Age: 24
Job: Entrepreneur and founder of Versaware
IG Handle: @CreedMckinnon
Hometown: Perth, Australia
Australian entrepreneur Creed McKinnon is a ladies' man, and his confidence is what keeps girls coming back to him. But one thing he can't sweet talk his way out of is Lana's rules, so it will be interesting to see how long Creed lasts before he breaks them.
5. Dominique Defoe
Age: 23
Job: computer science student
IG Handle: @DominiqueDefoe
Hometown: Colorado, USA
Calling herself "the sexiest nerd you're ever gonna meet," Dominique does not back down from a challenge. The computer science student's Instagram account is full of stunning pictures of herself on various adventures. But whether or not she's ready for the challenge Lana has set up for her is yet to be seen.
6. James Pendergrass
Age: 23
Job: Student and basketball player
IG Handle: @JamesPendergrass_
Hometown: Hawaii, USA
James's super-athletic fitness bod and his basketball talents are only two of the things that help him woo the ladies. But as Lana challenges James to focus on forming a deeper connection with women, will he be able to do it or will his old ways call him back?
7. Jawahir Khalifa
Age: 22
Job: Model
IG Handle: @JawahirKhalifa
Hometown: Amsterdam, the Netherlands.
Giving looks and personality, Somali-born model Jawahir is the walking definition of a confident woman and a woman who could bring the boys of the Too Hot to Handle villa to their knees as they try to resist her charm. Having only been in one serious relationship prior to joining the show, Jawahir could also be a strong contender for a repeated rule breaker and Lana's worst nightmare.
8. Kayla Richart
Age: 22
Job: Model
IG Handle: @KaylaRichart
Hometown: Los Angeles, California
Fun-loving Kayla is another beautiful bombshell to add to a house of attractive people. Expecting a show full of fun rather than sexual abstinence, the cast's most non-relationship person Kayla could really struggle to follow Lana's rules in the house, but who else could she bring on the rule-breaker train with her?
9. Nick Kici
Age: 28
Job: Model and yogi
IG Handle: @NickKici
Hometown: Michigan, USA
Too Hot to Handle loves a good-looking model, and Nick fits that description. Scoring a girl has never been a problem for Nick and his history of flings but, could Lana's challenge convince him to form a deeper connection and find his match in the Caribbean?
10. Nigel Jones
Age: 29
Job: Model and entrepreneur
IG Handle: @NigelEuro_
Hometown: New Jersey, USA
Good-looking, a hard worker and a smooth talker, Nigel could seriously be the full package. He's a bit of a heartbreaker, but it will be very interesting to see whether or not the show can convince Nigel that you can have fun and be serious at the same time.
11. Sebastian Melrose
Age: 24
Job: Race car driver
IG Handle: @SebMelrose
Hometown: Glasgow, Scotland
Who doesn't love a Scottish accent? Sebastian lives life in the fast lane and when it comes to his romantic relationships, it's pretty much the same, as he moves onto a new girl almost as speedily as he races cars. Lana will definitely have her hands full with Seb this season!
12. Sophie Stonehouse
Age: 23
Job: Event manager
IG Handle: @SophieStonehouse
Hometown: Brighton, UK
A British beauty, Sophie has high standards when it comes to her men but that doesn't mean she keeps them for long. With only one long-term relationship in her past and preferring a fling, any man that attempts to be in a relationship with Sophie better be prepared for a challenge.
Too Hot to Handle season 4 is streaming on Netflix beginning Wednesday, December 7.
Liv is a freelance journalist currently studying English at university. She loves covering everything from entertainment and politics to lifestyle and travel. As well as writing for My Imperfect Life, Liv has bylines in The Times, HuffPost, Den of Geek, Bustle The Metro and The Bookseller.