Friluftsliv: the Nordic concept that'll help you get through this global pandemic
Friluftsliv is the Scandinavian wellness gift we all need right now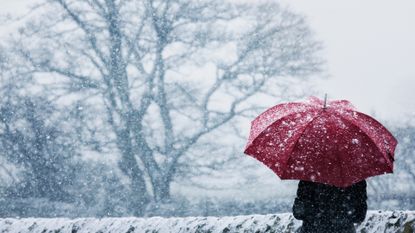 (Image credit: Getty Images)
It's pretty clear by now that whenever the Scandinavians suggest something, we should all take note. There's a reason why Denmark, Norway and Sweden are all at the top of the list of the happiest countries in the world - they seem to have a knack for putting a positive spin on everything, even during a global pandemic.
From the popular art of 'hygge' (there are enough books about this to last us all a lifetime) to Sweden's 'Fika', Nordic rituals have become an adopted way of life for the rest of us now that we've seen how well it works for them. So naturally, we were all ears when we discovered 'Friluftsliv', a Norwegian concept that might just be what we need to get through this global pandemic - especially as winter looms.
Pronounced 'free-loofts-liv', the concept is all about honouring the beauty of the outdoors, even more so when temperatures drop.
Many of us struggle with Seasonal Affective Disorder (SAD), meaning winter is never a welcomed time. Shorter, colder and darker days can trigger everything from a full on depression to feelings of despair and irritability and a lack of energy - that's where Friluftsliv comes in.
The practise is known for boosting not only our physical but our mental health during the colder months of the year. We spoke to Environmental Psychologist and Wellbeing Consultant, Lee Chambers, about the benefits of Friluftsliv, how to incorporate it into our lives during these turbulent times and how it can help combat SAD.
What are the best benefits of Friluftsliv?
According to Chambers, who is the founder of Essentialise Workplace Wellbeing, embracing friluftsliv will undoubtedly make these colder, darker pandemic months more bearable, and bolster our health both physically and mentally.
"The benefits are multiple, as accessing nature boosts our mood, and gives us a higher resilience to stressors," he says. "We disconnect from the endless stimulation we face, honouring our biorhythms and leaving us feeling more grounded, less anxious and finding it easier to sleep. Getting outside gets our blood flowing, increasing our cognitive abilities and giving us increased clarity and concentration. As all our sense are ignited, we become mindful and anchored in the present, forgetting about past mistakes and future worries."
He also explained that friluftsliv shapes our mindset to see weather as challenges to step out to rather than threats to hibernate through - though things are slightly differently this year due to the pandemic.
As for our physical health, Chambers says it's "a great form of movement that often being social, confers the benefits of increased cardiovascular health and increased positive neurotransmitter production, without the intention of exercising. Slow hikes and gentle bike rides are great for strengthening joints and keeping mobile."
How can we incorporate Friluftsliv into our lives?
We may not have the freedom to travel to the Scottish Highlands or the Colorado mountains, but there are still plenty of ways to experience friluftsliv without putting yourself at risk.
"It all starts with noticing the small things, like the flake of falling snow, feeling the wind hit your cheek, and your feet hitting the ground," says Chambers. "When it comes to embracing friluftsliv in lockdown, it's also best to start small and often, going for that wintery walk, having a picnic on frozen ground. Make use of green spaces exactly as you would in summer, and invest in some winterwear that hugs you like a blanket."
He added: "Pay attention to the elements, and link the challenge of winter to the challenge of the time we like in. Just breathing in the icy outdoor air is enough to trigger the friluftsliv in all of us."
How can friluftsliv help with SAD?
According to Chambers, friluftsliv can do wonders for those who experience SAD for a number of reasons.
"Friluftsliv can help with season affective disorder, introducing more natural light into our lives, and a change of mindset towards the darker months that embraces winter and helps us to approach it rather than avoid it," he explains. " Access to nature and the movement aspect also bolsters our mental fortitude, boosting our mood and offering some protection from SAD."
Time to go outside...
Sagal is a journalist, specialising in lifestyle, pop culture, fashion and beauty. She has written for a number of publications including Vogue, Glamour, Stylist, Evening Standard, Bustle, You Magazine, Dazed and Wonderland to name a few.