Who does Genevieve Angelson play in 'The Handmaid's Tale'? Meet the new villain of season 5
Let's get to know Genevieve Angelson, Serena Joy's new foe in 'The Handmaid's Tale' season 5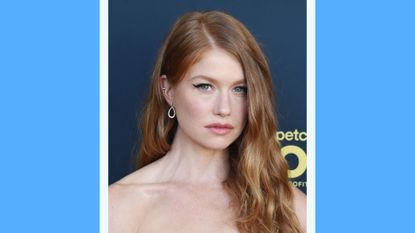 (Image credit: Gilbert Flores/Variety/Getty)
For four seasons, we watched handmaid-turned-hero June Osborne (Elisabeth Moss) and Gilead wife Serena Joy Waterford (Yvonne Strahovski) duke it out but it seems for The Handmaid's Tale season 5, Serena is getting a new foe in the form of Mrs. Ryan Wheeler.
Audiences were introduced to Mrs. Wheeler, portrayed by actress Genevieve Angelson, in season 5 episode 4 of the Hulu series, but it won't be the only appearance by the devout wife. The character pops up in five episodes of the fifth season, though interestingly Mrs. Wheeler's first name is listed as "Alanis" in some episodes and "Gladys" in others.
The mystery over exactly who Mrs. Wheeler is and what her real intentions are with Serena Joy remain to be seen, but here's what we know so far about actress Genevieve Angelson and her thoughts on the creepy new character.
Who does Genevieve Angelson play in 'The Handmaid's Tale'?
Mrs. Wheeler (Genevieve Angelson) is a Gilead sympathizer and certified #1 Serena Joy stan living in Toronto, Canada with her husband Ryan. Following her release from the detention center in Toronto, Serena Joy secures a housing situation at the embassy-esque Gilead Information Center. However, June's husband Luke (O-T Fagbenle) sabotages that posting, using building code violations to have the center shut down, leaving a pregnant Serena functionally homeless in a foreign country.
In episode four of season five, she's then granted shelter at the residence of the wealthy Wheelers, with Mrs. Wheeler, in particular, seeming ecstatic that the Waterford wife is staying at their home. Upon meeting Serena Joy, Mrs. Wheeler dramatically drops to her knees and begins praying for Serena's unborn child.
The attention turns sinister, however, over the course of the next episode, as Mrs. Wheeler forbids Serena from leaving the gated property and Mr. Wheeler refuses her a cell phone or any input in Gilead affairs. "Wives shouldn't concern themselves with business matters," Mrs. Wheeler warns her.
"I am tempted to say that, in reality, there are no villains. And while Serena is 'the bad guy' on the show, Serena also is coming up with very painful solutions to a very painful problem," Angelson told TVLine. "She's going to drastic ends."
"In order to play Mrs. Wheeler, I couldn't say 'I'm playing a bad guy.' I had to say, 'I'm playing someone who's willing to do anything to continue the human race, and that's what we're up against,'" the 35-year-old actress continued. "So, do I want to be the person I am being? Maybe not. But I am accepting that is my reality, that is what I'm doing. That was how I got by with that."
Who plays Mr. Wheeler in 'The Handmaid's Tale'?
Equally unsettling is Mrs. Wheeler's husband Ryan, played by Lucas Neff, a 36-year-old actor who viewers might recognize from TV shows like Raising Hope and Carol's Second Act and movies like Marriage Story.
Neff's Ryan and Angelson's Alanis are meant to mirror the beginnings of Serena and Fred Waterford (Joseph Fiennes), says the show's co-creator Bruce Miller.
"The reason I thought it was important to show them is I wanted to get a feel of what it's like to be somewhere where Gilead was rising. So, in America when Gilead was rising, these things were happening kind of out of sight—there were all these people making decisions and imprisoning people without really talking about it, and then turning those things into laws," Miller told Metacritic.
"Not only is Gilead rising in Toronto, [but also] it has some very powerful people who are advocating for it and that's how these things happen: People who quietly advocate that their lifestyle should be your lifestyle. So it had to be someone who has power and influence and is really kind of cosplaying Gilead, but it isn't funny because what they're cosplaying is misogyny and human slavery, and they're trying to make it palatable to everybody a little at a time."
See what Mr. and Mrs. Wheeler get up to in The Handmaid's Tale season 5, airing every Wednesday on Hulu.
Christina Izzo is the Deputy Editor of My Imperfect Life.
More generally, she is a writer-editor covering food and drink, travel, lifestyle and culture in New York City. She was previously the Features Editor at Rachael Ray In Season and Reveal, as well as the Food & Drink Editor and chief restaurant critic at Time Out New York.
When she's not doing all that, she can probably be found eating cheese somewhere.