Where is Gilead in 'The Handmaid's Tale'?
It's overtaken the United States, but exactly where is Gilead located in 'The Handmaid's Tale'?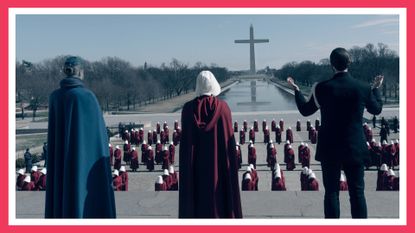 (Image credit: Barbara Nitke/Hulu)
You can't have a dystopian TV show without the dystopia, and for The Handmaid's Tale, that's the Republic of Gilead, an oppresively patriarchal society where a woman's value is reduced to whether or not she is able to bear children. (Oh wait, is this fiction or non-fiction? Can't tell these days!)
In The Handmaid's Tale season 5, which premiered on Hulu on September 14, our heroine June Osborne (Elisabeth Moss) is dealing with the fact that, while she and her husband are relatively safe as refugees in Canada, their young daughter Hannah is still stuck in Gilead.
But exactly where is Gilead? We already know all of The Handmaid's Tale sayings that the citizens of Gilead use on a daily basis ("under His eye," "praise be" and so on), but where is this Divine Republic in which they're living? Here's what we know.
Where is Gilead in 'The Handmaid's Tale'?
Unlike the real-life Gilead, which is a mountainous region in Jordan, the Gilead of The Handmaid's Tale is located in what was formerly the continental United States, which was overthrown by fanatical religious rebels known as the Sons of Jacob, including Fred Waterford (Joseph Fiennes).
All roads lead to Resistance. pic.twitter.com/EFz6IQRp6hMay 21, 2019
See more
How big is Gilead?
Over the course of five seasons, the show has given peeks into exactly how much of the US territory is now occupied by Gilead, with the stronghold being in the mid-Atlantic, midwest and particularly the northeast regions of the country, given that the rebels targeted Congress, the White House, and the Supreme Court during their attacks. Other areas, like the West Coast and the Gulf Coast, still have some American control.
According to maps shown in the series, these states are in Gilead control: Connecticut, Delaware, Illinois (except for Chicago), Indiana, Kentucky, Maine, Maryland, Massachusetts, Michigan, Minnesota, New Hampshire, New Jersey, New York, North Carolina, Ohio, Pennsylvania, Rhode Island, Tennessee, Virginia, West Virginia and Wisconsin.
"I think it was in Episode 11, where we saw the map," creator Bruce Miller said in a conference call, per The Wrap. "Yes, Gilead has taken over the continental U.S., so all 48 states of the continental US. There's lots of areas that are not nearly as well controlled as the Boston area, where the movement was very strong."
"Our show takes place in Cambridge, Massachusetts, outside of Boston and they stated that," he continued. "But so Alaska and Hawaii are the United States, the two states that are united still. And the rest of it has turned into Gilead with lots of pockets of resistance and unease and the places where the grip of Gilead is not nearly as firm."
Beyond Gilead proper is even more territory occupied by the Republic, known as the Colonies, areas of North America (mostly in the mid- and southernwestern portions of the US) that have been contaminated by radioactive waste. Those convicted of "crimes" such as homosexuality, adultery, intellectualism and failure to conceive are sent to work in the Colonies as a form of punishment, such as Alexis Bledel's character Emily. Many of these laborers die quickly in the Colonies due to the pollution, horrific living conditions and malnutrition.
Gilead meaning: where did the name come from?
Given that the Republic of Gilead is a theocracy, it's no shock that the founders took the name of their government directly from the Christian Bible. The name "Gilead" translates to "hill of testimony" or "mound of witness," referring to the mountain regions of ancient Jordan.
How long was June in Gilead?
June Osborne finally escaped from Gilead to the safe borders of Canada in The Handmaid's Tale season 4, but how long was she held as a handmaid in the Divine Republic overall?
According to actress Samira Wiley, who plays June's BFF and a fellow handmaid-turned-refugee Moira, "June has been stuck in Gilead for four years, while Moira has been in Canada," she told Harper's Bazaar in 2021. "So that's four years of healing for Moira versus four years of additional trauma for June. These are two completely different women."
Will June return to Gilead to save her daughter Hannah? With more of season five to go and The Handmaid's Tale season 6 already in the works, it seems we're not down with the Divine Republic just yet.
Christina Izzo is the Deputy Editor of My Imperfect Life.
More generally, she is a writer-editor covering food and drink, travel, lifestyle and culture in New York City. She was previously the Features Editor at Rachael Ray In Season and Reveal, as well as the Food & Drink Editor and chief restaurant critic at Time Out New York.
When she's not doing all that, she can probably be found eating cheese somewhere.