'Ginny & Georgia' season 2 ending explained: what went down?
That 'Ginny & Georgia' season 2 ending left us on another shocking cliffhanger. Here's what happened to all of your favorite characters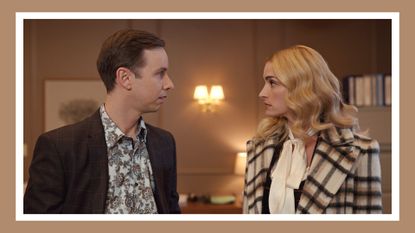 (Image credit: Netflix)
That Ginny & Georgia season 2 ending has left us with more secrets, love and murder than we could ever dream of.
When we catch up with Ginny (Antonia Gentry) and Georgia Miller (Brianne Howey) at the beginning of Ginny & Georgia season 2, and after the Ginny & Georgia season 1 ending, Ginny has run away with younger bro Austin (Diesel La Torraca) on Marcus' motorcycle to an unknown location, which we've since discovered is the apartment of Ginny's dad Zion Miller.
Georgia, who was completely unaware, was out celebrating the reelection of her new fiancé Paul (Scott Porter) as Wellsbury's mayor. But as we saw in the trailer, Georgia returns home to find her beloved wolfsbane plant burnt to a crisp in the fireplace, courtesy of her teenage daughter Ginny. Why? Ginny found out that not only did Georgia not mail Austin's letters to his father but Georgia also killed her ex-husband Kenny with the poisonous flower.
And that's only the beginning, as the second season maps the decline of multiple characters' mental health, Georgia commits even more murders, Austin's dad Gil shows up, and so much more.
Where do we leave things? Our Ginny & Georgia season 2 ending guide has all of your questions answered.
*Warning: spoilers very much ahead!*
'Ginny & Georgia' season 2 ending explained
1. Do Georgia and Paul get married?
Yes! But let's back up:
After Ginny convinces Georgia to tell Paul the full truth about her past and all she's done since she's got to Wellsbury—including embezzling funds from the mayor's office and Austin shooting Gil in the kitchen at the end of episode eight with the gun Georgia said she didn't have—Paul walks out and it all looks a bit touch and go, especially considering Georgia had already canceled their original dream wedding venue in fear of her past catching up with her.
But the good mayor stands by his woman and calls her into his office the following morning where she's greeted by Paul's lawyer, a police officer and Austin's dad Gil. But don't worry, the entourage is there because Paul lets Gil know that he will not be getting any of his family's money and despite Gil saying he will fight for custody, Paul is already prepared with a lawyer ready for the legal battle and says Gil won't win because of his past as a convict and Paul being the mayor and all. After Paul has it out with Gil, he reveals to Georgia he'd very much still like to marry her because he's in love with her.
Ginny ends up helping sort out everything for the wedding, which is a beautiful scene, as Georgia is taken to her wedding venue (now Town Hall) in a carriage drawn by Joe's horse Milkshake, which sparked her idea to move to Wellsbury from all those years ago.
Once at Town Hall, Paul and Georgia do say "I do," get married and live happily ever after…NOT! This is Georgia we're talking about!
2. Does Georgia get arrested for murder?
Another yes: In the middle of Paul and Georgia's wedding reception, PI Gabriel Cordova (Alex Mallari Jr.) and the Wellsbury police force come storming through the doors and arrest Georgia for the murder of Cynthia's husband, Tom Fuller.
Yes, the list of "who did Georgia kill in Ginny & Georgia?" expands in season 2, but this time, the murder wasn't for her own benefit but to help out her on-again, off-again nemesis Cynthia (Sabrina Grdevich). Cynthia revealed to Georgia that at Thanksgiving, the doctors told her Tom would be gone by Christmas but now it's February and he's still alive but comatose, and it's destroying both her and her young son Zach to see him suffering.
Georgia, being the woman that she is, takes matters into her own hands, thinking she's doing a good thing and smothers Tom to death with a pillow. However, not only was Georgia's son Austin watching her kill Tom, but she also forgot that a private investigator, who had been trailing her since season one, was still very much watching her. Cordova hears from Nick that Georgia was alone in the room when Tom died and puts two-and-two together.
A handcuffed Georgia walks out of her wedding reception to the sounds of The Dixie Cups' "Going To The Chapel Of Love" (ironic we know!) and is escorted into the back of a police car and driven away, marking the final scene of Ginny & Georgia season two.
So for now it does seem like prison is Georgia's intended fate but if there is a season three of Ginny & Georgia, we feel like her luck will once again allow her to get away with actual murder.
3. Does Ginny and Marcus end up together?
Short answer: no.
Throughout the season, we see the gradual decline of Marcus's mental health and in episode eight his depression led to him breaking up with Ginny. Despite loving her, he just wasn't able to be with her while coping with his own struggles, something Ginny didn't recognize until Marcus's sister Max pointed out to her that sometimes Marcus gets low moods. This triggered Ginny's memory of a conversation she'd had with Marcus early on in season one in the school shower room, where he discussed how, after the death of his friend, he had to go to therapy.
After Ginny remembers, she goes to see Marcus at the Baker house where they discuss everything and Ginny realizes that she was very caught up in her own problems and wasn't paying attention to how he was. They make up and though nothing is really confirmed as to whether or not they are romantically back together, it definitely seems more like a friendship situation for them by the end of the season, especially at Georgia's wedding when Marcus arrives at the reception and mentions to Joe that he only turned up because he likes to see Ginny happy.
4. What happens with Gil?
We bore witness to Gil's violent nature in episode eight and there's no way that's going away. So just because Gil (played by Aaron Ashmore) has left for now under the instruction of Paul, there's a lingering feeling by the end of the season that he'll be back, not only because his son Austin lives in Wellsbury but also because he still has a bone to pick with Georgia for making him go down for fraud and embezzlement.
5. How many people has Georgia killed?
We know for sure Georgia has killed at least two of her husbands and if we add the newly deceased Tom Fuller to the list, that makes Georgia's "kill total" at three. But there could be plenty more skeletons in Georgia's closet because, in the words of Marcus Barker, Georgia is a "force."
As explored in season two, Georgia only kills when she's under threat and right now she has a big one looming over her head: the threat of prison. We have a feeling if she was to take out another character, it would probably be PI Gabriel Cordova for all the chaos he's caused in her life. But whether or not that will happen, we'll leave that to the Ginny & Georgia writing room!
The second season of Ginny & Georgia is now streaming on Netflix.
Liv is a freelance journalist currently studying English at university. She loves covering everything from entertainment and politics to lifestyle and travel. As well as writing for My Imperfect Life, Liv has bylines in The Times, HuffPost, Den of Geek, Bustle The Metro and The Bookseller.