Who is Graham Stephan on 'Selling Sunset'?
How much do you know about Graham Stephan on 'Selling Sunset'?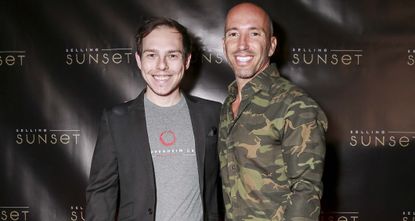 (Image credit: Rochelle Brodin / Getty)
You may not have noticed Graham Stephan on Selling Sunset but the 31-year-old real estate agent is part of the team at The Oppenheim Group.
Unlike his colleagues, however, he isn't a main cast member on the hit Netflix reality TV show and has only made subtle appearances in a number of scenes.
Between the multi-million dollar mansions and the latest drama back at the office—from Mary and Christine's fifth fall-out to elaborate weddings, pregnancies and of course, Chrishell Stause's shock divorce—it can be easy to be overshadowed on the show unless you're bringing your fair share of TV gold. But that's not exactly the reason why we haven't seen more of Graham on the show.
Here's everything you need to know about him, including why he's missing from the show and whether he'll be joining the group for the upcoming season of Selling Sunset.
---
---
Who is Graham Stephan on 'Selling Sunset'?
Graham Stephan is one of the agents at The Oppenheim Group, where he sells luxury LA homes for commission, like the rest of the cast on Selling Sunset. He got his real estate license just after his 18th birthday in 2008 and has been excelling in the industry ever since, selling more than $125 million (£94.4 million) in real estate.
Unlike Christine Quinn, Chrishell and Co., he is not a part of the main cast on the show, as he prefers to focus on a "personal approach" when it comes to selling homes and says "customer service is of the utmost importance."
Graham has worked with a number of celebrity clients, according to his biography on The Oppenheim Group website, which reads: "The key to Graham's success is simple: a genuine passion and infectious enthusiasm for the Real Estate industry. His notable clients include Orlando Bloom, Chloe Moretz, Suki Waterhouse, LaVar Arrington, Wale, Casper Inc., among many others."
The Oppenheim Group boss Jason Oppenheim told Screenrant: "Graham was the first agent we brought onto the Oppenheim Group. He was 18 at the time, so it's fun to watch his success."
Is Graham Stephan a YouTuber?
As well as working as a real estate agent, Graham is mostly known for his popular YouTuber channel, where he has amassed over 3 million subscribers.
He makes videos giving advice on financial independence, saving and investing money and real estate investing, as well as sharing his own journey in the industry. According to CNBC, Graham's YouTube earned him an average of a whopping $81,428 (£65,658) per month in 2019.
As well as his YouTube earnings and his job at The Oppenheim Group, Graham owns five homes that he rents out, so it's safe to say he's not short on cash. In fact, we may have to tune into his YouTube channel to take some notes!
Will he be joining the main cast of Selling Sunset?
While Graham has appeared in the background of some scenes, including Chrishell's welcome party in the first season of the show, he has yet to make an official debut on the show. This reportedly is because he has decided to take a step back from the show and focus on his clients and his YouTube channel, where he has videos with some of the cast members including the currently pregnant Christine.
However, according to Jason, that might change soon, especially as Graham's YouTube fans have been urging the show to add him as a regular. "Graham has now become a YouTube sensation, so he's doing less real estate and more YouTube," the real estate mogul told Metro. "But I'd love to have Graham more involved, especially because on YouTube we're always getting, 'Why isn't Graham Stephan on there?'"
Jason continued: "So I hope to get him on more, but he's focusing more on YouTube business. He's become such a superstar on YouTube now." But he did also make a subtle hint that we could potentially be seeing Graham in the new fourth season, saying: "We're adding more people each season."
Sagal is a journalist, specialising in lifestyle, pop culture, fashion and beauty. She has written for a number of publications including Vogue, Glamour, Stylist, Evening Standard, Bustle, You Magazine, Dazed and Wonderland to name a few.