11 spooky Halloween nail designs to try this year
This way for all the inspo you need for your Halloween manicure...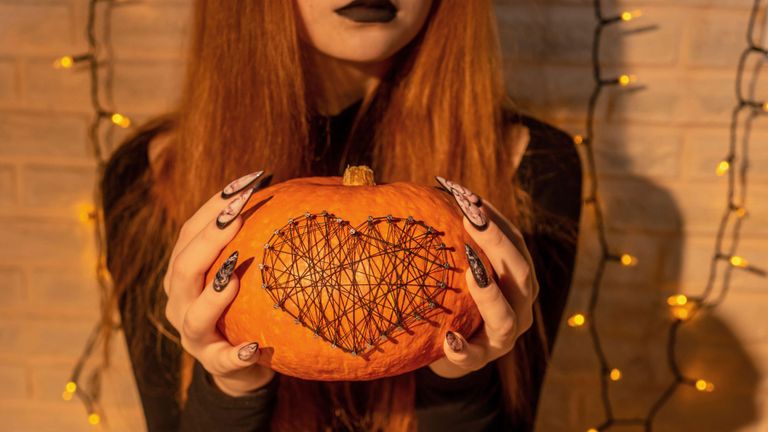 (Image credit: Tatiana Maksimova / Alamy Stock Photo)
Halloween is a matter of weeks away and while we're still plotting up looks for this year's celebrations (mostly easy Halloween costume ideas because we're lazy) one thing we love about the spooky season is all the Halloween nail art we can rock throughout the month of October.
There are plenty of reasons why this is one of our favorite times of year—from movie nights with the best Halloween movies to cozy pumpkin carving parties, not to mention all the Halloween baking we'll be getting stuck into. One of the most exciting things, however, is always the Halloween beauty looks we'll be experimenting with, especially on our nails.
It's the only time of year where creepy spider designs and ghost illustrations actually look cute on your nails and as always, we're so into it. Instagram is rife with some seriously impressive looks, be it Halloween classics like cob-web French tips or artistic Oogie Boogie-inspired designs.
We live for the creativity, which is why we've set ourselves the mission of getting through as many Halloween nail art looks as possible in the lead-up to October 31. Want to join us? Here are some of the best Halloween nail art looks on the internet right now for all the inspiration your heart desires...
---
---
The best Halloween nail designs to try during spooky season
The deadly ghost face
Nothing screams Halloween (see what we did there?) like a scary ghost face and this design is perfect. Created by UK-based nail artist Aimee, the design mixes the intricate detail of dripping blood on pointy french tips with the main feature: the Scream-inspired ghost face. We love it!
The woodland witch
While stalking Aimee (opens in new tab)'s page, we also couldn't get enough of this incredible spooky sorcery design. Not only are we obsessed with the colors (the black and orange ombre blends are to die for) but the clever mix of designs, from a slithering snake to a gloomy half moon, are what Halloween is all about.
The bloody massacre
You can never go wrong with blood when it comes to Halloween. We're loving the marbled blood effect on these!
The cute baby ghost
If you prefer something a little less scary but still very much Halloween, why not go for these cute little ghost designs. Nail artist Nadia (opens in new tab)'s pastel pink base also gives them a super neutral feel, making them great for your every day.
The oogie boogie
Florida-based nail artist Ceirra created this spooky set inspired by the infamous Oogie boogie and as you can see, she killed it. Every single nail looks great but the green Oogie is definitely the highlight here. Creepy!
The neon nightmare
Neon is always a good idea for Halloween. The fluorescent moons, spider webs and snake designs on this set are the ultimate goth look and the point finish is the icing on top!
The flesh & bones
If you love a red nail then these are the ones for you. Switch up your usual but adding this simple yet super effective bone design at the center, creating a chilling finish.
The cute cartoons
California girl Aleccia's nail designs are the perfect combo of cute and creepy. This design, in particular, is one of our favorites as it seamlessly blends the classic Halloween colors: green, purple and orange. It also features a dash of spooky sparkles, not to mention the cute cartoons—we love!
The spooky squad
If you can't decide which signature Halloween staple you'd like to pay homage to on your nails, then why not have a bit of everything like these nails? From Beetlejuice to Oogie Boogie and even a signature spider web, this design is definitely the ultimate Halloween squad. Plus, the short length is super cute!
The creepy crawlies
Nothing is more Halloween than creepy crawlies and somehow, this nail art manages to make what usually sends shivers down our spine, pretty chic! The power of Halloween fashion.
The Beetlejuice
Beetlejuice, Beetlejuice, Beetlejuice! This has to be one of the most creative nail art we've seen. This nail tech definitely understood the assignment because each of the designs are amazing and totally on point with the theme.
Sagal is a journalist, specialising in lifestyle, pop culture, fashion and beauty. She has written for a number of publications including Vogue, Glamour, Stylist, Evening Standard, Bustle, You Magazine, Dazed and Wonderland to name a few.