13 of the best Halloween nail designs to put a spell on you this spooky season
These Halloween manicures will provide you with plenty of ghoulish inspo...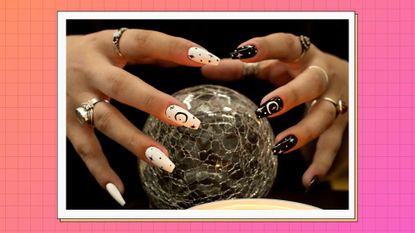 (Image credit: Getty Images: Christina Radcliffe)
"Sisters!" it's time to swap out your 'barely-there' manicures for these altogether spookier Halloween nail designs—to rock while you binge-watch all your fave Halloween movies.
Regardless of whether you've got an elaborate or an easy Halloween costume planned this year, there's no better way to debut your love for October 31, than with a devilish manicure. And luckily for us, TikTok and Instagram are rife with all the inspo you need—be it nods to OG Halloween classics like cob-web French tips or odes to the best scary movies, like Scream.
We live for the creativity, which is why we've set ourselves the mission of getting through as many Halloween nail art looks as possible in the lead-up to the big day. Want to join us? Here are 13 (yes, this was deliberate) of the best Halloween nail designs on the internet right now...
The Best 13 Halloween Nail Designs for spooky season
We've rounded up everything, from cute and minimal ghost nails to elaborate depictions of all the most iconic Halloween-related characters—plus a few, fall-ready hues to rock, if you want to celebrate subtly...
1. Cobweb French Tips
Starting strong, you can't go wrong with cob web-themed French Tip! This look will perfectly compliment any Halloween costume and is subtle enough to work for everyday also!
To recreate this creepy design, all you need is a nude/pink polish, a black and a thin nail design brush (available at Amazon).
2. Blood nails
Of course, blood is a classic Halloween motif. We'd recommend either a full-on, stiletto-shaped marbled blood look—like TikToker @daniellemarcan's—or good ol' fashioned blood drips.
Alternatively, if you're looking for something less obvious, you could also go for a simple, statement red shade.
3. Gothic Chrome & Neon Aurora Nails
Chromes have been a huge trend this year and they're showing no signs of dropping off this fall. In fact, Booksby ambassador, Alice McNails remarks: "You can't go wrong with classically inspired Halloween nails like chrome cobwebs in black or nude with a high shine chrome."
If you'd rather go for a more understated tribute to Halloween, chromes and neons are a good way to go. Like Alice's neon take on the aurora nail trend—they're giving major alien vibes!
4. Deadly ghost face nails
Nothing screams Halloween (see what we did there?) like a scary ghost face and this design is perfect. Created by UK-based nail artist Aimee, the design mixes the intricate detail of dripping blood on pointy french tips with the main feature: the Scream-inspired ghost face. We love it!
5. Cute Ghost Nails
If you prefer something a little less scary but still very much Halloween, why not go for these cute little ghost designs?
These little spirits are perfect for the lead-up to October 31 and will allow compliment your chosen Halloween costume. To recreate this look, you'll again need a few detailing nail brushes and perhaps a nail stamper—if you want to go for that French tip look.
6. Pumpkin nails
Nothing brings those Halloween vibes quite like pumpkins, so why not sport the iconic Jack-O-lantern at your fingertips? We particularly love the idea of having a pumpkin accent nail.
7. Flesh & bones nails
If you love a red nail then these are the ones for you. Switch up your usual but adding this simple yet super effective bone design at the center, creating a chilling finish.
8. Bewitching Hour nails
This nail look is so wearable! Taking inspo from the night sky, you can rock this black starry look for Halloween and beyond.
It's chic, minimal and surprisingly easy to recreate. All you need is a nude nail polish, a black and a star stencil.
9. Pumpkin spice nails
If you're looking for a really understated Halloween look, an all-over, autumnal orange hue is a good way to go. Its chic, but still perfectly on-theme!
10. Vampire Rouge Nails
Another subtle Halloween nail look is this vampire-esque rouge. It's dark and blood-like but also seriously sophisticated—what more could you want?
For this look, we'd recommend either opting for a short, squared shape (like the mani above) or a longer, almond shape, to really bring those The Vampire Diaries vibes.
11. Red and Black ombre
A red and black ombre look, especially on a set of stiletto-shaped nails is enough to send a shiver down ones spin! They're cool but very vampire-chic and, with the help of a sponge and your black and red nail polishes, surprisingly easy to recreate!
12. Beetlejuice nails
Beetlejuice, Beetlejuice, Beetlejuice! This has to be one of the most creative nail art we've seen. This nail tech definitely understood the assignment because each of the designs are amazing and totally on point with the theme.
13. Neon nightmare nails
Luminous neons are always a good idea for Halloween. The fluorescent moons, spider webs and snake designs on this set are the ultimate goth look and the point finish is the icing on top!
Sagal is a journalist, specialising in lifestyle, pop culture, fashion and beauty. She has written for a number of publications including Vogue, Glamour, Stylist, Evening Standard, Bustle, You Magazine, Dazed and Wonderland to name a few.