This is how commissions work on Selling Sunset—and how much the stars actually make
Here's how the Selling Sunset commissions actually work...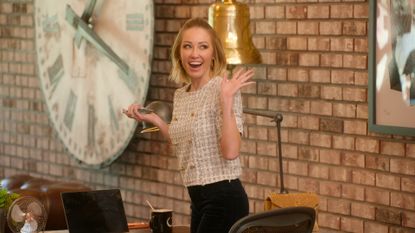 (Image credit: Netflix)
Ever wondered how the Selling Sunset commissions work? Well, you're not alone. It's something most of us fans of the hit Netflix reality show think about when watching the ladies of The Oppenheim Group battle to get the latest listing of a multi-million dollar mansion.
One thing we do know, however, is that Christine and co make a lot of money judging by their lavish lifestyles and, of course, her giant wedding at the end of season three. But how much exactly?
Now that we can finally watch season four, here's everything you need to know about how commissions work on the show and much money the agents are making...
---
---
Selling Sunset commissions: how do they work?
Like most real estate agents, the income of the agents on Selling Sunset is based on the amount they make via commissions. This means that none of the women actually receives a salary from The Oppenheim Group and instead they make their money just from the commissions. So they only receive a payslip if they actually sell a house, which explains all the drama among the group about landing new listings and the favoritism around Mary Fitzgerald, who is a close friend and ex-girlfriend of owner Jason.
As for the rate of their commission, it varies from property to property but considering the caliber of homes they sell (and the hefty price tags they come with) it's safe to say that their commissions are around six figures pretty much every time.
Speaking to Metro (opens in new tab) about commissions at The Oppenheim Group, Maya Vander said: "Typically the commission on a purchase is 5%. The 5% is split into half for the person who represents the seller and the person who brings the buyer, so you end up with 2.5%."
She continued: "If I bring the buyer, I get 2.5% of the purchase price, but then Jason will take his cut because he's the broker and he has the liability. Typically for a brokerage, it's about 70/30 split. I would keep 70% out of the 2.5% and he would take 30%. And then we have to pay taxes."
So for example, an agent who sold a $70 million (£50 million) listing could end up taking home a whopping $1.2 million (£850,000), which isn't too shabby!
However, it's not every day you sell a $70 million home. In an interview with Express.co.uk (opens in new tab), Mary said that working for commissions was the hardest thing about her job. "Spending months sometimes with a client and then they change their minds," she said. "The best part can also be when a client finds something they love immediately and I make a huge commission with very little effort."
What are the most expensive homes on Selling Sunset?
The most expensive home we've seen on the show so far is Davina Potratz's $75 million listing which first appeared in season two. We've also seen a home for $40 million but the agents often sell smaller properties and apartments between $4 million to $8 million.
Sagal is a journalist, specialising in lifestyle, pop culture, fashion and beauty. She has written for a number of publications including Vogue, Glamour, Stylist, Evening Standard, Bustle, You Magazine, Dazed and Wonderland to name a few.