How do the lavish 'Selling Sunset' commissions actually work?
Are the 'Selling Sunset' commissions as luxurious as they seem on TV?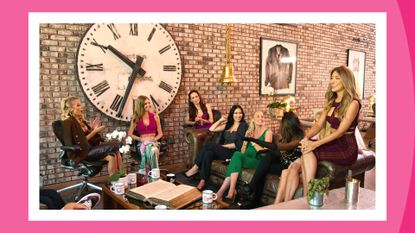 (Image credit: Netflix)
The Selling Sunset commissions seem just as lavish as the homes themselves, but how do they work? How much do the agents rake in when all is said and done?
Though we're still waiting for the Selling Sunset season 7 premiere date, we've sunk our teeth into Selling the OC season 2, which arrived on Netflix on Friday, September 8. And with the sophomore season came news of the Oppenheim Group's new locale in Cabo San Lucas...and the company's first billion-dollar-listing. Imagine having the pleasure of selling something like that!
So, in the spirit of the OC's return, let's dig into the monetary deets. And if you're curious, here's the OC cast net worth and Selling Sunset cast net worth!
How do 'Selling Sunset' commissions work?
Like most real estate agents, the income of the agents on Selling Sunset and Selling the OC are based on the amount they make via commissions. As for the rate of their commission, it varies from property to property, but considering the caliber of homes they sell (and the hefty price tags that come with 'em) it's safe to say that their commissions are around six figures pretty much every time.
Speaking to Metro about the financial side of things, agent Maya Vander said, "Typically the commission on a purchase is 5%. The 5% is split into half for the person who represents the seller and the person who brings the buyer, so you end up with 2.5%."
She continued: "If I bring the buyer, I get 2.5% of the purchase price, but then Jason will take his cut because he's the broker and he has the liability. Typically for a brokerage, it's about 70/30 split. I would keep 70% out of the 2.5% and he would take 30%. And then we have to pay taxes."
However, it's not every day you sell a $70 million home. In an interview with Express.co.uk, Vander noted that working for commissions was the hardest thing about her job. "Spending months sometimes with a client and then they change their minds," she said. "The best part can also be when a client finds something they love immediately and I make a huge commission with very little effort."
What are the most expensive homes on 'Selling Sunset'?
We all know about Davina's $75 million home, but now that we're back in action with the OC group, we learn about Tyler Stanaland working on a $40 million listing, plus we catch a glimpse of another $40 million listing in Cabo. But according to sources, the top most expensive homes sold on Selling Sunset range from $5.5 million to that famous $75 million property.
So, that being said, anyone thinking about a career change?! We'll be glad to pass along our résumé, Jason!
Sagal is a journalist, specialising in lifestyle, pop culture, fashion and beauty. She has written for a number of publications including Vogue, Glamour, Stylist, Evening Standard, Bustle, You Magazine, Dazed and Wonderland to name a few.