Did Davina sell the $75 million house on 'Selling Sunset'?
What happened with that Davina $75 million listing from last season? We finally got an update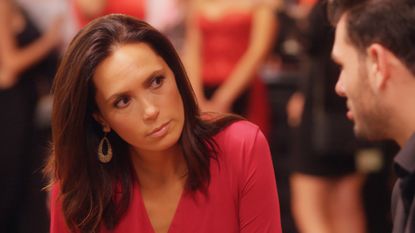 (Image credit: Netflix)
Selling Sunset is back for a new season, allowing us to catch up with all of our favorite realtors, and there's one question on everyone's mind (including the Netflix Twitter account): did Davina Potratz ever sell the $75 million house?
The $75 million house that ex-Oppenheim Group realtor Davina Potratz was on a mission to sell became a huge part of the third season of the popular Netflix reality TV show. The Beverly Hills property was supposed to be Davina's big sell, however, the hefty price tag had a lot of people wondering who would be willing to fork over that much money for a house.
One of our favorite parts of the show is, of course, the outrageous property porn in each episode, and this house in particular had our jaws dropping to the floor. The home is the biggest listing we've seen The Oppenheim Group work with on the show, which caused a lot of tension as Davina struggled to sell the property.
Like most real estate agents, the income of the realtors on Selling Sunset is based on the amount they make via commissions. This means that none of the women actually receives a salary from The Oppenheim Group and instead they make their money just from the commissions. So they only receive a payslip if they actually sell a house, hence why securing listings—preferably major ones—is such a big deal to the cast members on the show and has caused its fair share of drama.
If you've watched the show, you probably remember how Davina had some problems negotiating with her then-bosses Jason and Brett Oppenheim—who wanted to list the house for $60 million—and the man selling the house, property developer Adnan Sen, over how much the property should go for. The whole ordeal felt very stressful, especially because there was a hefty commission of around $1.3 million (almost £1 million) for Davina to take home if all went well.
But what ever happened to the house? Here's everything you need to know about Davina's infamous $75 million listing.
---
---
Davina $75 million listing: What actually happened?
It turns out Davina still hasn't sold the infamous $75 million house, as the property located at 1021 N. Beverly Drive is still on sale on The Oppenheim Group's website. But in her defense, we were hit by a global pandemic which isn't the easiest time to sell a home!
As you'll remember, the stunning mansion features seven bedrooms and 10 bathrooms, as well as a movie theatre, a chef's kitchen, a swanky gym and a wine cellar, to name just some of its impressive features. However, according to Davina's colleague and co-star, Mary Fitzgerald, it doesn't look like anyone will be buying in anytime soon.
Speaking to Metro, Mary explained that she didn't think the house would ever sell, saying: "No one's buying at that price, it will always...Unless the price is halved, it's gonna remain on the market."
She continued: "It's somebody's style and taste but... it's in a great location. There's definitely things going for it but it's very stylized and it's completely overpriced so it's a hard sell." The marketing website Zillow estimates the property to be valued at around $28.1 million, which is a significant decrease from what is being asked for the property now.
Even Netflix's Twitter account noted how Davina had yet to sell the house, which sparked a joke tweet from Davina herself.
Our latest update on the house from Davina herself was given in 2020 when she spoke to Variety, saying: "Maya has a client who's expressed some serious interest, so we are in the middle of trying to put together a deal. We hope that it will result in an offer, and I would be over the moon to present an offer to Adnan, and hopefully get a deal going, but I don't want to take too many steps ahead. We'll see what happens, but I'm very excited and hopeful."
Considering it's a year later and it's still on the market, we take it that deal fell through but who knows, maybe someone out there has a spare $75 million sitting around, loves the listing and may buy it in the near future?
Selling Sunset's $75 million house—what was the original price?
The seven-bedroom house boasts some serious square footage, coming in at 15,605 square feet. It includes tons of living space as well as multiple walk-in closets, a two-bedroom, two-bathroom guest house for friends and family to stay over, an alfresco kitchen and dining area, and "one of the biggest swimming pools in Beverly Hills."
Adnan, who runs Sen Properties and is the property developer of the group, initially wanted to sell the house for $100 million, but the Oppenheim Group convinced him to lower the price to $75 million. So if anyone out there was thinking $75 million was steep, it could have been worse!
Will Davina be in season 4 of 'Selling Sunset'?
Last year, Davina left The Oppenheim Group, which didn't come as much of a surprise, as she'd thrown the idea of leaving around a lot in the previous season of the show. She is now working for rival brokerage Douglas Elliman.
However, despite resigning, Davina is appearing in season 4 of Selling Sunset. Of that news, Mary Fitzgerald said: "Netflix said that she's still going to be a cast member. I don't know how that works out. I don't know if she's still with the other brokerage, if she's come back, if she's just going to be on the show and stay there, I have no idea how that's working out. They haven't given me any information...I don't know what the deal is."
Sounds like yet even more drama we can expect to unfold in the new season of the show. It's no secret that Davina rubbed a few of her castmates the wrong way (including Mary's husband Romain), so we're sure Netflix is keen to keep her around.
Liv is a freelance journalist currently studying English at university. She loves covering everything from entertainment and politics to lifestyle and travel. As well as writing for My Imperfect Life, Liv has bylines in The Times, HuffPost, Den of Geek, Bustle The Metro and The Bookseller.