How does Jackie die in 'Yellowjackets'?
It was a shock for the show to kill off a main character—how does Jackie die in 'Yellowjackets' season one?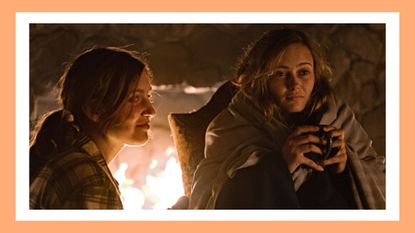 (Image credit: Kailey Schwerman/SHOWTIME)
Her death still shocks us, but how does Jackie die in Yellowjackets season one?
Given how ruthless you have to be to endure out in the wilderness, it's no surprise that death eventually creeps into the hit Showtime drama, which follows a high-school girls' soccer team who survive a plane crash deep in the Canadian woods only to have to contend with cult behavior, creepy mysticism, and, oh yeah, cannibals.
Yellowjackets season 2 no doubt has more chills and thrills in store for us. Still, one of the grimmest moments of the series already occurred in its freshman season when one of the main Yellowjackets characters—Jackie Taylor, the team's charismatic captain (played by Ella Purnell—tragically died in the season one finale.
If you need a refresher before the second season kicks off on Friday, March 24, here's what happened to Jackie in Yellowjackets.
How does Jackie die in 'Yellowjackets'?
Sadly, Jackie Taylor died from hypothermia while sleeping outside after the fight with her BFF Shauna Shipman (portrayed by Yellowjackets cast member Sophie Nélisse as a teenager and Melanie Lynskey as an adult in the show).
At first, Yellowjackets offers fans a fake-out, a dreamy scene of Shauna coming outside to apologize after the argument and bring Jackie back into the warmth of the cabin, where the girls swaddle her in a blanket and magically bring her hot chocolate. (Hot chocolate in the remote wilderness? Yeah, we should have known we were being hoodwinked!)
However, once Laura Lee (Jane Widdop) pops up, who previously died in a plane explosion, viewers realize that this is either Shauna's nightmare or Jackie's final thoughts before her death.
In real life, Shauna wakes up the following day to realize it had snowed the night before and is horrified to remember that Jackie is still outside in the freezing cold. She runs out to her but it's too late. Jackie is already gone.
Speaking on Jackie's death, showrunner Ashley Lyle told Deadline: "There's certainly the symbolism aspect where if Jackie ultimately represents the societal structures that they become accustomed to, that they were socialized with back in the 'civilized' world, that truly and definitively falling away is going to be very meaningful for these characters. On an emotional and person level, there is arguably a certain amount of complicity that not just Shauna but the entire team has in her death—this ultimately unavoidable tragedy."
Shortly after the season one finale, Ella Purnell posted on Instagram about the character: "It has been the greatest honour playing Jackie and being a part of this sick little show. Acting alongside such ferociously talented people, making our chaotic little family, exploring beautiful Canada, getting to work/play & learn from so many good humans, and seeing all of your reactions / memes / theories / general hype – it's absolutely been one of the brightest highlights of my career ❤️."
The British actress continued: "Thank you to all the people who believed in me enough to give me this opportunity, and to our hardworking & fierce crew who actually made this s–t happen ✨ To my fellow Yellowjackets, I hope you know how much I love you all! I am so grateful for all of it. Buzz buzz buzz forever bitches! 💛🐝💛."
Will Ella Purnell be in 'Yellowjackets' season 2?
However, don't entirely write the character or actress Ella Purnell out from showing up in Yellowjackets season 2.
"It's so funny to me watching how viewers and fans are reacting to the show and the strenuousness to which they will adhere to what they want to happen and the skepticism," Lyle told Deadline. "I will say that in case there is any doubt, Jackie is very much dead in that scene. You're not closed off to the possibility of seeing Ella in the future."
Plus, Purnell did show up to the Yellowjackets season 2 premiere in Los Angeles on Wednesday, March 22. Mere moral support for her former cast and crew, or a potential plotline clue? You'll have to tune in to find out!
Catch Yellowjackets season 2 on Paramount+ starting Friday, March 24, or on Showtime starting Sunday, March 26.
Christina Izzo is the Deputy Editor of My Imperfect Life.
More generally, she is a writer-editor covering food and drink, travel, lifestyle and culture in New York City. She was previously the Features Editor at Rachael Ray In Season and Reveal, as well as the Food & Drink Editor and chief restaurant critic at Time Out New York.
When she's not doing all that, she can probably be found eating cheese somewhere.