How factual is Halston, Netflix's new binge-worthy series?
Halston, Netflix's new show about the '70s fashion icon (played by Ewan McGregor) is here and there's a lot of news swirling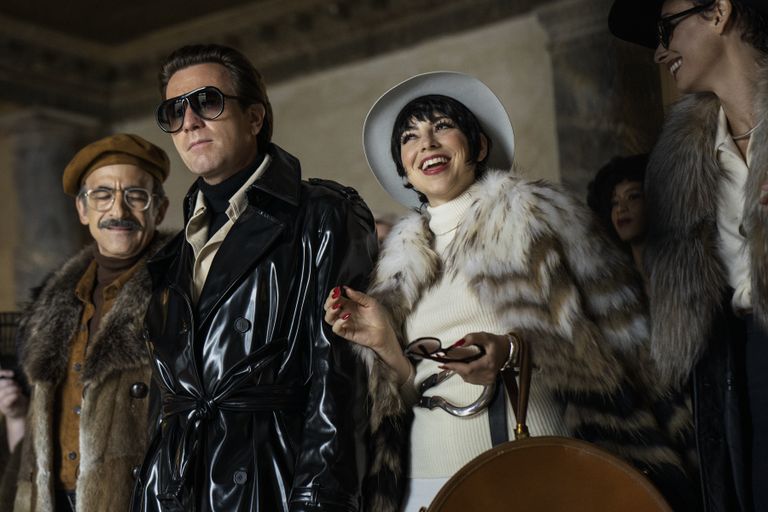 (Image credit: ATSUSHI NISHIJIMA/NETFLIX)
If you're a fashion fiend, you'll want to set aside time to marathon Halston, Netflix's new limited series centered on the namesake '70s fashion icon, this weekend. The glamorous, tumultuous story is already causing a buzz, but it appears the late designer's family isn't terribly pleased with the way he has been depicted. 
Portrayed by Ewan McGregor in the Netflix series, Roy Halston Frowick—known simply as Halston—is famous for revolutionizing wardrobes in the 1970s and '80s, creating ultrasuede looks, experimenting with styles like halter tops, and catering his designs to all sizes.

What appears to be garnering more attention than his clothing are his excessive ways—partying, drug experimentation, sexual escapades—which are on full display in the trailer for the new Netflix show. 
Halson: Netflix shares its series teaser 
Have a look at the glitz, glam, and trouble below.
When does Halston Netflix premiere? 
Halston, the five-episode series based on Simply Laston by Steven Gaines, will premiere on Netflix on Friday, May 14th. 
Synopsis of Halston, Netflix's buzzy new show
Halston is a fashion designer from the Midwest who managed to make quite a name for himself in New York City.

In addition to his popular styles—sophisticated dresses, minimalists ensembles—he was known for partying with famous pals like Andy Warhol, Liza Minnelli, and Truman Capote. Something extraordinary was always taking place, be it a gathering at Studio 54 or a party at his Upper East Side home. 
The show focuses on how the designer's excessive ways ultimately led to him being ousted by his namesake company in the mid-1980s.
Is Halston Netflix the whole truth about the designer?
Halston's niece Leslie Frowick, who is the director of the Halston Personal Archives, claims the forthcoming series is sensationalized and revealed that she was not consulted about the project. She did not provide any specifics about the plot points that she considered "overinflated."
"In actuality, our uncle Halston was a very private, dignified gentleman, and it is my hope that he will be remembered and respected as such," Frowick told The Guardian. Frowick claims that a 2019 documentary by filmmaker Frederic Tcheng—which she was heavily involved with—is the most accurate portrayal of her uncle's life. 
The Netflix series is a reimagining of the book Simply Halston by Steven Gaines. Director Daniel Minahan, though initially upset by the Frowick's reaction, claims that those close to the designer who have seen the project "responded well" to it, according to the Associated Press. 
Despite the backlash the series' creators are experiencing, many fans are anxious to dive into the five-episode series from executive producer and American Horror Story mastermind Ryan Murphy. (From an outsider looking in, the premise is pretty engaging.)
Stars of Halston, Netflix's limited series
The cast of Halston includes: 
Ewan McGregor as Halston
Rebecca Dayan as Elsa Peretti
Krysta Rodriguez as Liza Minnelli
Rory Culkin as Joel Schumacher
Gian Franco Rodriguez as Victor Hugo 
Bill Pullman as David Mahoney
Kelly Bishop as Eleanor Lambert
Danielle is a news writer for woman&home and My Imperfect Life. When she's not working, you can find her experimenting with new recipes or sitting on the couch with a good book and a cup of coffee.