How many episodes of 'Russian Doll' are there?
Season two is finally here, but how many episodes of 'Russian Doll' are there in total?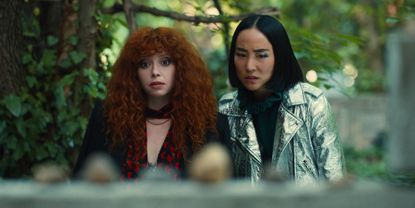 (Image credit: Netflix)
Gotta get up, gotta get out, gotta get home—to watch new episodes of Russian Doll! But how many episodes of Russian Doll are there overall in the new season?
Season one stand-outs Natasha Lyonne, Charlie Barnett and Greta Lee are all back for the much-anticipated Russian Doll season 2, joined by exciting cast additions like Schitt's Creek star Annie Murphy.
And while we're thrilled to revisit all of the show's twisty time-bending fun—not to mention that bop-filled Russian Doll soundtrack and Lyonne's incredible mane of hair—we were a bit concerned to hear rumors that season two will feature fewer episodes than its Emmy-nominated freshman season. So how many episodes exactly can fans expect of the Netflix hit? Here's what you need to know.
How many episodes of 'Russian Doll' are there?
Season two of Russian Doll has seven episodes, with each hovering around the half-hour mark. In comparison, the debut season of the show featured eight episodes in total.
It is unclear if the decreased episode count this time around is a result of the havoc that the pandemic played on TV and film productions in the past two years—the second season comes more than three years after the first, which debuted in February 2019, due to COVID-related delays.
What is 'Russian Doll' about?
Russian Doll follows a smoky-voiced software engineer named Nadia Vulvokov (Lyonne) who is stuck in a time loop on her 36th birthday in New York City. She dies repeatedly and in increasingly dramatic ways (getting hit by a cab, breaking her neck after falling down the stairs), only to "reset" in the middle of her birthday party, doomed to live the night all over again. In her quest to figure out what the hell is happening to her, she runs into a man, Alan (Barnett), stuck in his own temporal standstill.
Season two jumps four years into the future and stretches its time-bending premise even further, having Nadia bop around from 1982 New York to 1944 Budapest, all while trying to untangle the knotty relationships she has with her mother Lenora (Chloë Sevigny) and grandmother Vera (Irén Bordán).
Why is it called 'Russian Doll'?
The series takes its name from Russian nesting dolls, or matryoshka, a set of wooden dolls that split at the center to reveal a decreasingly sized doll inside, a phenomenon that repeats on and on until you're left with the smallest figure in the center.
The stacking dolls are often used in Russian culture as a symbol of feminity, family and fertility, all of which are themes that Russian Doll taps into throughout both seasons one and two.
In fact, the second season finale is titled "Matryoshka" and Nadia spends the bulk of the season in both her mother and grandmother's shoes—literally, embodying her mother Lenora while she was pregnant with Nadia in the early '80s and her grandmother Vera in her native war-torn Hungary. In occupying their bodies—their matryoshka shells, if you will—Nadia learns not only about the women who made her but also about the woman she is.
Seasons one and two of Russian Doll are now available to stream on Netflix.
Christina Izzo is the Deputy Editor of My Imperfect Life.
More generally, she is a writer-editor covering food and drink, travel, lifestyle and culture in New York City. She was previously the Features Editor at Rachael Ray In Season and Reveal, as well as the Food & Drink Editor and chief restaurant critic at Time Out New York.
When she's not doing all that, she can probably be found eating cheese somewhere.