'Russian Doll' soundtrack: all the songs from the hit Netflix show
We've had the 'Russian Doll' soundtrack stuck in our head since season one ended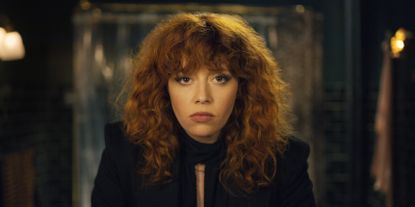 (Image credit: Netflix)
New episodes of Russian Doll are almost here, which means the Russian Doll soundtrack that we've been listening to ever since season one ended back in February 2019 will be happily expanding.
Russian Doll season 2 will hit Netflix on Wednesday, April 20, so if you're like us, you're preparing to re-enter the time-loop world of "sweet birthday baby" Nadia Vulvokov (Natasha Lyonne), Alan Zaveri (Charlie Barnett) and company by re-watching the first batch of episodes and listening to the show's genre-jumping soundtrack, including that incredibly catchy track that plays such an integral to the existential story. (More on that tune later.)
For those new to Russian Doll, the Emmy-winning series follows Nadia, a New York City game developer who repeatedly dies and must relive her same 36th birthday party Groundhog Day-style in a neverending time loop. She's trying to solve this temporal dilemma when she comes across a man struggling with the same situation.
And all throughout, you're treated with choice needle drops from the likes of Cass McCombs, Pony Sherrell, Gemma Ray, Pussy Riot and more. Here's everything featured on the Russian Doll soundtrack so far.
'Russian Doll' soundtrack: songs from season one
1. Episode one: "Nothing in This World Is Easy"
Harry Nilsson, "Gotta Get Up"
Ariel Pink & Weyes Blood, "Morning After"
Cass McCombs, "Dreams-Come-True-Girl"
Kat Edmonson, "If"
Light Asylum, "Shallow Tears"
2. Episode two: "The Great Escape"
Pony Sherrell, "Don't Put Off 'Til Tomorrow"
Mae West, "My New Year's Resolution"
Wordsmith, "Get What You Love"
Anika, "I Go To Sleep"
ALA.NI, "Cherry Blossom"
The Limiñanas, "Migas 2000"
3. Episode three: "A Warm Body"
Gemma Ray, "Caldera, Caldera!"
John Maus, "Cop Killer"
The Echocentrics, "Death Of A Rockstar"
Gang Gang Dance, "Mindkilla"
4. Episode four: "Alan's Routine"
Piano Concerto No. 4 In G Major, Op. 58: III. Rondo: Vivace
Beethoven: Symphony No. 2 In D, Op. 36-4. Allegro Molto
5. Episode five: "Superiority Complex"
Vex Ruffin, "Front"
Timber Timbre, "Black Water"
6. Episode six: "Reflection"
Jacqueline Taïeb, "La Plus Belle Chanson"
Cults, "You Know What I Mean"
7. Episode seven: "The Way Out"
When In Rome, "The Promise"
Pussy Riot, "Organs"
8. Episode eight: "Ariadne"
Vaffamix, "Ethno Love (Vaffa Superstar Remix)"
Love, "Alone Again Or"
What is the "reset" song from 'Russian Doll'?
Every time Nadia dies in Russian Doll, she "resets" back to the trippy bathroom at her 36th birthday party, staring into a mirror as one specific song plays: Harry Nilsson's "Gotta Get Up."
Other contenders for Nadia's reset song included Lou Reed's "Crazy Feeling," The Stooges's "No Fun" and Lil' Kim's "Not Tonight," reports The New York Times, but the creative team—which includes series star Natasha Lyonne, as well as Amy Poehler and Leslye Headland—kept going back to Nilsson's little ditty.
"All the choices for music were really very important to me, and something that I spent a lot of time trying to make that an enjoyable experience for people," Lyonne told Indiewire. "That song is definitely the linchpin that sets it all off."
"That was always in the script, too. Page One, it was like 'Harry Nielsen's 'Gotta Get Up' plays,'" Headland said to the outlet. "I used to joke to Natasha in the room that my goal for the show is that New Yorkers finish watching it, it's 2 AM, they walk from their house to the deli to get food, and they just feel like, 'I'm now in the show. I'm walking to the deli. I have that song in my head. I might die.'"
When it came to finding a reset song for the character of Alan, the team went the more classical route, ultimately choosing Beethoven's "Piano Concerto No. 4 in G Major."
Want more TV soundtracks to add to your Spotify playlists? Check out Bridgerton music from season two, the Yellowjackets theme song and its '90s-heavy soundtrack, and the pop paradise that is the Sex Education soundtrack.
Christina Izzo is the Deputy Editor of My Imperfect Life.
More generally, she is a writer-editor covering food and drink, travel, lifestyle and culture in New York City. She was previously the Features Editor at Rachael Ray In Season and Reveal, as well as the Food & Drink Editor and chief restaurant critic at Time Out New York.
When she's not doing all that, she can probably be found eating cheese somewhere.