How to have phone sex: the ultimate guide to dialed-up dirty talk
Not sure how to have phone sex? These steamy tips and techniques will turn your smartphone into a hotline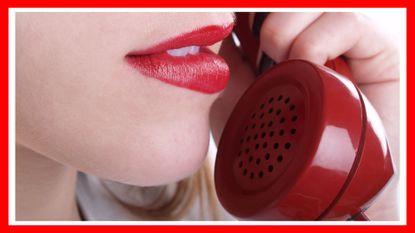 (Image credit: Getty)
Talking provocatively and erotically to a lover can help build intimacy and bonding, but sometimes we can't find the words for it, particularly when in person. That's why some people prefer the convenience of phone sex as an accessible way to turn each other on.
Phone sex between consenting adults can be tied in with an existing relationship, whether long distance or otherwise, and other times it can be enjoyed between two individuals through paid services.
But it can be difficult to enjoy the phone-bone experience if you don't know how to have phone sex confidently.
Thankfully, we've got some our best sex tips from Alison Sparks, a professional phone-sex worker, that couples could use to dial up the dirty talk during those telephonic moments. "I know that phone sex can feel awkward at first to a lot of us, but after some practice, it can really spice things up," Sparks says.
A guide on how to have phone sex:
Introducing the idea of phone sex
Sexologist Marla Renee Stewart—co-author of The Ultimate Guide to Seduction & Foreplay and Sex Expert for the My Fantasy App—suggests when first introducing a partner to the idea of phone sex that using compliments and positive reinforcement can help.
"Give them positive reinforcement, such as 'I love your voice and when you speak sexy to me, it gets me really hot. What do you think about us having phone sex the next time we're away from each other?'" Stewart says.
Phone sex foreplay is important
Sparks suggests that you should set the mood with some phone-call foreplay. Like intercourse, "you don't just jump in during phone sex. Tell your partner how and where you would caress them, how and where you would kiss them, what do you want them to imagine at that moment…when you work on building up the tension, that big O will be way better."
Some frisky phrases to get you started:
Not sure how to kick off your sultry convo? Here are a few easy sentences that you can throw into your chat.
"That turns me on so much."
"Keep going."
"I like when you do that."
"I want you"
"I so wish I could feel you inside me."
"My body is aching for you."
"I want to stroke you hard and fast."
"I bet you taste so good right now."
"I really like it when I get to hear you moan."
If you're adding hands-on play to the conversation, remember to tell your partner specifically what you're doing. I.e., "I'm touching myself and it feels so warm, wet or hard." And make sure to ask them what they're doing or what they want, too.
What to do when it's not working
If you're struggling to set the mood or it suddenly goes dead, Sparks recommends telling your partner about a sexy dream you've had of them, sharing one of your sexual fantasies or even telling them of a hot memory you have of them.
"Be open about your fantasies, things you'd like to explore, and let your imagination run wild. Nothing quite ruins the mood like being tongue-tied because you feel like your partner will judge your kinks," she says.
Some of us process sexual stimulation in different ways, and Stewart says this is because "some folks might be open to the idea and most likely if they're not, it's probably because they are more visual or tactile and less auditory." Focusing on different stimulation styles can help when traditional phone sex isn't working. (Check out our guide to sex emojis if you want to add cheeky visuals to your conversation.)
Don't forget: it takes two
Sparks says phone sex shouldn't be one-sided—when it gets really hot, both parties involved should be conversing erotically, rather than one party talking and the other just listening.
However, "don't be afraid to take control of the conversation," she adds. "It's not set in stone that one person has to be in charge and the other one just has to listen. You can take turns in directing your fantasy until you are both feeling hot and heavy!"
Just like other shared sexual experiences, phone sex can be intense and can necessitate aftercare. Checking in with your partner afterward can give you both an opportunity to share what turned you on and if anything turned you off. Happy dialing!
Ness Cooper is internationally recognized as a leading expert in sex and relationships and has trained with the Kinsey Institute for human sexuality. She is a sexpert and writer for Marie Claire, and is a published author not just in news and magazines, but in books and academia, too.