How to nail the rest of your 2021: watch our Instagram Lives for expert advice
Watch our free Get Set InstaLives for expert advice on how to deal with 2021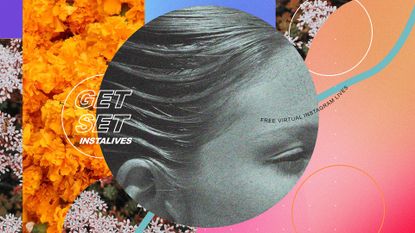 (Image credit: Future)
Let's not sugarcoat it—we're only a month in and 2021 is already not quite what we expected. As much as we were naively hoping for that countdown to mark a new beginning, we might have to wait just a little bit longer for things to get and feel better.
But while external conditions might be out of our control, we can still attempt to refocus and turn our attention to the things we can control. From improving our beauty routines to spending more time on self-care practices and eating better, you might have already found positive ways to help you cope with the chaos of the outside world this past year.
And while none of us should feel pressured to use this time productively—it is a pandemic after all—you might be bored in the house (remember that one) and wanting to make some positive changes that will help you deal with the rollercoaster that is life these days.
This is why we enlisted a series of experts to talk you through—and show you— techniques to help you nail the rest of 2021.
How to nail the rest of your 2021
Our Get Set series featured a week-long series of Instagram Lives, running from February 1st to February 5th. The whole series is available to watch at your leisure on our Instagram channel (@thisismyimperfectlife).
Financial fitness - Selina Flavius, Black Girl Finance
While the pandemic might have hit our finances differently, one thing is for sure—we could all benefit from more financial education. Which is exactly why we're getting Selina Flavius, founder of Black Girl Finance, to take us through five tips for financial wellness in 2021. Selina created a financial coaching company dedicated to UK Black women and girls back in 2019 and has since launched the Black Girl Finance Podcast (which we featured as one of the best personal financial podcasts to listen to now). Her book, Black Girl Finance - Let's Talk Money, is out now.
Guided journaling with Francesca Specter
Francesca Specter, author of the upcoming book titled Alonement, is on a mission to make alone time top of our priorities. While this might actually not be hard to achieve these days (social distancing, don't you know), it's one thing to do it, it's another to actually enjoy it.
To help us get in the mind frame of enjoying spending time by ourselves, for ourselves, and figuring out what we really want to get out of 2021, Francesca will be providing us with a Guided Journaling session, so you can take back control and set your intentions for the rest of the year. Check out Francesca's handy journaling for beginners' guide if you want more information.
Gua sha facial technique - Su-Man Hsu, Su-man Skincare
Gua shas at the ready? Good, because Instagram legend Su-Man Hsu (Su-Man Skincare) is going to show us how to use them properly, and give ourselves the best gua sha facial. She's the go-to facialist for some of Hollywood's favourites (Sienna Miller, Freida Pinto) so we need to learn some of her massage techniques, asap.
Online resistance band workout via Bodied by XO
We all know moving our bodies is one of the most important things we can do for both our physical and mental health. PT and founder of Bodied by XO Christina Okenla has been helping people do just that since the pandemic started, with Instagram workouts everyone can do in the comfort of their own home. Join in a fun resistance band workout! Check out the best resistance bands to shop if you don't have yours already...
How to boost your self-love with Fingal Greenlaw
Get into the mood for loving the most important person in your life - yourself. Fiongal Greenlaw, Tarot Master, Psychic, Spiritual Advisor and founder of The Wellness Foundry, gives a master class in self-love drawing on the combined forces of tarot and your astrological star sign.
Mariana is Editor of My Imperfect Life. She has previously worked for titles including woman&home and Goodto, covering all aspects of women's lifestyle — from beauty and fashion to wellness and travel. She was nominated for AOP Digital Journalist of the Year in 2020, and for New Digital Talent of the Year at the 2016 PPA Digital Awards. She's mildly obsessed with reality TV (Love Island memes included) and spends far too much time checking her horoscope and figuring out the perfect curly hair routine.