How to watch 'Eurovision' 2022: who are the Eurovision second semi final qualifiers?
Excited for this year's Song Contest? Here's how to watch 'Eurovision' 2022, plus who has moved on from the semi finals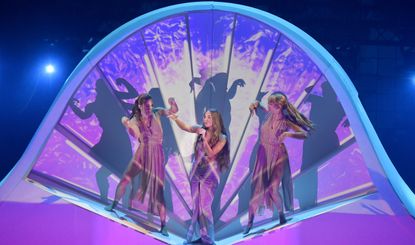 (Image credit: Filippo Alfero/Getty)
The big Song Contest is almost here and if you're trying to figure out how to watch Eurovision 2022 if you're outside Europe but don't want to miss any of the action, we're right there with you!
Now that we've enjoyed the best Met Gala 2022 memes, made our way through Selling Sunset season 5 and set our alarms for Love Island season 8 to kick off, we're turning our attention to the next thing on our TV-watching agenda (as well as keeping up with what's coming to Netflix in May, of course).
Eurovision 2022 is airing this week and if you're as much of a fan as we are, then you'll be deep into planning your viewing party by now—themes and all!
But first, you'll need to know all the details about when and how to stream the show, especially if you're in the US. This year's event will be hosted in Turin, Italy, the home country of Eurovision 2021 winners Måneskin. The Italian rock band was voted the best act last year and this time around, 26 artists from across the continent will battle it out to follow in their footsteps and bring the winning title home.
Here's everything you need to know about Eurovision 2022...
How to watch 'Eurovision' 2022 in USA:
Fans in the US will also be able to watch Eurovision 2022 live on Peacock. Peacock has broadcasted the Eurovision Song Contest in the US since 2019 and this year is no different. All you have to do is make sure you have a subscription. Prices start at $4.99 per month or $49.99 for an annual subscription.
How to watch 'Eurovision' 2022 in the UK:
If you're in the United Kingdom, you're in luck: all of the three live events will be aired on the BBC.
The two semi-finals will be broadcast live on BBC Three, with Scott Mills and Rylan Clark commentating. The Eurovision Grand Final will then be shown on BBC One and BBC iPlayer. And yes, Graham Norton will be back doing what he does best as the UK commentator on the night.
Those in the UK will also be able to listen to the show on BBC Radio 2 and BBC Sounds.
How to watch 'Eurovision' 2022 online from anywhere in the world:
If you are traveling outside of the UK and the US next week and don't want to miss any of the musical action, you can still tune into Eurovision 2022 with the little help of a VPN.
A VPN is a handy piece of software that allows you to browse anonymously, and change your IP address so your mobile, computer, or laptop thinks it's in another location. Meaning that you can watch your favorite show, film or event—even if you're away from home.
Our favorite VPN service is ExpressVPN—rated the best VPN in the world right now, by our colleagues at TechRadar.
You can use a VPN to change your IP address to the UK for BBC iPlayer or US for Peacock, which will allow you to stream the show live online from most places around the world.
When is 'Eurovision' 2022?
This year, the Eurovision Song Contest will take place over three days, with the grand final happening on Saturday, May 14.
The competition kicks off with the first of two semi-finals on Tuesday, May 10, with 17 countries going head to head to make it to the grand final. This first group will include Albania, Bulgaria, Latvia, Lithuania, Moldova, Netherlands, Slovenia, Switzerland, Ukraine, Austria, Croatia, Denmark, Greece, Iceland, Norway, Portugal, and Armenia.
This batch will be followed by the second semi-final on Thursday, May 12. Round number two will see Australia, Azerbaijan, Cyprus, Finland, Georgia, Israel, Malta, San Marino, Serbia, Belgium, Czech Republic, Estonia, Ireland, Montenegro, North Macedonia, Romania, and Sweden battle it out.
Meanwhile, France, the UK, Germany, Spain, and Italy automatically qualify for the grand final on Saturday, May 14, meaning they won't have to compete in the semi-finals.
In February, the European Broadcasting Union announced that Russia was barred from participating in Eurovision 2022.
"The decision reflects concern that, in light of the unprecedented crisis in Ukraine, the inclusion of a Russian entry in this year's contest would bring the competition into disrepute," they said in a statement.
Who has qualified from the 'Eurovision' semi final 1 so far?
The first batch of semi-finals took place on Tuesday, May 10, and out of seventeen competing countries, ten nations so far have qualified for the grand finale, which will air on May 14. They are:
Armenia
Greece
Iceland
Lithuania
Moldova
The Netherlands
Norway
Portugal
Switzerland
Ukraine
Who are the 'Eurovision' second semi finals qualifiers?
Representing Ukraine, the Kalush Orchestra and their song "Stefania" were heavily favored to win the whole competition after the first half of the semi-finals, but we still had the Eurovision second semi-finals qualifiers to look out for, comprising 18 competing countries.
Second-rounders took the stage on Thursday, May 12. Ten acts from the second round will move on to the grand finale, along with the first-round qualifiers and the Big Five (France, the UK, Germany, Spain, and Italy). They are:
Australia
Azerbaijan
Belgium
Czech Republic
Estonia
Finland
Poland
Romania
Serbia
Sweden
'Eurovision' 2022 grand final running order
Here is the running order of countries and songs you can expect to hear in the Eurovision grand finale, airing on Saturday, May 14:
Czech Republic: We Are Domi – "Lights Off"
Romania: WRS – "Llámame"
Portugal: MARO – "Saudade, Saudade"
Finland: The Rasmus – "Jezebel"
Switzerland: Marius Bear – "Boys Do Cry"
France: Alvan & Ahez – "Fulenn"
Norway: Subwoolfer – "Give That Wolf A Banana"
Armenia: Rosa Linn – "Snap"
Italy: Mahmood & Blanco – "Brividi"
Spain: Chanel – "SloMo"
Netherlands: S10 – "De Diepte"
Ukraine: Kalush Orchestra – "Stefania"
Germany: Malik Harris – "Rockstars"
Lithuania: Monika Liu – "Sentimentai"
Azerbaijan: Nadir Rustamli – "Fade To Black"
Belgium: Jérémie Makiese – "Miss You"
Greece: Amanda Georgiadi Tenfjord – "Die Together"
Iceland: Systur – "Með Hækkandi Sól"
Moldova: Zdob şi Zdub & Advahov Brothers – "Trenulețul"
Sweden: Cornelia Jakobs – "Hold Me Closer"
Australia: Sheldon Riley – "Not The Same"
United Kingdom: Sam Ryder – "SPACE MAN"
Poland: Ochman – "River"
Serbia: Konstrakta – "In Corpore Sano"
Estonia: Stefan – "Hope"
Sagal is a journalist, specialising in lifestyle, pop culture, fashion and beauty. She has written for a number of publications including Vogue, Glamour, Stylist, Evening Standard, Bustle, You Magazine, Dazed and Wonderland to name a few.
With contributions from