How to watch 'Friends' online now that it's not on Netflix
Missing Monica, Joey, Chandler and the gang? Here's how to watch 'Friends' online from anywhere in the world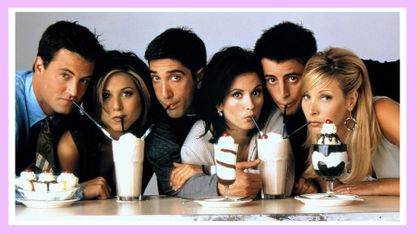 (Image credit: AJ Pics / Alamy Stock Photo)
Wondering how to watch Friends online now that Netflix has cruelly snatched it away from us? You're not alone.
It's safe to say that we have all watched Friends. In fact, unless you're a newborn baby, we'd be pretty horrified if the names Rachel, Monica, Chandler, Ross, Joey and Phoebe didn't immediately fill you with joy—even if you liked some more than others. It would be even more of an atrocity if you didn't know the words to "Smelly Cat" or argued with someone about whether Rachel and Ross really were on a break or not.
The hit '90s sitcom was one of our best pastimes on the streaming platform but as we all know too well by now, there's always something leaving Netflix to make space for all the new content coming to Netflix. Unfortunately, in 2020, the lease was up on the beloved series, with all 236 episodes officially off the platform for audiences in America.
However, that doesn't mean you won't ever be able to watch the show again. Read on to find out how you can stream Friends online from anywhere in the world.
How to watch 'Friends' online:
How to watch 'Friends' online in the US
If you're in the US, you can watch all 10 seasons of Friends on HBO Max. If you don't already have a subscription, sign up for one for $14.99 per month (we know, it's a bit pricey) and you can stream away to your heart's content. You get even better value for your money if you sign up for six months (opens in new tab)—at $69.99, it's a 20% saving on the regular monthly subscription cost.
How to watch 'Friends' online from anywhere
While Friends has been removed from Netflix US, it is still available to watch on other branches of the streaming service including Netflix UK, Canada and Australia. This means audiences in these countries can continue watching on Netflix if they're currently located in their home countries.
However, in January 2022, it was announced that the streamer was pulling the series in international regions, including Israel, Turkey, Greece, Japan, The Netherlands, Malaysia, Lithuania and South Korea.
If you want to be able to stream the show from absolutely anywhere, however, use a VPN (opens in new tab).
A VPN is a handy piece of software that allows you to browse anonymously and change your IP address so your mobile, computer, or laptop thinks it's in another location. That means that you can watch your favorite show, film or event—even if you're away from home.
Our favorite VPN service is ExpressVPN (opens in new tab), rated the best VPN (opens in new tab) in the world right now, by our colleagues at TechRadar.
How to get started with your VPN:
First off, you need to make sure you have an HBO Max account so you can log in once your VPN is set up.
Then, download ExpressVPN (opens in new tab), using the easy-to-follow instructions (you can get 49% off, three months free and there's a 100% risk-free 30-day money-back guarantee).
Once you've installed your VPN, open the app and select your server location as anywhere in the United States
With your ExpressVPN (opens in new tab) installed and your location set to the United States, head to HBO Max, log in and follow the instructions to stream all ten seasons of Friends.
Want even more quality time with your Friends? Here's how to watch the Friends reunion from anywhere in the world. (Grab your Kleenex!) To cheer you up after, check out the best Friends cameos, a ranking of the Halloween episodes of Friends and a style breakdown of the best Rachel Green outfits.
Sagal is a journalist, specialising in lifestyle, pop culture, fashion and beauty. She has written for a number of publications including Vogue, Glamour, Stylist, Evening Standard, Bustle, You Magazine, Dazed and Wonderland to name a few.
With contributions from