11 'Friends' ornaments to gift the show's biggest fans—or buy for yourself
With nods to Central Perk and Monica's iconic purple door, these 'Friends' ornaments are the perfect addition to your tree
(Image credit: Future)
If you're anything like Monica, decorating your tree for Christmas is serious business. But this year, you're in luck, as these funny and nostalgic Friends ornaments will get even the Holiday Armadillo's seal of approval. If you're looking for the perfect pop-culture gift, or a way to embellish your own tree, why not turn to the iconic New York City sitcom?
Joey, Chandler, Ross, Monica, Rachel and Phoebe often go hand-in-hand with the festive season—there are tons of Friends holiday and Christmas episodes (and yes, we've already started re-watching all of them). And what could be more fun than adding a little *pizzaz* to your decor via a Friends ornament? Not only are they colorful and amusing to look at; but every time you pass on, you'll be reminded of some of your favorite moments from the eternally funny series.
And, if you're not the biggest Friends fan (firstly, how dare you), a funky Friends ornament would make for one of the best Christmas gifts for a friend or co-worker, especially if you're already stressing over Secret Santa. Have a look at some of the adorable decorations below and give your tree a look that even Monica would approve of.
---
The best Friends ornaments to put on your tree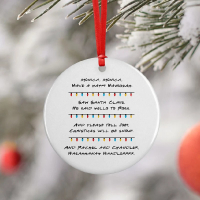 (opens in new tab)
1. Phoebe's Christmas Song Ornament
RRP: $18/£19.86
Phoebe's festive Christmas song will live rent-free in our heads forever (she's our favorite 'Friends' character (opens in new tab) for a reason)—so why not get it immortalized in the form of a rather pretty looking tree ornament?
This option has the entire song lyrics on it (yes, even the bizarre ending), interspersed with rows of Christmas lights. On the white background, it couldn't look more festive—and we bet it'll have you humming the tune every time you walk past it.
---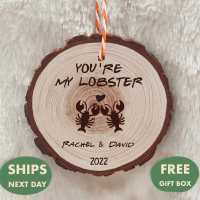 (opens in new tab)
2. You Are My Lobster Custom Ornament
RRP: $13.45/£14.84
If you're looking for a more sentimental decoration idea, this sweet wooden ornament is perfect for Friends-loving couples who want to solidify their love this festive season.
Choose your names and the year you want written onto your custom decoration—or if you're giving this to a loved one, theirs and their beau's name. They'll be lobsters together forever—in the immortal words of Phoebe Buffay. One of the best Christmas gift ideas for a girlfriend (opens in new tab), or Christmas gift ideas for a boyfriend (opens in new tab).
---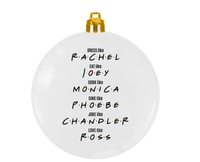 (opens in new tab)
3. Friends TV Show Ornament ($14.99 (opens in new tab))
RRP: $10.99/£24
Put your favorite characters' best attributes on full display with this glass Christmas bauble, which tells you to 'Dress like Rachel, eat like Joey, cook like Monica, sing like Phoebe, joke like Chandler, and love like Ross'; aww!
Whether you can actually do those things or not, this festive ornament is a reminder of your favorite show, and it'll look super Christmassy hanging on your tree, too.
---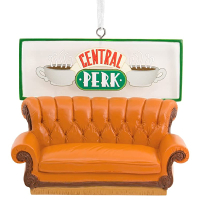 (opens in new tab)
4. Hallmark Friends Central Perk Cafe Couch
RRP: $14.93/£24.33
Is there a Friends scene more recognizable than the entire gang sat drinking coffee on the Central Perk couch? If the large brown/orange sofa and Central Perk window signifies the TV show for you, snap up this Friends ornament.
Made of resin, its largely unbreakable, and it measures in at 3 x 2.63 x 1.72 inches—meaning it'll be big enough to spot on your tree, but not so big that it'll draw attention away from your other ornaments. A great cozy gift (opens in new tab) for those who also love cuddling up on the couch!
---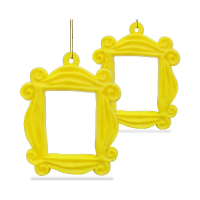 (opens in new tab)
5. Friends Door Frame Ornaments
RRP: $9.99/£17.93
The unmistakable yellow door frame around the peephole of Monica's apartment was the closing shot of the entire series, so there's really no other symbol that best sums up the wildly popular show.
Why is why we simply had to include this ornament, which comes in two different sizes. Just try not to sob each time you pass it...
And if you want to watch the heartbreaking scene again, here's how to watch Friends online (opens in new tab) now that the show has left Netflix in the US.
---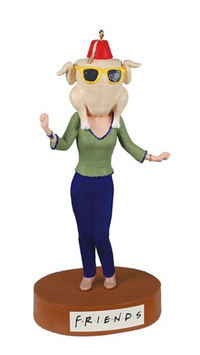 (opens in new tab)
6. Kohls Friends The One With All The Thanksgivings 2021 Hallmark Keepsake Christmas Ornament with Sound
RRP: $19.99 (US only)
A look almost as iconic as Rachel's hair is Monica's Thanksgiving turkey—so we simply had to include this brilliant ornament of the fateful moment she dances around in front of Chandler with it on her head.
It's even more fun that it looks too—press the button to hear an audio clip from the fan-favorite holiday episode! It's one highest-rated 'Friends' episode's (opens in new tab) of all time for a reason...
One of the best Friends ornaments on our list!
---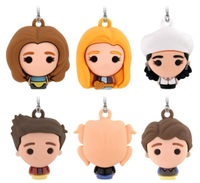 (opens in new tab)
7. Hallmark Friends Mini Set Christmas Tree Ornament
RRP: $13 (US only)
If you like something a bit alternative, then this set of six FunkoPop-esque holiday ornaments with your favorite 'Friends' are a great idea—can you tell who's who? The guitar on one, chef's hat on the other, and turkey head on the third may give the game away slightly...
---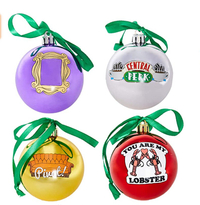 (opens in new tab)
8. Paladone Friends Ornaments
RRP: $14.99 (US only)
There are popular Friends places and sayings abound on this set of classic Christmas tree ornaments, including the hilarious Ross 'Pivot!' moment, and of course, the classic Central Perk motif, where the gang gathered for so many years.
Add these to your tree for a fun touch to your decor this festive season!
---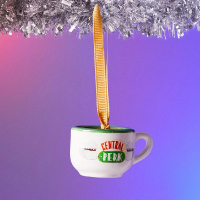 (opens in new tab)
9. Friends Ceramic Christmas decoration
RRP: £10 (UK only)
The Central Perk coffee mug is a key part of the Friends world, so why not bag your very own for Christmas? Sadly, you won't be able to sip a mocha out of this one though...
This ornament measures in at H: 7.4cm x W: 4.8cm x D: 5.7cm, and is made with ceramic construction and a gold tied ribbon, so you can hang it on your tree in a flash.
---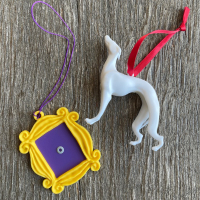 (opens in new tab)
10. Friends Christmas Ornament Set
RRP: £14.29+ (UK only)
For those who can't think about Friends without thinking about Joey's huge ceramic dog (Pat the dog), and the signature yellow frame over the peephole in Monica's apartment, these Friends ornaments are for you!
On Etsy, you can buy either one of these ornaments separately, or you can buy them as a bundle for a little bit more. Because how could you possibly choose between them?!
---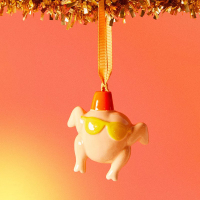 (opens in new tab)
11. Friends Turkey Christmas Decoration
RRP: £10 (UK only)
So nice we had to include it twice—the Christmas turkey is also its own standalone ornament at Urban Outfitters, complete with yellow aviators, hat and all!
Made with ceramic construction, it'll hang effortlessly on your tree, and probably spark plenty of questions from non-Friends fans too...
---
Amy Hunt is a lifestyle writer and editor, and was previously Lifestyle Channel Editor at womanandhome.com, having been with the brand since 2015. She is passionate about everything from entertainment to books, to homes, food and wellness. When she isn't editing, researching or writing articles, he's busy burying her nose in a gripping thriller, practising yoga, or buying new homeware.