Is 'Hype House' over? Why fans are worried
TikTok fans are wondering: Is Hype House over? Catch up with the social media collective's most famous names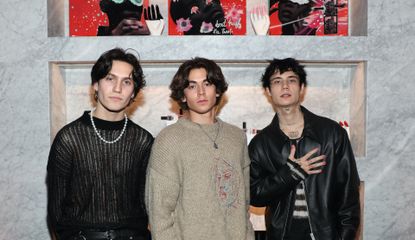 (Image credit: Jerritt Clark/Getty Images for Machine Gun Kelly's UN/DN LAQR)
Is Hype House over? Did the TikTok celebs decide to elude viral stardom? Allow us to give you the social media scoop.
For those who aren't keeping up with their FYP, TikTok is the latest app to go haywire and send its users into superstardom: think Addison Rae, the D'Amelio sisters and so on. As a result of likes, follows and bizarre challenges, the biggest names on the platform have been asked to join the Hype House, a.k.a. a California-based "content" mansion where youngsters create social media gold.
Netflix has released a documentary on the group, and as it turns out, the mansion is a lot like high school (except there are luxury cars in the garage). This shouldn't come as a surprise, given the age group of its residents. While you were busy attempting TikTok beauty hacks (hello, reverse cat eye!), these teens have been racking in serious dough thanks to the platform. (We're still wrapping our heads around it, too.)
The debut docuseries takes a look at the members' drama, their relationships with one another and even their desire to step away from their phone screens. As they say in the series trailer: "Imagine a fraternity filled with people that have millions of followers and dollars and, like, a ring light."
But now fans are worried that the Hype House has been shut down. Here's what we know so far.
---
---
Is 'Hype House' over? Why fans think so
Good news: despite a changing group of creators, the content house is still going strong. (You can check out their TikTok page as proof.) Rumors of the house's end are simply due to the fact that its residents moved out of the original mansion into a new home following a break-in at the first address.
Netflix has yet to confirm whether or not there will be a second season of Hype House, or which TikTok names will be featured, but the collective itself is still keeping its 19 million followers and counting occupied, though the overall response to the series has been lukewarm at best.
Watch the 'Hype House' trailer:
Curious what happens when a bunch of teens with millions of followers get together in one house? Look no further—here's your answer:
The original 'Hype House' members
Thomas Petrou
Chase Hudson (Lil Huddy)
Alex Warren
"A year and a half ago we moved into a house full of friends to make content. Started getting interviewed by Forbes, The New York Times, now we're the Hype House," Warren said, according to Report Door.
When to catch 'Hype House' on Netflix
If you're looking for something to binge—and you've finished Netflix's most watched series of 2021—tuck in with this new addition to reality TV. Hype House made its debut on Netflix on Friday, January 7, 2022.
Although challenges and hashtags have given these creators a sneak peek at popularity, we're focusing our attention on the other youngsters taking over Netflix: the stars of Cheer season 2, which will premiere in early January '22.
The My Imperfect Life team is all about helping you navigate your world. We bring you the latest on fashion, beauty, travel and wellness so you can live life on your terms.