Is 'Love Island' scripted? This is how real the romance is
It's gripping viewing, so you'd be forgiven for wondering: is 'Love Island' scripted? Here's what we know...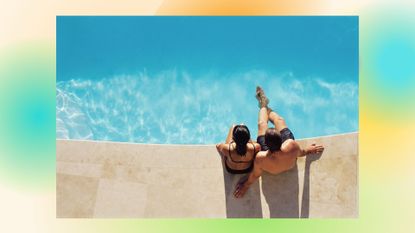 (Image credit: Getty Images)
With all the drama it brings every season—from fights to friendships and a whole lot of flirting—you may well be wondering to what extent the show has been created for our pleasure. Is Love Island scripted?
Each time Love Island UK rolls around, we can be pretty sure of a fair few things. There's Laura Whitmore's array of on-trend minidresses that we immediately want, Iain Stirling's hilarious jokes, a stunning villa that makes us weep into our bank account and several weeks in which losing sleep to catch up on episodes (FYI, here's how to watch Love Island UK) is a fact of life.
But there's also the guarantee of being glued to our screens—from screaming matches to funny pranks and bedroom antics (and not just that kind), the reality TV show really is our type on paper. So, just how real are the scenes that we're seeing? And, therefore, is the romance that we'll be sure to lap up on Love Island UK season 8 really genuine?
Is Love Island scripted?
A huge part of Love Island's charm is the opportunity to watch real people just like us—maybe with a bit more lipgloss—go through the trials and tribulations of falling in love. So, to find out that it was all as fake as the tan, would be pretty heartbreaking indeed.
Which is why the show's creators have vehemently tried to protect our feelings, insisting that the romance is as authentically messy and sweet as it comes. In January 2020, they denied to Metro (opens in new tab) that it was staged. "As anyone who watches the show regularly would know, Love Island is a combination of reality and produced elements that are reflective of what's happening in the villa, and is a fair and accurate representation of villa life," a spokesperson said. "It is absolutely untrue to suggest that Love Island is fake, staged or scripted. The opinions they have and the relationships formed are completely within the control of the Islanders themselves."
With the producers clearly committed to just letting things play out naturally, they're understandably keen to ensure all the good stuff is caught on tape. There are more than 70 cameras reportedly dotted all over the villa. While many are fitted to the walls of inside spaces like the bedroom and dressing area and linked up to the control room, those covering the pool and outdoor spots are manned by cameramen.
Wondering where Love Island UK is filmed? The swanky Majorcan rental that they've used for the show since 2017 is unavailable this summer, so producers been hard at work finding another suitable property elsewhere on the sunny Balearic Island. We can't wait to see it!
This is what the Islanders have said...
However, it differs slightly to what former cast members have shared about their experiences on the show after leaving the villa. Many have claimed that they were given pointers about what to discuss with fellow contestants, seemingly as a way of the storyline being tweaked and fine-tuned.
"I think now in hindsight, there were clues or things that I could have picked up on that would have kind of explained how my journey would have gone," says Sharon Gaffka to My Imperfect Life. "In terms of me leaving single, I think that was always the plan for me as a character in the show." The member of the Love Island line-up 2021 added: "I think that there were people in there that were pretending to be something they're not or pretended to, or were portrayed as something they're not."
Indeed, Gaffka believes that she was cast in a particular role by producers. "The interview process is the same with a job—you can lie. You're desperate to be on that show, you will say anything that you think the producers want to hear in order to get on it," she explains. "I remember saying to producers: 'I am either going to be the public sweetheart or public enemy number one.' Obviously, they want people that will potentially be public enemy number one, so I was easy pickings for that."
Her fellow Islander from last year, Abigail Rawlings, agreed: "It's a TV program at the end of the day and I think a lot of people forget that. It circulates around drama, because that's interesting," she points out. "So I definitely do believe that it depends on who is the strongest couple at the time, and they'll throw people in there to test that relationship—for everyone at home to realize how real it is, or if it will blow up in their faces. In my case, I wasn't put in because I showed no interest in Jake—whereas they wanted, at the time, for Liberty and Jake to be tested as they were the strongest couple."
The involvement of producers seems to be something that's gone on since the very beginning of the show. Season three cast member Tyla Carr told The Daily Star (opens in new tab) in 2018 that producers might "suggest it would be a good idea if you brought something up or discussed something." She added: "What viewers don't see is there is always a producer on site. They don't live in the villa with us but someone generally comes in every hour to have a chat. They would often tannoy an announcement asking for someone to come to the sofa to have a chat with one of the producers. They tell you what they want you to talk about and who with."
Similarly, Kady McDermott, a season two Islander, told Cosmopolitan (opens in new tab)—also in 2018—that producers would sometimes advise on conversation topics and warn them not to "name drop" famous people as the show wouldn't be able to air it. Wouldn't we love to be a fly on the wall...
Best Love Island gifts and merch to shop now
Brand
Colour
Price
Refine ☵
Sort By
Lauren is a freelance writer and editor with more than six years of digital and magazine experience. Most recently, she has been the Acting Commissioning Editor of Women's Health—where she co-produced the Going For Goal podcast—and has previously also written news and features for titles including The Telegraph, Grazia, Stylist, Dazed, The Sun's Fabulous, Yahoo Style UK and Get The Gloss. She covers all aspects of lifestyle, specializing in health, beauty, and travel. Can't live without: oat milk lattes, new podcast episodes, long walks, and great skincare.