Is 'Bling Empire' real or scripted? A cast member has revealed all
If you're wondering if 'Bling Empire' is real or scripted, we finally have an answer and it might surprise you...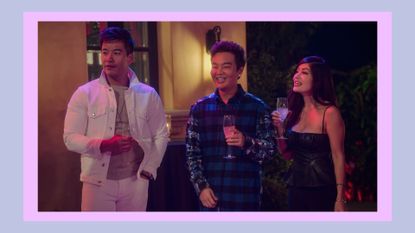 (Image credit: Courtesy of Netflix)
With all the drama, feuds and awkward encounters that occurred in just Bling Empire season three alone, we don't blame you for asking 'is Bling Empire real or scripted?' Like with most reality TV shows, that is the age-old question, but thanks to a certain Bling Empire cast member, we have a definitive answer when it comes to this particular, glitzy Netflix series!
With a new installment of Bling Empire now available on Netflix and a Bling Empire New York spin-off on the way—which will give us a look at the lives of the Asian-American elites living it up in the Big Apple—we're definitely not in short supply of drama-filled viewing.
But with all the non-stop drama between the likes of Kim Lee and Kevin Kreider, not to mention Anna Shay and Christine Chiu, it does make us think—is it all actually real or is it simply orchestrated? Here's the lowdown...
Is Bling Empire real or scripted?
Despite what we've seen from all the shows like Bling Empire, the Netflix series is actually not scripted at all, you'll be pleased to know—or at least that's what the cast and creators of Bling Empire claim.
In an interview with E! (opens in new tab)cast member Kevin Kreider spoke out on the topic after much speculation from fans, saying: "To me, it's 100 percent [real]. I know for what I went through, that was so real.
He added: "I even talked to the producers, and I said, 'Does this happen often in reality?' They said they pray for stuff like this because it's gold. It's real."
This definitely adds up, as following Kevin and best friend, Kane Lim's almighty row in season two, they revealed they actually didn't speak to each other for months—which sounds like a pretty real fight to us!
Plus, as we know, most reality TV shows are formed by producers who throw a group of people together and expect them to become friends, though, of course, that doesn't exactly go to plan—not without plenty of trials and tribulations at least. But Bling Empire differs slightly as this cast is actually all familiar with one another.
The rich Asian-American community in LA is small and tight-knit, as we were told in the very first episode of season one. So, it doesn't come as a surprise that many of the cast members either have some sort of relationship off-camera or have at least come across one another in a previous social setting. Naturally, that adds to the authenticity of the show. Why? Well, it's a lot easier to believe the drama between the cast is real if their relationships are real.
#blingempire has to be scripted... this is jokes... pic.twitter.com/y7TeKVU8sDJanuary 16, 2021
See more
Wait y'all watching Bling Empire?! Crazy Rich Asians is REAL!!! I'm binge watching all dayJanuary 18, 2021
See more
Speaking of the cast in an interview with Oprah magazine (opens in new tab), showrunner Brandon Panaligan said: "We tapped into the energy of a group who already know each other and are invested in each other's lives. That's the magic in starting a show like this—it's not forced. We brought our cameras into a world that was already there."
While Bling Empire does include the typical reality TV elements we often see in shows like The Real Housewives franchise—such as catty drama at fancy events, gossipy hearsay, and bickering among the cast—some viewers have praised it for tapping into more touching storylines. For example, in season one, cast member Christine Chiu opened up about her potential surrogacy, while DJ Kim Lee embarked on a journey to track down her estranged biological father.
Kevin's honest account of his upbringing and struggle with identity is another element that made the show feel 'real'. The model shared his background on the show, explaining that he is of Korean descent but doesn't know much about the Asian community and culture as he was adopted and raised by white parents in Pennsylvania.
"I really hope people give this show a chance and look beyond the fancy stuff, the bling because underneath all of that are real Asian-American stories. It's not just about making money and spending it," Kreider told Newsweek (opens in new tab) when season one dropped. "These are real human stories—people trying to find their identity and connect with others, getting over insecurities and abandonment, finding their past and their family, and finding their place in the world."
Season two is set to dive even deeper into the personal lives of the cast, according to Panaligan. "There are so many layers to all of them. So the second season, I'd expect to see more parts of their lives that we didn't see before, meet more of their friends, meet more of their family and just kind of broaden it out so we can know them a lot more," he said in an interview with Yong Chavez on YouTube.
What do fans of Bling Empire think?
For real?!Watching #BlingEmpire & theres a DJ who is paid 50k per gig!January 16, 2021
See more
Sometimes I'm like, "gosh this show is so scripted"But then Kevin, at 37 years old, calls his dad "Daddy" and kisses his mom on the lips... and I, I just- HUH?!? #blingempire pic.twitter.com/sNnHdMMdxVJanuary 17, 2021
See more
Following the premiere of the very first season, the topic of whether it was real or scripted made the rounds on Twitter and Reddit, with many struggling to wrap their hands around the fact that people actually live with the level of luxury we're shown on the show.
"Is Bling Empire real or is it a mockumentary like The Office? It has mockumentary vibes," one viewer tweeted. (opens in new tab) Meanwhile, another wrote (opens in new tab): "People are this rich like rich rich? how are you getting money from everything Anna? Also all that jewellery is real? !#BlingEmpire".
On the other hand, despite the show creators and cast insisting that everything is real, some viewers simply weren't convinced after watching. "On my first episode of Bling Empire and it feels painfully scripted," someone tweeted (opens in new tab).
Similarly, another viewer tweeted, referencing Kelly and Andrew's troubled relationship: "Has anyone watch Bling Empire on Netflix? It has to be scripted, cause that Red Power Ranger Guy has to be acting. He hella manipulative. He got crazy eyes too," and plenty others agreed.
But whether it is scripted or not, one thing is for sure: it's incredibly entertaining and super binge-worthy which are the two key elements we need in a decent reality show. Pretty please, give us a Bling Empire season four Netflix!
Sagal is a journalist, specialising in lifestyle, pop culture, fashion and beauty. She has written for a number of publications including Vogue, Glamour, Stylist, Evening Standard, Bustle, You Magazine, Dazed and Wonderland to name a few.