Is Matty Healy problematic? What fans are saying about Taylor Swift's new beau
The 1975 frontman is the talk of the town after being seen with T Swift, but is Matty Healy problematic?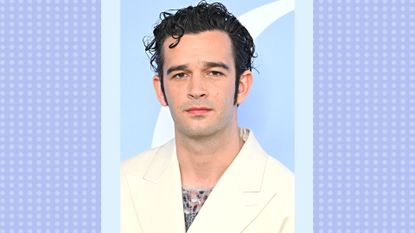 (Image credit: Stephane Cardinale/Corbis/Getty)
Though Taylor Swift has never exactly shied away from a public romance—she's been linked in the past to everyone from pop icon Harry Styles to actor Jake Gyllenhaal to DJ Calvin Harris—but her recent six-year relationship with Conversations with Friends star Joe Alwyn was almost discreet compared to those much-papped pairings.
However, the singer's romantic life is very much back in the spotlight after Swift bounced back from her breakup with Alwyn and cozied up to Matty Healy, the tattooed frontman of the English pop-rock band, The 1975. Allegedly, the burgeoning couple was introduced by their mutual friend, producer Jack Antonoff, and began to be seen together in early May 2023.
In the weeks since, Healy has been spotted at several of Swift's Era tour gigs, dancing alongside her famous friends like Phoebe Bridgers and Gigi Hadid, and even buddying up to Taylor's dad at a recent show in Philadelphia.
But diehard Swifties are worried about the romance due to alleged instances of problematic behavior from Healy. Here's what the controversy entails and what fans are saying online.
Is Matty Healy problematic? Inside those allegations
Matty Healy has admittedly not been as media-smart as his rumored new girlfriend has been over the years, and his "bad boy" behavior onstage and off has gotten him into hot water, antics that the musician seemingly regrets now.
"I feel a bit bad because I've been a bit irresponsible. I don't like being famous. I make a joke out of everything and I've taken it too far sometimes in front of a lot of people and I feel embarrassed. That's the truth," the 34-year-old Brit said onstage during an Auckland concert in May 2023, per The New Zealand Herald.
Such "irresponsible" behavior includes engaging in Nazi salutes onstage while quoting Donald Trump ("Thank you, Kanye, very cool"), forcibly kissing and touching members of the audience during his concerts (he announced during a January 2023 concert attended by Swift: "I'm not kissing anybody in front of Taylor Swift, have some respect. In front of the queen, it's not happening") and mocking the rapper Ice Spice's body and heritage while on the Adam Friedland Show podcast in February 2023.
"I just feel a bit bad, and I'm kind of a bit sorry if I've offended you," Healy apologized to Ice Spice onstage during that same Auckland concert. (The podcast episode was later removed from both Apple and Spotify.) "Ice Spice, I'm sorry. It's not because I'm annoyed that me joking got misconstrued. It's because I don't want Ice Spice to think I'm a dick. I love you, Ice Spice. I'm so sorry."
It's not the only time that Healy has exhibited misogyny and racism towards women of color. During that very same podcast appearance, Healy admitted to masturbating to "Ghetto Gaggers," a porn website that features women of color being subjected to sexual degradation. "It's just somebody just getting, like, brutalized…I'm like, 'It's fine, it's OK.' Ten minutes would have been fine, but 30 seconds was, like, I was worried that was almost offensive," Healy said.
He has also not been entirely complimentary of Swift in the past, shooting down romance rumors between the two musicians back in 2014: "It's just interesting to me how interested the world is about Taylor Swift," he told Q Magazine at the time. "The reason I mention that is because if I had [properly] gone out with Taylor Swift, I would've been, "'F***ing hell, I am not being Taylor Swift's boyfriend'. You know, "F**k. That. That's also a man thing, a de-masculinating, emasculating thing."
As for the future, Healy said during an April 2023 concert in Adelaide, per NME: "The era of me being a f**king arsehole is coming to an end. I've had enough. I perform all the time and it's my job and I love doing this but I can't perform off the stage anymore as I just want to be a bloke."
Fans react to Matty Healy and Taylor Swift's romance:
Given how notoriously protective Taylor Swift's fans are of the pop star, it's no surprise that Swifties had plenty to say about the singer's rumored new boyfriend.
Swifties starting to excuse Matty Healy's racist/problematic behaviour.. oh we lost the plot fr pic.twitter.com/yfJQLUoMyWMay 12, 2023
See more
isn't silly how no one cared how problematic matty healy was when he was dating halsey, fka twigs, gabriella brooks etc. but now that he is "dating" taylor everyone is bringing it up to hate ON HER instead of him? it's just funny how hypocrite stan twitter is towards her 😂May 15, 2023
See more
Would YOU *really* put your whole energy into a new problematic relationship just a month after breaking up with ur 6 year-long boyfriend? No. You don't do that. This Matty Healy thing will never last, not sorry.May 12, 2023
See more
Listen... y'all know I love Taylor Swift. A lot.But considering Matty Healy confirmed that not only did she split with Joe but she's also dating him... I gotta wonder what her thought process is hereCause that man is um... problematic. And that's putting it lightly. pic.twitter.com/Wm3KyaVgRfMay 17, 2023
See more
the whole matty healy thing just feels so contradictory to everything she's done particularly w/ miss americana. we obviously all want the best for her but matty is very problematic and people have a reason to be upsetMay 12, 2023
See more
Christina Izzo is the Deputy Editor of My Imperfect Life.
More generally, she is a writer-editor covering food and drink, travel, lifestyle and culture in New York City. She was previously the Features Editor at Rachael Ray In Season and Reveal, as well as the Food & Drink Editor and chief restaurant critic at Time Out New York.
When she's not doing all that, she can probably be found eating cheese somewhere.