Who is Harry Styles dating? A peek inside the 'As It Was' singer's love life
Wondering, 'Who is Harry Styles dating?' We've got the scoop on the singer and a certain A-list actress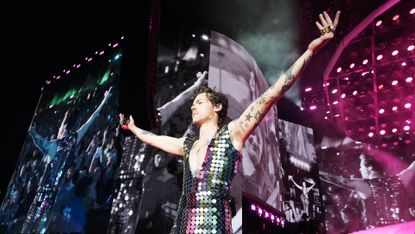 (Image credit: Kevin Mazur/Getty Images for ABA)
Who is Harry Styles dating? The One Direction star has been quite busy in the romance department, and everyone's dying for the scoop.
Though Harry Styles' iconic outfits get plenty of attention, his most recent flame has stolen the spotlight, and rightfully so. Fans have collectively swooned...and simultaneously begrudged his new love interest.
We'll give you the intel on the "Watermelon Sugar" crooner's love life, both present and past.
Who is Harry Styles dating right now?
Rumors of Harry Styles and Olivia Wilde's relationship first began blossoming at the beginning of 2021 when the two attended his agent's wedding together...in matching Gucci ensembles.
The Grammy award-winning singer will appear alongside actors Florence Pugh and Chris Pine in Wilde's new film. Just in case you haven't seen the super-steamy Don't Worry Darling trailer that sent Hollywood abuzz, allow Wilde to sing her beau's praise.
She took to social media to capture the film's strong points as wrapping came to a close in February 2021, one of which being Styles' ability to let the women of the cast shine.
"He didn't have to join our circus, but he jumped on board with humility and grace, and blew us away every day with his talent, warmth, and ability to drive backwards," Wilde wrote alongside a long list of other compliments.
Check out her sweet Instagram shout-out for yourself! Seems pretty generous, wouldn't you say?
Harry Styles and Olivia Wilde yacht pics
Fast forward to summer 2021: Harry Styles and Olivia Wilde were spotted engaging in some major PDA in Monte Argentario, Italy, on a relaxing vacation ahead of their new work projects.

Judging from the sexy swim sessions and smooches while aboard a yacht, per Page Six (opens in new tab), it would be safe to say that the lovebirds are indulging in some serious amore while abroad.
How old is Olivia Wilde compared to Harry Styles?
Born on March 10, 1984, Olivia Wilde is currently 38 years old. That makes her a decade older than her boyfriend Harry, who was born on February 1, 1994. Her ex, Jason Sudeikis—with whom the actress was with since 2011 and shares two children, son Otis and daughter Daisy—is 45 years old.
Harry and Olivia's relationship timeline
Although still fairly new, the romance between Harry Styles and Olivia Wilde has been going strong since the start of 2021, following Wilde's divorce from actor Jason Sudeikis in late 2020.
However, they're both relatively quiet and attempt to stay out of the spotlight. She reveals hints of their closeness on social (including several behind-the-scenes Don't Worry, Darling snapshots), but it's glimpses of them while out on vacation (like while in the UK in May 2021) that most pique fans' interests.
A source confirmed to US Weekly (opens in new tab) that the two hit it off immediately while on set, saying that Styles brings out Wilde's silly side. Seems like a good recipe for romance!
'Harry's House' and Olivia Wilde
On May 20, 2022, Harry's House, the artist's third album, finally dropped. We don't need to tell you that excitement abounded, particularly for Styles' One Night Only in New York concert. (Don't worry if you missed it, we'll fill you in on how to livestream the event.)
Unsurprisingly, fans dissected the singer's poetic lyrics and seem to believe that the singles "Cinema" and "Late Night Talking" are all about Miss Wilde.
Some of the G-rated lyrics in "Cinema" allude to her film career:
I just think you're cool
I dig your cinema
Do you think I'm cool too?
Or am I too into you?
Then in "Late Night Talking," listeners suspect that some lines hint at their long-distance relationship:
I never been a fan of change
But I'd follow you to any place
If it's Hollywood or Bishopsgate, I'm coming too
To celebrate the release, Wilde put a portion of Styles' song "Music for a Sushi Restaurant," on her Instagram stories on the 20th. The snipped was accompanied by a few scenes from the 2018 film, Cold War.
Is Olivia Wilde pregnant?
Onlookers caught the couple out and about in Soho, London in March 2022. Considering Wilde was sporting an oversized baby-blue sweater and loose-fitting jeans, curiosity went into overdrive, and fans wondered if she has a baby in tow. Then, she followed up with a large t-shirt (opens in new tab) several days after Styles' album release in May, which gave suspicious fans even more ammunition.
This isn't the first time people have suspected that the two might soon welcome a little one. After one of Styles' shows in 2021, a fan posted a video of Wilde dancing along, and everyone turned their attention towards her "bump."
Both occurrences have sparked a bit of backlash: wearing an oversized sweater isn't grounds for pregnancy suspicions. Likewise, her "bump" from last year's concert wasn't really a bump at all. As one social media commenter noted, "it's normal anatomy."
At this time, it appears the two are not growing their family, despite the rumors. Neither party has touched on the issue.
What is Harry Styles' dating history?
1. Harry Styles and Taylor Swift
We all knew Harry was trouble when he walked in. Taylor Swift had no qualms about dedicating a few heartbreak anthems to her 2013 relationship with the former boy bander, including her 2015 single entitled—duh—"Style."
But, in the event you were wondering after a Harry's House jam session, Harry Styles' "Daylight" is not about Swift.
"You're reading too much into it," Styles told Howard Stern in May 2022. "I'd love to tell you you're spot on, but no, sorry."
2. Harry Styles and Nicole Scherzinger
Harry appears to gravitate towards older women, and Nicole Sherzinger is one of them. They reportedly dated while he was 19 years old and she was 35 in 2013, having first met when the Pussycat Dolls singer was a judge on X-Factor while Styles was competing with the rest of One Direction back in 2010.
He was also previously linked to Erin Foster, Tess Ward, and Caroline Flack, all of whom were older.
3. Harry Styles and Kendall Jenner
The singer and supermodel Kendall Jenner were linked on several occasions, even having their own PDA-filled, paparazzi-snapped yacht sail back in 2015, but it seems that now the two are just close friends.
4. Harry Styles and Sara Sampaio
Styles was linked to the Victoria's Secret model—as well as her counterpart Georgia Fowler—in 2015, per Page Six (opens in new tab).
5. Harry Styles and Camille Rowe
Reportedly introduced by mutual friend Alexa Chung, Styles and French model Camille Rowe dated for about a year, from summer 2017 to July 2018.
Several songs on Styles' sophomore album, Fine Line, are rumored to be about his relationship with Rowe and their subsequent breakup, including tracks "Falling" and "Watermelon Sugar."

The song "Cherry" even samples a voicemail Rowe left for Styles when they were together. In it, she says, "Coucou! Tu dors? Oh, j'suis désolée / Bah non, nan, c'est pas important / Bon allez … on a été à la plage, et maintenant on … / Parfait!" which translates to "Hey! Are you asleep? Oh, I'm sorry / Well no, nope, it's not important / Alright … we went to the beach and now we … / Perfect!"
Is Harry Styles bisexual?
Much has been made of the androgynous star's sexuality over the years, with many questioning if Styles identifies as bisexual, pansexual, or queer. An infamous and long-running rumor about the singer is that he engaged in a romantic relationship with fellow One Direction bandmate Louis Tomlinson while they were part of the group, resulting in the ship "Larry Stylinson," however, both parties have debunked that as mere fan fantasy.
When asked about his much-scrutinized sexuality in a 2019 interview with The Guardian (opens in new tab), Styles said this: "It's not like I'm sitting on an answer, and protecting it, and holding it back. It's not a case of: 'I'm not telling you 'cause I don't want to tell you.' It's not: 'Ooh, this is mine and it's not yours.' It's: 'Who cares?' Does that make sense? It's just: 'Who cares?'"
"I think it's a very free, and freeing, time. I think people are asking, 'Why not?' a lot more. Which excites me," said the singer, "It's not just clothes where lines have been blurred, it's going across so many things. I think you can relate it to music, and how genres are blurring…"
Regarding his oft-flamboyant, gender-bending wardrobe, Styles told The Guardian: "What women wear. What men wear. For me it's not a question of that. If I see a nice shirt and get told, 'But it's for ladies.' I think: 'Okaaaay? Doesn't make me want to wear it less though.' I think the moment you feel more comfortable with yourself, it all becomes a lot easier."
When the question of queer-baiting—teasing queer subtext as a mere marketing ploy—arose, Styles shot it down, replying: "Am I sprinkling in nuggets of sexual ambiguity to try and be more interesting? No...In terms of how I wanna dress, and what the album sleeve's gonna be, I tend to make decisions in terms of collaborators I want to work with. I want things to look a certain way. Not because it makes me look gay, or it makes me look straight, or it makes me look bisexual, but because I think it looks cool. And more than that, I dunno, I just think sexuality's something that's fun. Honestly? I can't say I've given it any more thought than that."
Christina Izzo is the Deputy Editor of My Imperfect Life.
More generally, she is a writer-editor covering food and drink, travel, lifestyle and culture in New York City. She was previously the Features Editor at Rachael Ray In Season and Reveal, as well as the Food & Drink Editor and chief restaurant critic at Time Out New York.
When she's not doing all that, she can probably be found eating cheese somewhere.
With contributions from