Is Shiv pregnant in 'Succession' season 4? All about that baby confession to Tom
Her marriage is a mess, but is Shiv pregnant with Tom's child in 'Succession'? What that recent episode revealed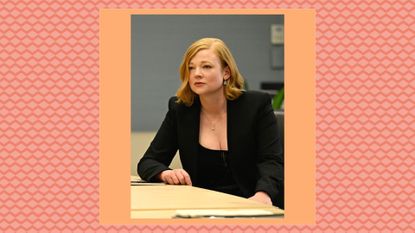 (Image credit: David Russell/HBO)
Are the rumors actually true? Is Shiv pregnant in Succession?
Siobhan "Shiv" Roy (played by Sarah Snook) has toyed with the idea of having children with her now-estranged husband Tom Wambsgans (Matthew Macfadyen) several times throughout the series.
In that two-parter of a Succession season 3 finale, Shiv's mother Caroline Collingwood (Dame Harriet Mary Walter DBE) all but told her daughter that she'd be a bad mother, which leads to the youngest Roy sibling going home and having spiteful sex with her husband. The next morning, the couple discuss their fertility plans and whether or not they'd use Shiv's frozen eggs even if they split up.
So when Tom betrayed Shiv in that third-season cliffhanger and her hand immediately went to her stomach in shock, fans swiftly began speculating that a Roy-Wambsgans baby was on the way. And after the first few episodes of Succession season 4 added even more fuel to the fire, we may finally have an answer to the big question.
*Warning: spoilers ahead!*
Is Shiv pregnant in 'Succession' season 4?
Yes, it looks like Shiv Roy is officially pregnant, and according to her, Tom is the baby daddy.
At the top of episode four, which picks up the day after Logan Roy's death, Shiv is in bed when she receives a call from her OBGYN, Dr. Hasford.
"I won't draw it out," the doctor says. "It's a good result. The journey we went on with the amniocentesis after what the blood test showed us—everything looks healthy. And you're still well? No spotting? No bleeding?" (FYI, amniocentesis is a prenatal procedure that tests the amniotic fluid in your uterus to check if the fetus has genetic conditions.)
And in case that wasn't clear enough for viewers, the doc continues: "Well, in terms of all the results I have for you, there is nothing I think we should be concerned about. So, Dezina will reach out to make an appointment for your 20-week scan."
So Siobhan is less than 20 weeks pregnant, but pregnant nonetheless. It's a character reveal that has been hinted at throughout season 4, which premiered on Sunday, March 26.
In the season's second episode, on the night of Connor and Willa's rehearsal dinner, the Roy siblings go to karaoke to cheer up the eldest Roy brother. Naturally, karaoke cannot be performed sober, so the kids take to a bar to pregame. Roman orders up a vodka tonic, Kendall a bitters and soda and Connor "a Belgian Weissbier" (but not a Hoegaarden!).
For her part, Shiv jokes about asking for "a house red, do I dare?" before ultimately choosing "a club soda with a sealed lid, nothing from that tainted nozzle." Yes, Shiv opts to remain sober, which we're sure she regretted immediately upon having to sit through Connor's hilariously tragic rendition of Leonardo Cohen's "Famous Blue Raincoat."
In the next episode, she also turned down a welcome flute of champagne at Connor's nuptials, a pointed detail that might have been lost to viewers in the midst of the drama around Logan's death. Now we know that Shiv's sobriety was less a character choice and more a clue that the stork might soon be coming to the broken Roy-Wambsgans household.
In episode 4, Shiv—upset that Kendall and Roman are leaving her out of WayStar leadership following their father's death—falls during Logan's wake, but it's unclear whether or not the misstep will have any effect on her pregnancy.
Tom doesn't find out about Shiv's pregnancy until much later in the season, episode eight in fact, when Tom, Greg and the Roy siblings are at ATN headquarters during Election Night. At one point in the middle of all the political shenanigans, Shiv pulls her sometimes-spouse into a quiet corner to apologize for their big balcony showdown in the previous episode. Things get heated—Tom even goes so far as to say Siobhan not only didn't love her late father but also was the cause of his death (eek!)—to which Shiv spitefully spits out the baby news.
Given how broken their marriage is at this point in the show, it's not shocking that Tom asks her: "Is that even true? Like, is that even true or is that like a new position or tactic?" Regardless, Shiv is left shocked and emotional by his response and storms out.
Fans react to that Shiv Roy pregnancy reveal:
Needless to say, fans had plenty to say about Shiv's pregnancy status:
shiv roy may have just found out she's pregnant but she's already been a mother to many #succession #successionhbopic.twitter.com/y7CgTFuOM5April 17, 2023
See more
Being on shiv roy's position is one of the worst nightmare a woman can experience tbh. Being rejected, having to stand on the sidelines while ur brothers r in front, being pregnant while on a failed marriage & having to fall down in front of a bunch of men as you spiral inwardly- pic.twitter.com/Igu98h3arQApril 17, 2023
See more
shiv knowing that she is pregnant with tom's baby during these moments makes me want to burn down a village pic.twitter.com/OuOnCQbH9TApril 17, 2023
See more
explain to me, succession, explain to me step by step how shiv was betrayed by tom and then found out like 2 weeks later she was pregnant and decided she wanted to keep it and also not to tell anyone for 20 weeks. explain to me like i'm 5April 17, 2023
See more
shiv saying that if they hadn't forced him on the plane that he might have been around to see his grandkids???? because she's pregnant and now her kid will never meet their grandad???? AND SHE FEELS RESPONSIBLE!??! PASS ME THE SHOTGUN NOW #succession pic.twitter.com/MWDPRnREtaApril 17, 2023
See more
shiv roy was at her lowest… cut out from the exec board, falling down stairs AND pregnant. career in shambles. pic.twitter.com/UaTaJcEeQSApril 17, 2023
See more
Is Sarah Snook pregnant in real life?
We not only have confirmation about Shiv's pregnancy on Succession, but we also have an update about the actress playing the Roy daughter: Sarah Snook debuted her IRL baby bump on the red carpet of the season 4 premiere, held at Jazz at Lincoln Center in New York City on Monday, March 20, ahead of the new season.
The 35-year-old Australian actress—who is expecting her first child with her husband, Australian comedian Dave Lawson—told reporters at the premiere that she was 32 weeks along in her pregnancy, with about two months to go until the infant's arrival. That means the performer was pregnant during the filming of the fourth season.
"It's exciting!" Snook told Entertainment Tonight's Rachel Smith of the news. "I feel great."
So whether Shiv and Tom welcome a bundle of joy in the midst of their divorce remains to be seen, but Snook's real-life pregnancy means that there will be a new addition soon to the Succession family. Congrats to the happy couple!
Catch Sarah Snook as Shiv Roy in Succession season 4, airing on Sundays at 9pm on HBO and HBO Max.
Christina Izzo is the Deputy Editor of My Imperfect Life.
More generally, she is a writer-editor covering food and drink, travel, lifestyle and culture in New York City. She was previously the Features Editor at Rachael Ray In Season and Reveal, as well as the Food & Drink Editor and chief restaurant critic at Time Out New York.
When she's not doing all that, she can probably be found eating cheese somewhere.