Who is the youngest Roy sibling? A 'Succession' mystery has finally been solved
There has been *much* fan contention over who is the youngest Roy sibling on 'Succession.' A recent episode may have just answered that question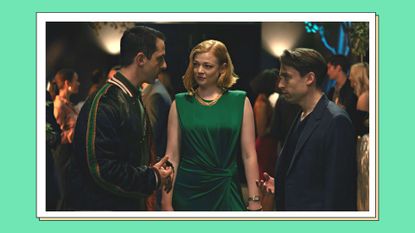 (Image credit: Macall B. Polay/HBO)
It's one of the great mysteries of Succession. No, not "will Roman and Gerri ever consummate their creepy mommy-girlfriend relationship?" but rather "who is the youngest Roy sibling?"
Logan Roy (played by Brian Cox) famously has four children on the HBO hit, and while we know for a fact that Connor (Alan Ruck) is the first-born—remember that "I am the eldest son!" meltdown in the Succession season 3 finale?—and second-son Kendall (Jeremy Strong) was initially Logan's protégé to take over Waystar Royco, there has been some confusion among viewers over the sibling order of his youngest two children: Sarah Snook's Shiv and Kieran Culkin's Roman.
So which Succession character is actually the youngest Roy? A recent episode might have finally answered the question fans have been asking for years.
Who is the youngest Roy sibling on 'Succession'?
Fans have been debating whether scheming Shiv or wisecracking Roman is the actual youngest of the Roman clan on social media for more than three seasons now. (For the record, Kieran Culkin, aged 40, is IRL older than the actress who plays his onscreen sister, as Sarah Snook is his junior by five years.)
Despite the fact that the official HBO synopsis for Shiv says that she is "the youngest child in the Roy family," many Succession-heads simply don't or won't believe that Roman isn't the baby. Even media outlets, from The New Yorker to Us Weekly, continue to list Roman as the newest addition to the Roy family tree. There's also a running fan theory that Shiv and Roman are actually twins, though that speculation has no roots in the show's canon.
my brain won't accept that roman roy isn't the youngest sibling he's the baby of the family idcApril 3, 2023
See more
i relate to shiv roy on a spiritual level, she radiates eldest sister energy even tho she's the youngestMarch 30, 2023
See more
as a roman roy youngest sibling agenda believer, idgaf! pic.twitter.com/RaGQpYwZ42March 31, 2023
See more
never take advice from someone whoooOOOOooOOo thinks that roman roy is the youngest child when he's clearly a middle childMarch 26, 2023
See more
They need to just say which roy sibling is the youngest and QUICKLY i've had enough!!!!!!!!April 2, 2023
See more
But on Thursday, March 30, Twitter user @fayzhus might've just solved the mystery by pointing out a bit of background scenery from the premiere episode of Succession season 4, which aired on Sunday, March 26.
During scenes of Logan's birthday party, we get a look inside the home office of the media mogul, including framed family photos of his children. One such picture shows what is presumed to be kiddo Roman and a clearly younger Shiv, a screenshot of which @fayzhus posted to the social media platform.
They captioned the post: "This picture is PROOF that shiv is younger than roman now can people please put an END to the discussion!?!?!?"
this picture is PROOF that shiv is younger than roman now can people please put an END to the discussion!?!?!? pic.twitter.com/LdDiOrd0smMarch 30, 2023
See more
So that's that: Shiv Roy, not Roman Roy, is the youngest Roy sibling after all. That doesn't mean that slime-puppy Roman can't still be your "baby girl," of course!
Catch all of the Roy siblings in Succession season 4, airing on Sundays at 9pm on HBO and HBO Max.
Christina Izzo is the Deputy Editor of My Imperfect Life.
More generally, she is a writer-editor covering food and drink, travel, lifestyle and culture in New York City. She was previously the Features Editor at Rachael Ray In Season and Reveal, as well as the Food & Drink Editor and chief restaurant critic at Time Out New York.
When she's not doing all that, she can probably be found eating cheese somewhere.