What's next for Joe Goldberg? Author Caroline Kepnes gives us an update on the 'You' killer
What could everyone's favorite murderer Joe Goldberg get up to next? Carolin Kepnes chats to My Imperfect Life about the character and her new book, 'For You and Only You'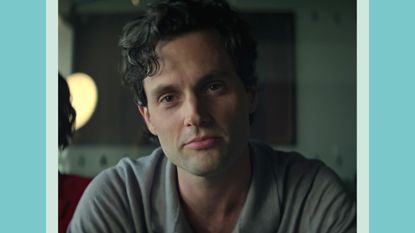 (Image credit: Netflix)
When You first arrived on Netflix in 2018, Joe Goldberg took the world in his clutches and he hasn't let go since.
In the streamer's adaptation of author Caroline Kepnes' You novel series, Gossip Girl star Penn Badgley plays the bookstore manager-turned-bloody murderer who disposes of any obstacle that stands in the way of his latest obsession. Five years later, You season 4 part 2 just dropped on Netflix on Thursday, March 9, with rumors of a season 5 of You already swirling amid fans wondering about what lies ahead for Joe Goldberg.
While there hasn't been any official confirmation yet on a fifth season, there has been a lot of talk about how the killer's story should come to an end. So we reached out directly to the very person who created Joe Goldberg, Caroline Kepnes, about what's next for her most famous character and her upcoming new book in the You series, For You and Only You.
My Imperfect Life chats with Joe Goldberg creator Caroline Kepnes:
Q: Hi Caroline! You have a new Joe Goldberg book coming out called For You and Only You. Can you tell us a bit about where Joe is now?
A: My last book ended with him in Florida and I was going to keep him in Florida, but the pandemic hit and he's one of those people who would be very productive and write a book during the pandemic. So I started with him at Harvard, having done some very Joe-ish things to get into a writing fellowship there. And everything looks great for him. They have a good white boys club going, but then a guy is not a fan of one of the girls in the class, who is Joe's beloved. So you know how it goes.
We do! So the setting is a major difference between the books and the Netflix series.
It's gone metaverse, in the sense that we started out and it was a straight-up adaptation but then you change a few things, then you just change more. It's so great to have a show go four seasons, hopefully five. In season two, there were some critical differences with Love that just sent Joe on a different path. So you have book Joe, who is always a little darker and a little more menacing, and TV Joe, which I get has to be a little more likable and obviously a handsome fella. I told [producers] I was sending him to Harvard and they put him in an academic setting. There's always a tiny bit of crossover.
Take us back to the beginning: how did Joe Goldberg first come to you?
This all started with my dad dying very slowly of cancer. On the one hand, it's a blessing because you have all that time to cherish the moment. On the other hand, it's crazy-making, because when people talk about the battle, the battle is rigged. The cancer is going to win the way it does, in so many cases. It's just the two years of thinking about that phrasing. The existence of cancer, then losing my dad and his sick, dark sense of humor. Joe really came out of all that in the sense that he's like the cancer, he's always going to win. He'll go the extra mile, that's the cancer part of him that is surviving. We think of being a survivor as a good thing but it doesn't necessarily mean you're a good person. In the same way being a sensitive man doesn't mean that you're sensitive to everyone's needs, you know?
Did you do anything specific to get into Joe's head?
When I was in high school, I got to go to a summer-long program where they locked us up in a dorm and it was like intensive abnormal psychology and writing essays about case studies of real people. I just remember being like, this is what I do. I tried to take statistics, a word I can't even pronounce, but I took some psychology and I made up my own major that was notions of normalcy in American culture and then when Joe came along and introduced himself, I was like, okay. But yeah, I always had an interest.
Some people have never read the books, so they've never pictured what the characters looked like until they're presented to them on TV. Did having actors play your characters change anything for you?
When they cast Shay Mitchell as Peach and she was so good... I was like, 'does he have to kill them?' Once real, human actors are involved, that is so bizarre to me because it's heartbreaking when a character dies. But when you're writing a book, you can bring them back, there are no rules. It doesn't involve contracts with actors and that kind of thing.
The way Joe and the You series is constructed, we can kind of see his stalkerish nature in all of us, with things like social media. Did social media influence the character and series?
Oh, in a big way. Ten years ago it was more about Facebook, we'd had friends on Myspace. But then to go through death on Facebook. I was absolutely obsessed with the fact that everyone was announcing everywhere they were going because you think of the rules when you're a kid, 'don't talk to strangers, don't trust so easily.' All that just going out the window. Suddenly everyone has this opportunity to say things all the time. It doesn't shut down. That was what got to me because also I'm a snoopy, sleuth-y kind of person. When I would catch myself doing things, I'd be like, 'Oh, is this weird? Are other people doing this?' I have so much empathy for younger people because I feel like to be born in it is so different from being my age, and having it enter your life. So Beck was the young version of me in a way and Joe was like the adult cynical version. She's trying to be herself online and Joe is using it as an anti-social network and judging every little thing that everyone does, and both are kind of messed up, right?
Also with You, it really looks at how if you peel back the curtain on a lot of male protagonists, the way that they approach love is very obsessive, and not in a good way.
Yeah, it's like, we've all been fed the same medicine that way. I think all romantic stories have some element of the man refusing to take no for an answer. It's John Cusack and the boombox. For years I've been thinking, 'What if she didn't like him? Is he gonna throw that boombox at the house?' We've all been taught that when he says he won't accept rejection, that's love, and that's a big part of Joe. I feel like in my head, I can sound like I'm not defending him, but I get why he is the way he is.
In your head, is there a set way this is going to end for Joe?
No, because I'm like an addict with it. Every book makes me want to do another. I didn't set out to write a series, but when I was finishing You, I was like, 'Well, I have to take them to California.' And then when that book ends with Love being pregnant, I was like, 'Oh my God, Joe will absolutely implode if he doesn't have a daughter. Nothing would disgust him more than a son.' I mean, it just goes on and on and I don't think of him as ending or dying.
So if we're going to get a You season 5, what's he going to do?
I feel like New York is where it started and in that TV way, I feel like I always think of Joe as a New Yorker at heart. By the end of my book, he's like, 'New York is better.' I feel like book Joe, he moves on. But I feel like the TV Joe will be different because they just have a different way of storytelling. So I don't know if anyone from the past will definitely come back.
I like the idea of him coming back to New York.
I have a soft spot for New York. It's like the nostalgia of season one, book one. I would just love to see that.
Caroline Kepnes's latest book For You and Only You is out Tuesday, April 25. You can catch all four seasons of You now on Netflix.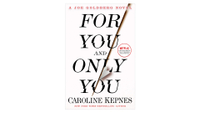 You and Only You: A Joe Goldberg Novel by Caroline Kepnes—available for pre-order
RRP: $23.99, £13.19
Joe's love of literature has taken a new turn: he's now a writer—one invited to participate a fellowship at Harvard at that. When he crosses paths with Wonder Parish, he seems to be enamored, especially since they don't come from prestigious backgrounds like the rest of the Harvard clan. But we know what happens when Joe becomes engaged with a woman...
Liv is a freelance journalist currently studying English at university. She loves covering everything from entertainment and politics to lifestyle and travel. As well as writing for My Imperfect Life, Liv has bylines in The Times, HuffPost, Den of Geek, Bustle The Metro and The Bookseller.