How to get Hailey Bieber's nails—from tips on recreating her glazed mani at home and what to ask your nail tech for
Want to recreate Hailey Bieber's nails? Here's exactly how to do her viral glazed nails at home and alternatively, what to ask your nail tech for...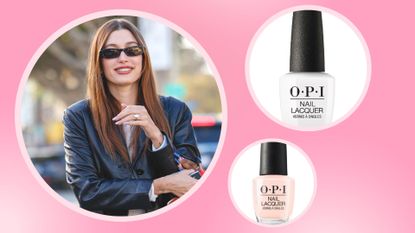 (Image credit: Getty Images/ Rachpoot/Bauer-Griffin/GC Images)
Want Hailey Bieber's nails in all their opalescent glory? Through your endless TikTok and Pinterest scrolling, you'll have likely encountered the clean girl aesthetic's muse, Hailey Bieber, and her viral, ''glazed donut nails'. The Rhode Beauty founder first debuted them at the 2022 Met Gala and since then, the manicure trend has blown up and now encompasses a ton of equally delicious variations. So, here's a full guide for anyone wanting to recreate the pearly look, from what to ask your nail artist for to helpful tips on how to do them yourself, at home!
While Hailey has now inspired what seems like an endless list of 'glazed' nail options (and don't even get us started on the makeup, like her 'glazed' foundation look)—they all thankfully have some key things in common.
Regardless of the color, whether it's fall-inspired or pink chrome, Hailey's nails are always almond-shaped and created using just one block shade, with a chrome effect overtop—meaning you can easily stay on trend, without having to replicate every single one of Hailey's manicures as they crop up and the look is pretty easy to do at home, even for a nail novice!
So, if you want to channel all things Hailey with your nails, here are all her latest manicure looks—plus all the intel you need on what to ask your nail technician for, how to recreate the manicure at home and how to keep your nails looking as healthy as possible.
What are the Hailey Bieber nails called?
If you want to browse all the nail tutorials and recreations of Hailey's pearly nails on TikTok, all you have to search for is 'glazed donut nails.' That is the name coined for her icing-like mani, originally seen at the Met Gala. Hailey also dubbed the brown, fall variation 'chocolate glazed nails.'
The word 'glazed' is pretty synonymous with the model these days and is something Hailey has often described her ideal skin texture as—saying she wants her skin to look like a 'glazed donut' and has inspired several of her Rhode product names too!
What does Hailey Bieber use for her nails?
Hailey has previously revealed that her own nail artist, Zola Ganzorigt—who brought us the OG Glazed nails and every other variation since(we're eternally grateful, Zola!)—mixes whatever her main shade is with a clear coat, to dilute the color, giving it that trademark 'glaze' look. It's then topped with a shimmery, pearly chrome to create that yummy, icing-inspired finish.
Product-wise, for Hailey's Met nails, Zola used OPI's Funny Bunny shade (which is a milky white) and the OPI chrome effect in 'Tin Man Can.' In more nude variations, Hailey and Zola have also used OPI's shades in Bubble Bath (a baby pink), Clay In The Life (a neutral tan). If you really want to get the Hailey nail look, treating yourself to a few OPI gel polishes is a good idea!
If you, like us, are desperate to get this nail look, here's a full explainer on how to recreate each of her iconic 'glazed' nail looks—starting with her latest, wintery variations...
Are Hailey Bieber's nails acrylic?
Despite their perfect almond shape, Hailey's nails are actually created with UV-cured gel polishes. From what we can tell, she actually has her base coat and gel colors applied straight to her natural nails—with no added length.
Can you do Hailey Bieber nails with gel polish?
So, if you're wondering if you can use gels to create Hailey's glazed nails yourself, the answer is yes!
As mentioned, Hailey's nail artist Zola actually uses UV/LED cured gel polishes to create her famous manicure. As far as we can tell, Hailey also doesn't wear any extensions and has the gel applied onto her natural nails, though they are shaped into an almond style.
If you have short nails though or struggle to grow them to a length similar to Hailey's, you can achieve the same look with gel extensions, BIAB and acrylics—though we would advise visiting your local nail tech for things like extensions, especially if you're a beginner!
For those opting for an at-home gel nail manicure (or simple nail polish look), we've outlined every tip and trick you need to recreate her most popular glazed nail trends...
Hailey Bieber's nails: the best trends and how to get them
Pink Chrome nails
Hailey has been giving us all the Valentine's Day nail art inspo with her latest pink chrome nails (spy in the carousel above)!
In her latest appearances on our socials, Hailey has been rocking a bright pink, shimmery look that—like all of her other pearly looks—is really easy to recreate!
How to recreate the look at home: If you're tackling Hailey Bieber's pink chrome nails as home, all you need to do is first, shape your nails to the almond shape. Then you apply a base coat (an important step if you're using gels!). Next comes the color—Hailey can be seen wearing a hot/ strawberry pink with that same opal-like shimmer that made her OG-glazed nails so famous.
For a more sheer look, you can mix your pink shade with a clear gel or base coat. We'd recommended applying two layers of pink, before gently rubbing on your chrome dust and sealing with a top coat. If you have a lot of chrome dust fallout on your finger, be sure to brush it off with a small, fluffy brush.
What to ask for in the salon: If you have short nails, request almond-shaped extensions, and then simply ask for a pink chrome look with gel polishes and if in doubt, bring a reference pic of Hailey's nails to show your nail artist!
Midnight Glazed Nails
*See her nails in the second image*
Now, these nails are a little different from her trademark pearly manicure. These swap the chrome dust for something altogether more glossy and they're perfect if you need Halloween nail design ideas.
To celebrate the Halloween season, Hailey has been rocking some super shiny (almost liquid-like) midnight black nails—which are a super chic option if you want a subtle tribute to the pumpkin-themed holiday, as opposed to a full-on horror movie depicture on your nails.
Thankfully, if you already have Hailey's Glazed nails down to a T, this nail look is pretty straightforward as again, it's just one block shade, painted onto almond-shaped nails. You can of course add a bit of silver or pearl chrome dust to give your manicure a more spacey/ velvet nail feel—but Hails has gone for a more gothic look.
How to recreate the look at home: So first shape your nails to the almond shape, apply your base coat (if you're using gels, cure for the recommended time), then we'd recommend applying two coasts of black, for a bold color payoff. Then apply your top coat *cure* and if you want a chrome finish, buff in your powder, before adding another top coat.
For the really glossy finish, make sure you don't forgo your top coat and make sure you're properly curing your nails for the recommended amount of time to avoid any smudges.
What to ask for in the salon: If you're planning to visit your nail artist for this particular look, be sure to ask for almond-shaped nails or extensions, select your black or fave Halloween shade and request a glossy finish. If you want to really capture Hailey's look, request a mid-length nail.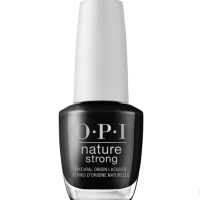 OPI Nature Strong Natural Vegan Nail Polish in Onyx Skies
RRP: $22/ £15.90
Hailey loves an OPI nail polish, so you can't go wrong with this glossy and vegan nail polish!
To achieve her midnight look, you may need to apply a few coats (unlike her more translucent glazed nails), so be sure to be patient and let every layer dry before adding another!
---
Rhode Glazed nails
Yep, you guessed it—Hailey has recently been repping some grey, glazed nails in tribute to her beauty brand Rhode!
How to recreate the look at home: TO DIY this look, it's the same principle as her Donut nails. You just need to apply a base coat, followed by a light grey shade and then top off with your favorite pearly chrome dust. And don't forget your top coat! By the way, if you're a newbie to the gel-nail life, you can snap up some incredible gel nail kits on Amazon right now.
What to ask for in the salon: If you're heading to your local nail salon, it's again pretty straightforward—just ask for your nails to be mid-length and almond-shaped and select a light grey shade. Make sure you specify that you want a more jelly-nail-type look, so the main color is slightly transparent rather than opaque. Then ask for a chrome powder finish.
Like her OG nails, they feature the same oval/almond shape but instead of the white and nude pink shades, she's gone for a light grey - to match Rhode's product packaging.
---
Chocolate Glazed Donut Nails
The 'Chocolate Glazed Donut Nails'—or 'Chocolate Ganache Nails' as coined by nail polish brand Mylee—feature a warm, rich brown shade, with a shimmery glaze that makes your nails look like molten, melted chocolate. These nails are just as pretty as their predecessor and have already been tipped as one of the biggest 2022 nails trends.
How to recreate the look at home: If you're planning to do 'Chocolate Glazed Donut Nails' nails at home, nail expert and Mylee Ambassador Tinu Bello recommends using a base coat, followed by two layers of Mylee's gel shade Choco-latte, followed by a layer of iridescent Sea Shell, and topped off with a clear gel layer, to avoid any chipping.
What to ask for in the salon: If you're taking these chocolatey nails with you to your salon as inspo, make sure you select a warm brown shade and be clear that the color shouldn't be too opaque. Also again request almond-shaped nails and from the looks of it, Hailey's chrome dust might have a gold hue, so go for that, or stick with the OG iridescent vibe.
---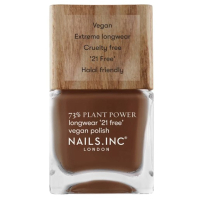 nails inc. Plant Power Nail Polish
RRP: $10/£9
This polish in the shade 'Zen out of Zen' is the perfect warm-toned brown and looks almost identical to the color Hailey wears. Plus nails inc polishes are cruelty-free and vegan, so win-win!
This is a great alternative to gel polishes if you need a quick nail look, or don't have a curing lamp of your own.
---
Lemon Sorbet nails
Now, this neon variation is very different from Hailey's more subtle and neutral nails, but nonetheless gorgeous.
They feature the same single, block color with a dusting of shimmery chrome dust to create that slightly opaque look that makes us think of lemon-flavored boiled sweets or slightly melted lemon sorbet...
How to recreate the look at home: Unlike the rest of the nail shades, where we'd suggest having a more translucent base color, we'd apply a few coats of this to avoid streakiness and to really make the color pop. Follow up with your chrome powder and make sure you cure your gels properly—you don't know want this yellow to smudge!
What to ask for in the salon: The same principle as all the other nail variations but this time select a vibrant, almost neon yellow. Hailey never really changes up her nail length, so requesting mid to long nails in an oval shape is a safe bet for this look.
---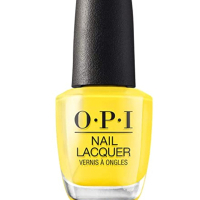 OPI Nail Lacquer in Exotic Birds Do Not Tweet
RRP: $10.79/£14.30
The shade 'Exotic Birds Do Not Tweet' is also a great swap for Hailey's lemon colored nail polish.
This is not a gel formula, so you won't have to wait for it to cure. Simply apply and wait to dry, before adding your chrome dust or pearly top coat.
---
Strawberry Glazed Nails
Much like the original donut-inspired nails, the Strawberry-Glazed nails are very natural looking. They're your nails but better and are ideal if you're not a fan of bright and bold nail looks. This appears to be Hailey's everyday go-to, alongside the original Glazed.
Instead of using OPI's shade 'Funny Bunny' which is the sheer white used for Hailey's Met Gala nails, use one with more of a pink hue—like OPI's Bubble Bath. This will create a sumptuous-looking pink, jello-like glaze on your fingertips, then follow up with a pearly chrome dust and you're all set.
How to recreate the look at home: To recreate the look, you want to first apply a clear gel base coat, then follow up with OPI's Bubble Bath shade and then a pearly chrome nail dust. As mentioned Hailey's exact chrome powder is not available to buy—so any shimmery alternative will do!
What to ask for in the salon: If you're lucky enough to have a salon that stocks OPI, you may actually be able to request Haily's powder, which is called 'Tin Man Can,' if not just ask for a pearly/ white chrome effect.
Also, opt for almond-shaped nails and ask for a pastel pink or nude as your base coat. If you want a similar, subtly look, two coats of your pink hue will do!
---
HOW TO ASK FOR HAILEY BIEBER'S NAILS: Notes to give your manicurist
Beauty expert, Saffron Hughes from Falseeyelashes, notes that Hailey's nails are almond-shaped, which she says are, "similar to an oval shape but with a slight point at the top like that of an almond." Saffron also adds that this shape not only 'elongates' your hands but is also super practical if, for example, you type a lot (like us) because the shape is more natural and less likely to chip.
So ask your nail artist for almond-shaped nails (either to shape your natural nails or acrylics/gel extensions). Hailey also tends to have medium to long nails, but if you can't hack them, the rounded shape is really key.
Then you'll want your technician to apply a base coat, followed by two thin layers of your chosen color (whether that's brown, yellow or pink).
Now, here comes the fun bit, ask for a chrome powder to be applied to your nail, followed by a clear top coat—to ensure your mani is protected!
If you're salon stocks OPI polishes, you can ask if they have her exact nail shades which include; Bubble Bath (a baby pink), Clay In The Life (a neutral tan) and for the original milky white nail look, Funny Bunny.
HOW TO MAINTAIN YOUR NAILS LIKE HAILEY BIEBER
If you've created your Hailey Bieber nails at home, Saffron has also shared some simple housekeeping tips to ensure that your new mani lasts.
Saffron first advises prepping your nails with white vinegar to remove any excess oil. Then before adding your basecoat, make sure your nails are completely dry, Saffron explains: "When nail polish is applied to wet nails, moisture is trapped. Once the nails begin to dry, the trapped moisture needs to escape so it begins to separate the polish from the nail, making them more susceptible to chips."
Don't over-do the nail polish remover
When it comes to removing your glazed nails, don't use too much nail polish remover—and if you're removing gel polish at home, don't soak your fingers in an acetone-based remover for too long, as Saffron notes, "this can also weaken the nail plate over time."
In terms of keeping your manicure looking fresh, Saffron says: "A common misconception is that once you apply a topcoat, you're good to go for the foreseeable future, however, this certainly isn't the case.
"For the best results and chip prevention, you should reapply your topcoat every two to three days. Believe me when I say you'll thank me!"
Speaking of chips, she also adds that as soon as you spot a chip, it's damage control time—"The sooner you restore your nails, the longer-lasting they'll be. Plus, we all know how tempting it is to further peel our nails once we spot that chip that annoys us throughout the day.
"So make sure to fix your chip as soon as you spot it by applying the same color in enough thin layers that it disappears before that all-important topcoat again."
Avoid the cuticle at all costs
Another tip is to never paint your cuticles, as this 'breaks the seal between your polish and nail'—meaning once your polish starts to peel, there's no stopping it.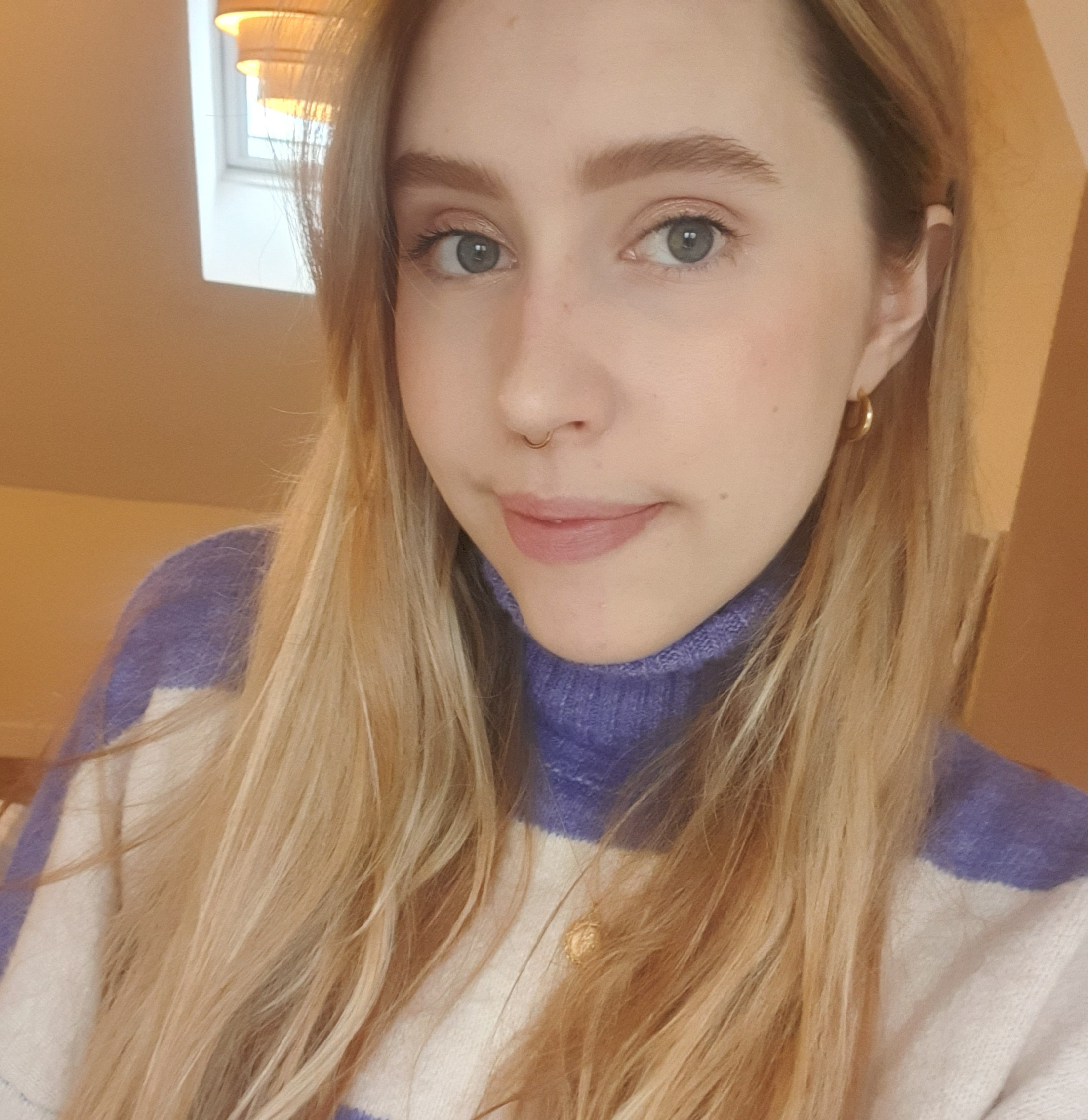 Naomi is a Lifestyle News Writer with the Women's Lifestyle team, where she covers everything from entertainment to fashion and beauty, as well as TikTok trends for Woman&Home, after previously writing for My Imperfect Life and GoodTo. Interestingly though, Naomi actually has a background in design, having studied illustration at Plymouth University but lept into the media world in 2020, after always having a passion for writing and earned her Gold Standard diploma in Journalism with the NCTJ.
Before working for Future Publishing's Lifestyle News team, she worked in the Ad production team. Here she wrote and designed adverts on all sorts of things, which then went into print magazines across all genres. Now, when she isn't writing articles on celebs, fashion trends, or the newest shows on Netflix, you can find her drinking copious cups of coffee, drawing and probably online shopping.