Who is Kendall Jenner dating? Inside Devin Booker and Kendall Jenner's secretive one-year relationship
The KUWTK reunion finally gave us some deets about that Devin Booker, Kendall Jenner romance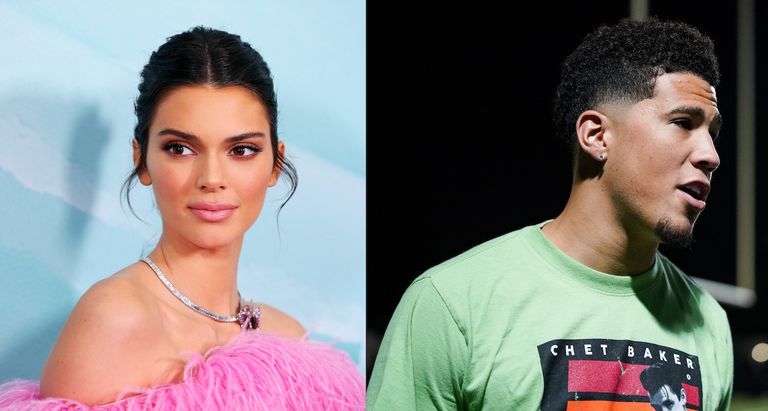 (Image credit: Getty Images)
Devin Booker, Kendall Jenner, and their year-long romance have been relatively low-key, but we've finally got some details about the hush-hush love story between the supermodel and the professional athlete.
In part two of the Keeping Up With the Kardashians reunion special, host Andy Cohen asked Jenner about her relationship. "He's my boyfriend," Jenner officially confirmed, though eagle-eyed social media followers were able to suss that out long ago, and later added: "No offense to my older sisters at all, but I think that Kylie and I specifically have had the opportunity to watch our older sisters go through marriages and relationships and breakups and all these things, and do them pretty publicly."
Speaking about her proclivity for privacy, Jenner stated: "I think it was personal preference from a really young age that I didn't want to [do that]." She added: "I think it makes my life a lot easier and our relationship a lot better, to be completely honest."
So while we're unlikely to see huge public displays of affection between these two anytime soon, we do have some intel on what's been going on with these two. Look no further—our Devin-Kendall relationship timeline is a slam dunk.
• More Jenner romance news: Are Kylie Jenner and Travis Scott back together?
Kendall Jenner NBA boyfriends
During the KUWTK reunion special, Jenner responded to comments that she only dates basketball players, to which she quickly shot back: "I actually don't only date basketball players, if anyone's ever done their research, but I'm not ashamed that I have a type." She added: "I'm also just a genuine basketball fan, so that's just kind of happened."
While Jenner has famously been seen with musicians like Harry Styles, A$AP Rocky, and Nick Jonas, she finds herself involved with b-ball players more often than not. (Tall, athletic, successful—what's not to like?!)

Although she's been previously spotted with athletes Jordan Clarkson, D'Angelo Russell, and Kyle Kuzma over the years, Jenner has confirmed that she's only really dated two pro NBA players: Ben Simmons and Blake Griffin. Responding to a snarky Tweet about her supposed NBA exes back in 2019, with a fan saying that "This is a playoff team lmao," Jenner wrote: "2 out of 5 accurate, thanks."
Her current basketball-playing boyfriend, Devin Booker, is presently competing in the 2021 NBA playoffs.
2 out of 5 accurate, thanks https://t.co/I4SUF11sVNJuly 16, 2019
See more

During the reunion, Andy Cohen also brought up the rumored "Kardashian curse," a theory that negativity seems to plague a Kardashian or Jenner ex after a romantic entanglement involving one of the sisters. Kendall responded to the so-called "curse" and said the whole thing was sexist.
She said: "What I don't like about this narrative is that the blame is on us. I think the men need to take that responsibility. I think that we're all extremely giving and caring and loving women. And when there is a man in our lives we like, give everything to them, and as a family, we all love them so much. It's almost offensive, personally."
Devin Booker, Kendall Jenner's one-year anniversary
In June 2021, the Phoenix Suns' shooting guard and supermodel celebrated their year-long union. Although they typically don't post snapshots of one another on social media, they took this milestone as an opportunity to share photos together on their respective Instagram stories. Naturally, their followers quickly pounced on the rare sighting.
You will have a hard time tracking down images of each other in Jenner and Booker's feeds, but with a little digging, those eagle-eyed followers can spot Kendall's beau on her Insta page and vice versa.

A source revealed to People that they're both "very private" about their relationship and that Booker would prefer not to be in the spotlight. They did, however, make their romance social media official on Valentine's Day with—you guessed it—an Instagram story.
• Kimye is officially dunzo, so who is Kim Kardashian dating now?
Why hasn't Devin appeared on KUWTK?
It turns out, the model-slash-tequila brand owner has a few criteria that her love interests need to meet before they become regular fixtures on Keeping Up With the Kardashians.
"Kendall's always had this rule—she felt like she had to be with someone for at least a year before she let them be a part of the show because she doesn't always know what people's intentions are," executive producer Farnaz Farjam revealed on The Daily Dish podcast.
As luck would have it, this year-long love was confirmed right as the reality show has come to a close, but we have a feeling reality TV fanatics are keeping a watchful eye on Kenny and her boo. (Here's hoping fans will get a few more details about Devin on the KUWTK reunion, which airs on E! on June 17th at 8pm and June 20th at 9pm.)
• Kourtney Kardashian and Travis Barker's relationship timeline—steamy Instas, NSFW moments, double dates and all

Devin Booker, Kendall Jenner—how it all began
Although we're being given small snippets of their time together, we're still wondering just how Kendall and Devin's relationship began. In arguably the worst time to start a new relationship, the two first sparked dating rumors back in April 2020.

Due to the pandemic, things didn't officially heat up until summer 2020, when the two vacationed together alongside pals Justin and Hailey Bieber and spent time at each other's homes, per People.
Spring 2021: What's the couple up to now?
With lockdown behind and an opportunity to grow closer, Booker and Jenner began spending more time together. They were seen visiting New York in April and a month later, Kendall was spotted cheering on Devin at one of his games.
As we start to learn more about this new couple, sources reveal that both parties prefer keeping things on the down-low, though they say one thing is super clear—this is the happiest Kendall has been in a relationship.

People further reports that Devin also has the Kar-Jenner seal of approval, even though he hasn't appeared on the reality show. The source adds that while the couple is still young, it's "obvious that they have something special going on."