Are Kat and Alex still together from 'The Ultimatum'?
The Hinge couple went through *a lot* on the show, but what is Kat and Alex's relationship status now?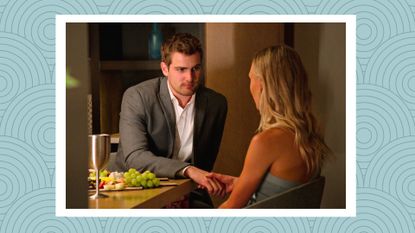 (Image credit: Netflix)
Things were touch and go for Kat and Alex, The Ultimatum season 2 couple, during season two of the Netflix reality dating show, but where do things stand for the duo today?
Like its predecessor, The Ultimatum season 2 put couples through a social experiment that challenged them to decide if they want to marry their partner or break up for good.
During the series, the couples temporarily break up and date someone else for three weeks in a trial marriage, before getting back together with their original partners to then decide whether or not they want to get married or move on from their relationship.
Season two of the show was packed with drama, as the couples struggled to put their now exes out of their mind to fully commit to the experiment, including Alex Chapman and Kat Shelton. So what happened with Kat and Alex since the finale of The Ultimatum? Here's everything we know.
Why did Kat and Alex go on 'The Ultimatum'?
The adventurous couple met on a dating app and since getting together two years prior, traveled a lot together but that had not stopped them from having issues.
The couple struggled with communication as travel nurse Kat tried to avoid conflict and usually diverted to Alex to make decisions, a trait Alex later admitted disliking. Alex, who works in software sales, wanted to be challenged more and have his partner be his equal, leaving him hesitant to propose to Kat.
Luckily for Alex, Kat was vocal about him needing to get over his "logical and practical" mindset, which was stopping him from proposing. So she signed them up for The Ultimatum.
What happened between Kat and Alex during 'The Ultimatum'?
The couple were initially pretty committed to the experiment and at the choice ceremony, Alex picked Roxanne because she was the "polar opposite of Kat."
He explained Kat was soft and very sweet, super nice and Roxane was more like a driver: forward, direct, witty and smart. He added that he liked Roxanne's independent energy because he knew she could handle problems in "the best way possible," to which Kat said she was a bit hurt as she didn't know personality things were missing from their relationship. In turn, Kat chose Roxanne's ex, Antonio, which meant they had a full-circle swap. Kat revealed that Antonio made her feel "very comfortable" and she enjoyed their conversations.
During the respective girls' and guys' nights, Alex told Antonio that Roxanne didn't respect him and Alex wasn't happy about it. He completely disagreed. When he returned to his apartment, Antonio told Kat about what Alex had said, to which she revealed that Antonio's mom had texted her and said something similar: Roxanne didn't really like her partner. This led to Antonio arguing with both Antonio and Kat as Roxanne denied ever saying anything of the sort. Roxanne confronted Alex who stood by his words and said Antonio deserved to know that he believed Roxanne didn't respect him.
The argument made the remainder of both of their trial marriages awkward, to the point that Antonio moved out of their apartment before Kat even woke up. Alex refused to apologize to Roxanne despite her apologizing for her words in the heat of the moment.
However, the argument did leave Kat and Alex realizing how much they loved one another and made them more committed to working things out between them. Alex reflected on how Kat was indeed confident, while Kat said she'd ask Alex to show his emotions more.
Before decision day, Kat reiterated that she "can't imagine her life without him" and that she thought that they "have something really special" and she wanted to take the next step with him. Alex still had hesitations as he admitted: "Once you make it, you're in. Like you have to be all-in and you have to stay all-in. It's make or break."
Luckily, on decision day, he realized he couldn't live without Kat and proposed to her. He said that she was strong in her own way and they worked really well together.
Are Kat and Alex from 'The Ultimatum' still together?
Before the reunion, viewers suspected the couple could still be together because they still follow each other and they had tagged each other in photos in September 2022; if they had broken up, they would have likely deleted those pictures.
At the reunion, it was revealed that not only were Kat and Alex still together and thriving but they also had "save the date" cards, which they handed to cohosts Nick and Vanessa Lachey at the end of the reunion episode, which dropped on Netflix on Wednesday, August 30.
During the reunion, Kat said that she feels that Alex is more ready to settle down than she is: "He's ready to have a house and he has, I think, more baby fever than I do." However, Alex and Kat also clashed once again with Antonio and Roxanne.
Alex said looking back on his and Roxanne and Antonio's argument, he wishes he had made it more clear to Antonio that he was not after Roxanne. However, Roxanne said, "I feel like I see through bulls**t so I know my opinion hasn't changed." Trey said that he felt there were things Alex could've elaborated more on while he was speaking but didn't think he had a bad intention.
Roxanne also added that she was trying to say the same thing as Kat's friends on girls' nights when questioning why Alex wasn't ready. However, Kat disagreed and said that Roxanne never had good intentions and was instead trying to gaslight her.
The Ultimatum season 2 is streaming in full on Netflix as of Wednesday, August 30.
Liv is a freelance journalist currently studying English at university. She loves covering everything from entertainment and politics to lifestyle and travel. As well as writing for My Imperfect Life, Liv has bylines in The Times, HuffPost, Den of Geek, Bustle The Metro and The Bookseller.