The best LGBTQ+ movies to watch on all your favorite streaming platforms
These are the LGBTQ+ movies to add to your watch list immediately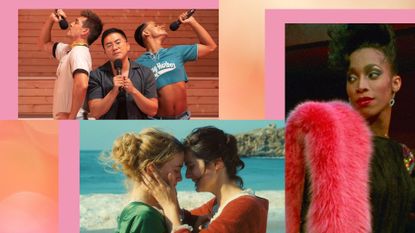 (Image credit: Hulu; Neon; Art Matters Inc. - BBC Television - Miramax)
Don't let your LGBTQ+ movies marathon be relegated only to Pride Month! Just like the best LGBT TV shows, queer films can and should be enjoyed all year long, not just rainbow-colored June.
Our favorite LGBTQ+ movies (and if you're wondering "what does LGBTQ+ mean?" it's a catch-all highlighting lesbian, gay, bisexual, transgender and queer communities) run the gamut from iconic documentaries like Paris is Burning to modern-day classics such as Moonlight to comedic newcomers like Fire Island.
And luckily for all of us, these titles are all available to watch on streaming platforms like Netflix, HBO Max and more. Here are some amazing LGBTQ+ movies to add to your watch list ASAP!
LGBTQ+ movies on Netflix
'Disclosure: Trans Lives on Screen'
This Netflix documentary is a must-watch. Featuring interviews with the likes of Laverne Cox, Mj Rodriguez and Elliot Fletcher, as well as Hollywood royalty including Tom Hanks and Julie Andrews, it examines Hollywood's depiction of transgender people and the impact the entertainment industry has left on both the trans community and American culture.
'Alex Strangelove'
This 2018 coming-of-age drama follows a high school senior )played by Daniel Doheny) who makes plans to lose his virginity to his girlfriend. However, things get complicated when he meets a charming gay kid from the other side of town who unknowingly sends him on a roller-coaster journey of sexual identity.
'Tangerine'
From Sean Baker, the director of The Florida Project and Red Rocket, this 2015 Sundance darling about a transgender sex worker (played by Kitana Kiki Rodriguez) seeking revenge on her pimp-boyfriend after finding out that he's cheating on her was shot entirely on three iPhones. Seriously, watch and be amazed.
'The Danish Girl'
Starring Eddie Redmayne and Alicia Vikander, this 2015 adaptation of David Ebershoff's 2000 novel of the same name follows the life of artist Einar Wegener who, with the support of his loving wife Gerda, prepares to undergo one of the world's first sex-change operations.
'The Death and Life of Marsha P. Johnson'
The world lost gay liberation activist and Stonewall icon Marsha "Pay It No Mind" Johnson much too soon when her body was discovered in New York's Hudson River in 1992 at the age of 46. However, the circumstances around her death have been contested for decades, with the NYPD initially ruling it a suicide but others believing that Marsha was murdered. This 2017 documentary delves into not only into the mystery of her death but also her passion and activism and those that are keeping her legacy alive today.
'Your Name Engraved Herein'
Set in 1987, as martial law ends in Taiwan, the movie follows the love story of Jia-han and Birdy who fall for one another amid family pressures, homophobia and social stigma. The film is in Mandarin and English and has been praised by critics for its portrayal of gay love.
'The Half of It'
Another feel-good high school, The Half of It follows a shy, straight-A Chinese-American student who helps the school jock woo a girl whom, secretly, they both desire. The two then find themselves connecting and learning about the nature of love. It's all very cute!
LBGTQ+ movies on Hulu
'Moonlight'
Yes, it spawned one of the most infamous Oscar moments in history, but that #Envelopegate drama shouldn't steal the spotlight away from one of the most gorgeous, tender queer films of all time. Directed by Barry Jenkins, this coming-of-age triptych follows "Little"/Chiron across three stages of his life—childhood (Alex Hibbert), adolescence (Ashton Sanders) and adulthood (Trevante Rhodes)—while he contends with his sexuality, race, identity and masculinity in Miami, Florida.
'Fire Island'
A newcomer to the queer canon, 2022 rom-com Fire Island is already a fan favorite, thanks to its enemies-to-lovers Pride & Prejudice vibes, Britney Spears sing-alongs and a multicultural cast that includes famously funny folks like Joel Kim Booster (who also wrote the screenplay), Saturday Night Live gem Bowen Yang, and the always-iconic Margaret Cho.
'Portrait of a Lady on Fire'
Set in France circa 1777, Céline Sciamma's Portrait of a Lady on Fire is a lesbian love story for the ages. Painter Marianne (Noémie Merlant) is commissioned to do the wedding portrait of Héloïse (Adèle Haenel), a young woman who has just left the convent. Héloïse is a reluctant bride-to-be and Marianne has to paint her without her knowing, observing her day by day until the two eventually fall for one another.
'Brokeback Mountain'
The rightful winner of the 2005 Best Picture Oscar (yes, we're completely disregarding Crash, thanks bye), the iconic Western romance stars the late, great Heath Ledger and Jake Gyllenhaal as Ennis Del Mar and Jack Twist, two rough-and-tumble cowboys who embark on a decades-spanning forbidden love in the American West.
'Supernova'
Starring Stanley Tucci and Colin Firth, this one's a tear-jerker. It follows a gay couple—one a musician, the other a novelist—who embark on a road trip as dementia starts to take hold of one of them. Make sure to have some Kleenex nearby!
'God's Own Country'
This 2017 beaut written and directed by Francis Lee focuses on an unhappy young farmer (a star-making turn from a pre-The Crown Josh O'Connor) living with his grandmother and sickly father in rural Yorkshire. He slogs through his days with binge drinking and casual sex, until meeting a Romanian migrant worker (Alec Secareanu) unearths his capacity for love, both of the romantic sort and also for the land he's been begrudgingly calling home.
'Ammonite'
Make it a Francis Lee double feature with this 2020 God's Own Country follow-up: here, acclaimed paleontologist Mary Anning (played by the iconic Kate Winslet) works alone selling common fossils to tourists to support her ailing mother, but a chance job offer changes her life when a visitor hires her to care for his wife, played by Saoirse Ronan.
'The World to Come'
Another historical trip in time, The World to Come takes us somewhere along the mid-19th century American East Coast frontier, where two farmers' wives (played by Katherine Waterston and Vanessa Kirby) find themselves drawn to each other and embark on a secret love affair.
LGBTQ+ movies on HBO Max
'Paris is Burning'
Pepper LaBeija, Dorian Corey, Angie Xtravaganza, Willi Ninja—there are just some of the fierce characters you'll meet in this legendary 1990 documentary, which chronicles the underground ball culture of 1980s New York City. Without the influence of Paris is Burning—and all of the Black and brown queer and trans folks navigating the realities like racism, homophobia, the AIDS crisis and poverty within it—the world wouldn't have RuPaul's Drag Race or Pose, and LGBTQ culture as a whole would be a lot less colorful.
'Desert Hearts'
A genuine trailblazer, Desert Hearts was the first major film with a positive lesbian relationship at its core to get a wide release in America. Without this story of two women falling in love in rural Nevada in the 1950s, the history of lesbian cinema may have gone very differently.
'Dating Amber'
Set in Ireland during the mid-90s, friends Eddie and Amber (Fionn O'Shea and Lola Petticrew) decide to stage a relationship to stop everyone from speculating about their sexuality. Amber dreams of moving to London where she can truly be herself and explore her sexuality, while Eddie wants to follow in his dad's footsteps and join the military. But first, they need each other to prevent being outed.
'Bessie'
This 2015 Dee Rees-directed biopic of musical legend Bessie Smith, a.k.a. "The Empress of the Blues," stars Queen Latifah as the titular lead. It follows the story of Smith's life as she makes it in the music world as a queer Black woman, battling everything from addictions to the patriarchy.
Sagal is a journalist, specialising in lifestyle, pop culture, fashion and beauty. She has written for a number of publications including Vogue, Glamour, Stylist, Evening Standard, Bustle, You Magazine, Dazed and Wonderland to name a few.
With contributions from