The best LGBT TV shows to stream during Pride Month and beyond
From 'Will & Grace' to 'Euphoria,' these LGBT TV shows will always have a place in our hearts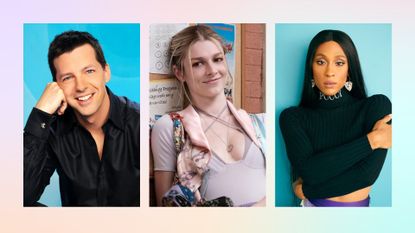 (Image credit: NBC/HBO/FX)
With all the LGBT TV shows around right now, it's hard to pick a favorite. Luckily, we don't have to, as we plan on binging our way through every single one. After a long history of being hidden, overlooked or ignored altogether, the TV world is finally making space for and celebrating the beautiful love stories of lesbian, gay, bisexual, transgender, queer and non-binary people.
While O.G. sitcom Will & Grace is often credited for revolutionizing gay representation on the small screen, the world has thankfully come a long way, allowing more diverse portrayals of the LGBTQ+ community to be aired in myriad series. From game-changers like Pose (one of the best things on TV!) and Euphoria, which provide authentic storytelling centering on transgender leads, to long-time favorites like The L Word and Orange Is The New Black, both of which paved the way for so many shows to come, the list is growing fast!
In no particular order, here are a few of our go-to titles when we need some real, stereotype-free LGBTQ+ presence on our TV screens, for Pride Month 2022 and beyond!
LGBT TV shows to watch during Pride Month and beyond:
1. 'Euphoria' (HBO Max)
Unless you've been living under a rock, you'll know that Euphoria is the moment. Led by a stellar cast including Zendaya (Rue) and Hunter Schafer (Jules), the HBO teen drama is one of the most successful TV shows in recent years thanks to its unapologetic approach to tackling difficult coming-of-age storylines, from drug addiction and assault to sexuality and identity. Rue and Jules' relationship is an innocent and beautiful portrayal of same-sex teenage love, whilst also providing a refreshingly effortless portrayal of trans life through Jules' experiences.
2. 'Pose' (FX/Netflix)
Set in the 1980s, Pose is a dance musical that explores the juxtaposition of several segments of life and society in New York through the lens of a community of LGBTQ youth. The show features five transgender actresses as series regulars, the most for any prime-time TV series in history. It is also written and produced by members of the LGBTQ community, including co-creators Steven Canals and Ryan Murphy, executive producer Nina Jacobson, and trans screenwriters and directors Janet Mock and Silas Howard.
3. 'Betty' (HBO Max)
Betty may have been canceled after just one season but what a season it was. Not because anything major happened (because it didn't), but because it simply showed a group of laid-back queer people living their lives and existing in the typically male-dominated skater world. We loved to see it!
4. 'Elite' (Netflix)
Often described as the Spanish version of Gossip Girl, Elite on Netflix is a scandalous teen drama that provides everything you'd want from a show about a group of rich private-school kids who act like they're 30 when they're all 16. The show tackles plenty of complex storylines, including the relationship between teen lovers Ander (played by Arón Piper) and Omar (Omar Ayuso), who comes from a strict Muslim family. The show explores sexuality and queerness through multiple characters throughout its five seasons.
5. 'Gentleman Jack' (BBC)
You can't go wrong with a show about the "first modern lesbian", especially when it's based on a true story. The British period drama is one of our all-time favorite queer shows, mainly because it avoids all the typical cliches and stereotypes about lesbian love by following the very detailed, four-million-words coded diary that the the19th-century woman it was inspired by left behind. She was the very same woman who made history in Britain for having the first lesbian wedding with her partner.
6. 'The Fosters' (Hulu)
The Fosters, which gave us the spin-off Good Trouble, sees lesbian couple Stef (a dedicated police officer) in a relationship with Lena as they build a close-knit family of adopted kids that they raise and guide through the many hardships in their lives. Airing for five seasons before its cancellation in 2018, the show is a loving portrayal of same-sex marriage and a strong family unit.
7. 'Killing Eve' (BBC/Hulu)
Killing Eve had us all in a chokehold when it first aired back in 2018, right until it wrapped up its fourth season earlier this year. The drama follows the cat-and-mouse chase between MI5 officer Eve (Sandra Oh) and incredibly smart assassin Villanelle (Jodie Comer). The two quickly grow obsessed with one another and it doesn't take long before their love-have relationship turns into pure love because, let's face it, they're meant for each other!
8. 'Orange Is The New Black' (Netflix)
There was no way we'd forget the Netflix series that paved the way for what the streamer is today. Starring Natasha Lyonne, Laverne Co, Samira Wiley and Uzo Aduba in its large ensemble cast, Orange Is The New Black gave us an insight into life inside a women's prisons like no television show had ever done before, including multiple love bisexual and lesbian love stories, notably the on-again-off-again saga between Piper (Taylor Schilling) and Alex (Laura Prepon).
9. 'The L Word' & 'The L Word Generation Q' (Hulu)
The L Word was one of the first TV shows to make space for and represent gay love stories centered around women. The show, which began airing back in 2004 followed the lives and loves of a group of lesbians and bisexuals in Los Angeles. After wrapping up in 2009, the seminal series was rebooted ten years later in 2019 with The L Word: Generation Q, where the original group reunited, with some new additions, too.
10. 'Genera+ion' (HBO Max)
Genera+ion debuted on HBO Max last year with its first season, following a group of high school students exploring modern sexuality and testing deeply entrenched beliefs about life, love and the nature of family in their conservative community. Everything about it gives Gen-Z, so prepared to be hooked!
11. 'Twenties' (BET)
Twenties is a semi-autobiographical series created by Lena Waithe, providing the Black queer representation we so often miss on TV shows. It follows Hattie, an aspiring screenwriter and queer Black woman in her twenties, and her two straight best friends, Marie and Nia, as they navigate life in Los Angeles, from careers to friendship and love. Oh, and rapper Big Sean (Ariana Grande's ex) is in the cast, too!
12. 'Will & Grace' (Hulu)
Ah, Will & Grace. A true classic! The sitcom first premiered in 1998 and ran for eight whole seasons before it wrapped up. It follows best friends Will, a meticulous corporate lawyer who happens to be gay, and Grace, a neurotic interior decorator, who share a New York apartment after Grace leaves her fiancé at the altar. Along with their friends Karen (a hilarious socialite) and Jack( a free-spirited actor), the foursome pretty much live their best lives. The beloved series had a revival from 2017 through 2020, with its eleventh and final season ending in October 2019.
Sagal is a journalist, specialising in lifestyle, pop culture, fashion and beauty. She has written for a number of publications including Vogue, Glamour, Stylist, Evening Standard, Bustle, You Magazine, Dazed and Wonderland to name a few.