Who created the 'rule break pact' in 'Too Hot to Handle' season 5?
Rule breaks are a regular part of 'Too Hot to Handle' but what is the 'rule break pact' and which contestants are behind it?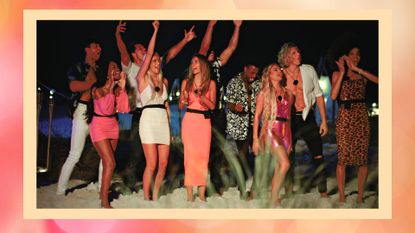 (Image credit: Netflix)
One of the most dramatic reality shows out there, Too Hot to Handle is back for another season and the drama is hotter than ever.
We're only four episodes into Too Hot to Handle season 5 and things are already heating up as four out of the ten singletons—who thought they were on a regular reality dating show but found themselves on a no-sex retreat—have formed a "rule break pact" that has shook the villa to its core.
The premise of Too Hot to Handle is to make the ten sexy contestants focus on building emotional connections rather than basing their relationships solely on sexual attraction. If they manage to do this, they could win $200,000. But that's only if their fellow contestants don't get money deducted from the cash pot, as each kiss and sexual act performed on themselves or others comes with a monetary fine.
So let's find out who created this "rule break pact" that has already seen $24,000 taken out of the prize fund.
Who created the 'rule break pact' in 'Too Hot to Handle'?
The "rule break pact" of Too Hot to Handle season 5 was initiated by Isaac Francis and Louis Russell—well, technically Louis came up with the idea when he said he needed a rule breaker and a partner in crime and felt a connection to fellow player Isaac.
Louis found out that Isaac wanted to break a rule with Courtney but didn't want everyone to hate them, so he came up with the idea of a "rule break pact." Isaac agreed with the logic that "if we go down together it won't be as bad." Well, the saying does say that there's safety in numbers!
The only people who needed convincing were the girls, Hannah Brooke and Courtney Randolph. While both ladies were a bit hesitant at first, they couldn't resist their hunky men and decided that the dent in the cash fund was worth it. So worth it, in fact, that one rule break per a couple wasn't enough—each couple had to kiss each other twice.
We should add at this point that the couples were blissfully unaware that the cost for each rule break had doubled this year, nor were they aware that Lana had a date planned for the strongest couple. However, because all three couples had broken a rule that day (Hunter and Elys had kissed on the beach), a disappointed Lana canceled the date for everyone.
Does Louis end up with Hannah in 'Too Hot to Handle'?
Despite creating the "rule break pact" with Hannah in mind, Louis does not end up with Hannah by episode four.
When Louis first appeared on the yacht, three women were interested in him: Hannah, Megan Thomson and Christine Obanor. While Louis felt a sexual attraction to all three, Louis was swept up by California native Hannah's charm and decided that she was worth upsetting the other two girls. While this only made Christine more determined to get him, Megan tapped out and started looking toward Alex Snell. (Do Megan and Alex end up together? We've got the intel.)
However, things between Hannah and Louis didn't last too long, as Christine invited Louis down to the beach, got him to participate in another rule break kiss and convinced him that the following night they would be sharing a bed together. But for that night he still had to share a bed with Hannah and while he did, he couldn't resist continuing his rule breaks by also locking lips with her, too.
Neither woman knew Louis had kissed the other so Lana gave him the opportunity to come clean, but he never did and thus Lana took control. Lana sat everyone down and told them about Louis' two rule breaks. Despite being apologetic, Louis decided to end things with Hannah in favor of Christine. Don't think Christine took him back easily though. She made him work for her forgiveness!
Does Isaac end up with Courtney in 'Too Hot to Handle'?
Like Louis, Isaac did not end up with the person he broke the rules with.
Courtney and Isaac connected almost immediately on the yacht. Courtney was upfront with Isaac about her feelings and past relationships and they supposedly forged a strong bond.
That was until the Too Hot to Handle new arrivals, particularly Latina bombshell Yazmin Marziali, who swept into the villa and asked to take Isaac out on a date. The date came with special privileges, which meant that if they did kiss on the date, it wouldn't be counted as a rule break. And it's safe to say that Isaac took Lana up on that offer because when Isaac and Yasmin came back to the villa, they were arm in arm. It was very clear that Courtney would not be sharing a bed with Isaac.
The first four episodes of Too Hot to Handle season 5 are streaming on Netflix now, with the new episodes dropping on Friday, July 21.
Liv is a freelance journalist currently studying English at university. She loves covering everything from entertainment and politics to lifestyle and travel. As well as writing for My Imperfect Life, Liv has bylines in The Times, HuffPost, Den of Geek, Bustle The Metro and The Bookseller.