'Sex/Life' star Margaret Odette spills on season 2 of the steamy Netflix hit
Margaret Odette, who plays Billie's BFF Sasha Snow, gives us an inside look at the sexy drama's second season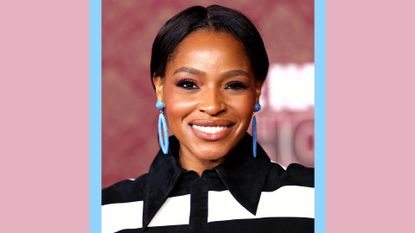 (Image credit: Monica Schipper/Getty)
Sex/Life got social media talking with its first season, giving us the love triangles, steamy sex scenes and incredible female empowerment storylines we were desperate for after the pandemic.
The Netflix show, which is very much a reflection on whether or not women can have it all, follows suburban mom Billie Connelly (Sarah Shahi) as she begins to realize that the life she's currently living may not be the life she wants. It leads to her getting caught up in a love triangle between her husband Cooper (Mike Vogel) and her ex-boyfriend Brad Simon (Adam Demos), as Billie begins to reminisce and journal about her wild past spent in New York City with Brad and her best friend Sasha Snow (played by Margaret Odette).
Sex/Life season 2 has had fans waiting for almost two years to find out the result of that season one cliffhanger. But as the second season shows, nothing is as simple as we hope it to be. We get a deeper look at other characters' lives in the series, including Sasha, who has a much bigger role this time around as she embarks on finding her own happiness while still being an independent woman.
To get the scoop on what filming season two was like, her relationship with her co-stars and whether or not there will be a third season, we spoke directly to the actress behind Sasha Snow, Margaret Odette.
Margaret Odette talks 'Sex/Life' season 2:
Q: Hi Margaret! How was it playing Sasha this season and how did it differ from season one?
A: Oh boy, playing Sasha in season two sometimes felt like entering an entirely different world because she's really going on quite a different journey that I couldn't have anticipated. In season one, she's incredibly independent and proud of it and relishes in that she has this insatiable sexual appetite that she's unapologetic about and she manages to get exactly what she wants out of men and out of her professional life. So when they decided to give her a love interest that completely derails her sense of independence, it definitely was like, 'Well, what are we going to do with this? How are we going to get into this because it requires a different level of vulnerability and a different level of, well, risk.' And I mean, that both as the actor and as the character.
Vulnerability is something we often discuss when talking about love, but sometimes we're like, "Oh, I don't want to sacrifice my independence," that kind of came across with Sasha this season.
Absolutely! What's really wonderful about season two is, in season one, a lot of the past scenes are really about them partying and having this really free and liberated life. But in season two, when we encounter [Sasha] in the past, we're getting to know what her relationship with her grandmother is like, and how foundational that is to her, to how she moves to the world and what she identifies as success. We're also seeing that she had this life-altering, dreamy whirlwind love experience with Kam and how once she made the decision to close that off, she kind of closed off a big part of her heart, and rightfully or wrongfully decided that inviting that kind of love in would be a direct threat to her success forever. And so what I love about the journey she goes on is really understanding and learning that the lessons that got her to the character we meet in season one are no longer serving her, or they've reached their capacity to give her the greatest sense of fulfillment and happiness. Now she's got to take on some new risks and, and let the love in, in a way that she can't control.
The scenes with Sasha's grandmother were so powerful, particularly the one early on in the season where her grandmother comes to tell her, 'Love is great but why are you sacrificing your dreams for them.?' Were those scenes to film your favorite?
Goodness, favorites are always so hard for me because I just really love coming to set and getting the opportunity to live my dreams out loud. But I will say one of the most curious aspects of filming season two is that on my first day of filming it included sex scenes with two of the different actors from the season. One of them happened to be Cleo Anthony and we had yet to actually meet in person at that point. We'd only engaged in the table reads which were all virtual because we filmed season two during the Omicron wave of the pandemic. So, yeah, my first time meeting him was about 12 hours before we filmed our very first sex scenes together, and then a week later, we actually hung out and went on a "date" to get to know each other properly. I wouldn't say it's necessarily my favorite experience, because I would never want to begin the process with someone doing a sex scene if I don't have to. But it certainly worked out far better than my nerves could have imagined.
Actors always say how weird it is to film sex scenes and this show features a lot of them. So how do you navigate that?
That was something that was quite a shocker to me coming into season two because, in reflection, I kind of got off pretty easy with season one. So I was definitely surprised by the love interest in Kam, and also by the number of other partners Sasha samples throughout season two. I was definitely hitting the gym more than I probably ever have in my life. But thankfully, we have a wonderful intimacy coordinator Casey [Hudecki], who worked with us in both seasons one and two. She really allows us to be collaborative in the process of building out the sex scenes so that they really are communicating what we want in terms of how this particular moment of sex is moving the character from wherever their mindset is now to the next scene and also making sure we feel safe. One thing that she introduced this season that I found really wonderful, especially as the body doesn't know that it's not doing real intimate things. So to create that disconnect at the end of each of our days Casey had us develop our own ritual. So we did a very silly chest bump at the end of any day where we were doing an intimacy scene to come back to Margaret and Cleo.
And how was it working with Cleo, who is such a great addition to the cast?
Well, you know, it sucks that he didn't look any more attractive than he did because boy! No, Cleo was a tremendous scene partner and I felt so lucky to have to act to be able to share a story of healthy reciprocal Black love. I don't think that there could be too many stories of that in the television or in the cinematic landscape and so it was such an honor to bring that to our show this season.
I think people will look back on Sasha Snow and realize how revolutionary she is. This is a woman who's Black, who knows she's Black, but it's not her whole identity. Then to see her being free in her sexuality, did you just feel this is so different from what we've seen before?
Absolutely. From the moment I first read the first script for Sex/Life, I was really taken by how different this character was from anything I'd seen portrayed as a Black woman. In having conversations with Stacy [Rukeyser], our showrunner, I was very clear and she was on the same page with me about the fact that it was important that Sasha Snow wasn't a stand-in for every Black woman. That really informed why we had such fun with her hair, and wardrobe because that's, I think, how a lot of black women who are successful and who have the capacity choose to show up in this world. We incorporated a lot of designers of color because I felt that that's something that Sasha, at the level of success that she is, would absolutely be considering and making sure to be putting into the palate of how she presents herself in this world. I always say Black girl magic is a beautiful thing, except that it's not the entire thing. We're also just Black girl humans who are vulnerable and who need love and support and nurturing and care and get scared. We have the full range of emotional experiences that anyone else does on this planet. And so that was very important to me that we found as many ways to express that and I think by having her have this all-consuming love experience in season two, you get to see more of those colors tease out in her character arc.
And just seeing her just have experiences that we've seen white people have on TV for years, having all these choices between a great career and a great man and really being conflicted about which to choose.
I'm now remembering what one of my favorite experiences was on set, which was when I read the scene where she was going to run through the airport, and leap into the arms of her man, I was like, 'What?! I'm gonna get to help this insane rom-com style moment!' I dream of moments like that and I haven't seen something like that in a movie or a TV show before. It's so fun, it's so fantastical, but also so real.
Last season, people criticized Billie for not being a good friend to Sasha. Did you feel that?
My girlfriends are my soulmates and friendships have been the bedrock of my life. That is exactly how I feel about Billie and Sasha. And, you know, they've had this long relationship together, and they've seen each other at their absolute lowest and at their absolute best and the only way that happens is if it gets a little squirrely in the middle sometimes, but that is the thing about their friendship is that it is unwavering. I'm grateful that Stacy has written a female friendship and a female bond that goes beyond kind of that kind of catty petty interpretations of you do this one thing that I don't like, and now we can't be friends forever. That's just never going to be Billie and Sasha story. I think the reason people say, 'Sasha's such a terrible friend, how could you ever sleep with him and Billie's terrible,' she doesn't do this or that. I think that's just because they recognize themselves in those experiences and it really hits a little too close to home for people and that's exactly where we want to be when we're creating art, right? We want to be tapping into some indelible truth, even though it's in this heightened fantastical way.
I love watching Billie and Sasha together, but do you think there'll be a season three? Do you think there's more to that journey?
I think that there's more to their journey, regardless of if it winds up happening in season three, or just how the characters live their lives in the ether. But whether or not there will be one is totally going to be up to the viewers and their response and if they do, when we get to season three, I'll be there!
Catch Margaret Odette in Sex/Life season 2, now streaming on Netflix.
Liv is a freelance journalist currently studying English at university. She loves covering everything from entertainment and politics to lifestyle and travel. As well as writing for My Imperfect Life, Liv has bylines in The Times, HuffPost, Den of Geek, Bustle The Metro and The Bookseller.