Will there be a Sex/Life season 2? Here's everything we know so far
Crossing your fingers for Sex/Life season 2? You're certainly not the only one!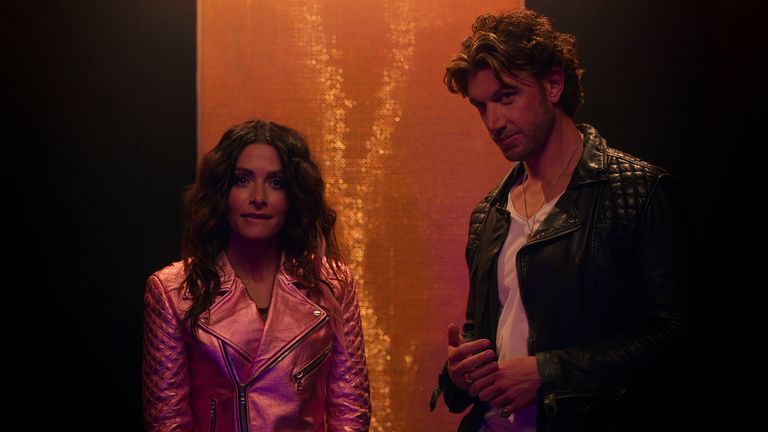 (Image credit: Courtesy Netflix)
Sex/Life season 2? It has to happen, right? Netflix can't possibly deny us now, especially after all we've been through. 
If you can't get enough of the steamy series—and still can't get over that jaw-dropping third episode of season 1—you're likely anxious for Billie's story to continue. (We're in the same boat.) Read on for everything we know about the next chapter in this raunchy tale. 
*WARNING: Season 1 spoilers ahead!*
Will Sex/Life season 2 happen?
It's somewhat difficult to say at this point, but we're fairly confident that the hit series isn't quite finished yet. (Fingers crossed!) Currently, there isn't any news about the continuation of Billie's story, but given her controversial choice to pursue love with her ex Brad (an on-screen romance made even more epic by the fact that actors Sarah Shahi and Adam Demos are dating in real life!) rather than her husband, Cooper (Mike Vogel), one would think the writers still have plenty of steamy scenes up their sleeves. 
Regardless of how the story plays out, should Sex/Life season 2 come to fruition—which we're all for—lead actress Sarah Shahi is mainly focused on Billie's evolution. 
"I really do hope the emphasis stays on Billie as this independent woman going out and fulfilling her desires, no matter what they are or who they're with," the actress told E! News. 
She continued: "For me, what it comes down to is having the guts to say I want more and going after that. And that doesn't make you a bad parent to want that. You can still be a wife and a mom and be a sexual goddess at the same time."
The rest of Billie's story
Although we can't guarantee anything yet, what we can do is provide you with your next fun beach read. If you're wondering, "Is Sex/Life based on a true story?" good news: It's inspired by BB Easton's memoir, 44 Chapters About 4 Men. The accidental memoirist hit the romance novel scene with her 2016 hit, and fans could not have been more grateful. 
Easton, the real-life school psychologist, was adjusting to late-night feedings with her baby by reading. After snagging a copy of the infamous Fifty Shades trilogy, she began to pen her own journal of past love, filled with enough bad-boy tropes to fill a bookshelf (which she ultimately did). Like Billie, BB's husband uncovers the journal and thus, the sexy memoir-turned-TV-series came to be. (Though the Netflix writers have taken liberties with the material and each medium has its own originality.) 
44 Chapters About 4 Men by BB Easton | $15
A school psychologist adjusts to life as a wife and new mom by keeping a sexy journal of her past love lives. But what exactly happens when her husband finds out about her new creative endeavors? 
View Deal
You'll want to hold onto your hats: the escapades continue with a spinoff series with four entries—Skin, Speed, Star, and Suit—each dedicated to a lover from 44 Chapters.
Looks like we'll be plenty busy until Sex/Life season 2 comes out. Hint, hint, Netflix! 
Danielle is a news writer for woman&home and My Imperfect Life. When she's not working, you can find her experimenting with new recipes or sitting on the couch with a good book and a cup of coffee.