Everything you need to know about masturbating during your period—and why it's a great idea
If you've considered masturbating on your period, our guide will fill you in on all the benefits and best ways to ensure minimal clean-up when you're done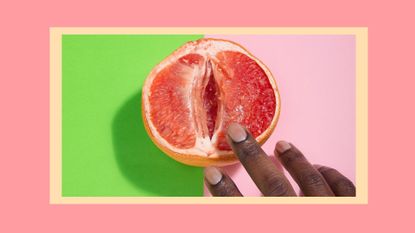 (Image credit: Getty)
Did you know that masturbating on your period is not only normal but totally safe to do? Sure, it gets a little messy, but period orgasms are worth every minute of the clean-up.
Masturbating during that time of the month is surprisingly common, and there's no reason for your cycle to hold you back if you feel the need for a release. As with ordinary masturbation, you can do it alone with finger action and mental stimulation, or you can do it accompanied by one of the best app-controlled vibrators—in fact, many such toys are designed to handle all sorts of lubrication, including period blood (as long as you clean the gadget afterward. (Check out our "how to clean sex toys" handbook for expert guidance.)
But if you feel you need a little bit of direction around the do's and don'ts of masturbating on your period, look no further—we're here to explain why it's so satisfying, and how to keep things clean.
Masturbating on your period: is it safe?
First, let's address the elephant in the room: yes, if you masturbate on your period, it can get messy, but that blood is neither harmful nor dirty. Period blood is clean and harmless, and you can't hurt yourself if you masturbate during menstruation. Masturbating during periods is a healthy and normal activity, so don't let your monthly cycle stop you from enjoying a sensual moment.
Second, masturbation is fun and a healthy way to achieve an orgasm if you feel yourself getting aroused during your periods—as women often do due to increased blood flow. A little solo play is an excellent way to relieve that sexual tension.
What are the benefits of masturbating on periods?
Of course, an orgasm is enough of a benefit to convince us to masturbate during our menstrual cycles. But did you know that it can come with a whole other host of benefits that you may find particularly helpful whilst experiencing your monthly bleed?
It can relieve period cramps—masturbating is an excellent way to relieve the pain and discomfort that come with periods. When you masturbate to orgasm, your body releases dopamine and serotonin, which act as natural pain relievers. You might also be interested in finding out about the best sex positions for menstrual cramps, too, if your partner is keen to get involved.
It improves your mood—periods often come with mood swings, which can obviously make you feel anxious, sad, and angry. Masturbation reduces stress by stimulating the release of endorphins. At the end of a great solo session, you'll likely feel happier, more relaxed, and with enough happy energy to carry through your period (or at least make it more bearable).
It improves your sleep quality—if you struggle with sleep during period discomfort, masturbation is the panacea you didn't know about. When you have an orgasm, your body produces oxytocin and vasopressin, reducing stress and making you sleepy. Also, masturbation is a cardiovascular activity. If you're completely engaged, you'll likely feel tired afterward, and go straight to sleep.
It's fun!—simply put, arousing and stimulating yourself to the point of orgasm is fun. You get to fantasize and please yourself as you wish. It's an excellent way to enjoy your body even when you don't feel your best, as many of us don't during our period.
How to address mess if you masturbate during your period
Period blood, and the risk of getting it all over bed sheets or carpets, is likely the biggest deterrent for people who are keen to masturbate during periods. However, there are several tricks you can use to keep things comfortable without a lengthy clean-up afterward:
1. Wear a tampon
A tampon is an excellent and healthy way to prevent bloody messes and enjoy your masturbation session. Simply slide a tampon in to absorb the blood that will flow as you masturbate.
You won't be able to insert any, or as many, fingers but you can still stimulate the clitoris with a tampon inside you, and relax safe in the knowledge that any blood will be absorbed instantly.
2. Use menstrual cups
Menstrual cups are a great eco-friendly alternative to tampons or pads and will hold the blood before it leaves your vaginal cavity. This means that you can lie down, stand, and sleep—and masturbate—without any blood escaping. Menstrual cups are an excellent way to hold the blood in as you masturbate, though once again, you won't have the complete reign of your vulva and will be slightly restricted in your movements.
3. Focus on external stimulation
If you prefer to stay away from your intimate area during your period, you can create arousal in other areas. Focus on your breasts (nipple orgasms can be fantastic), butt, skin, and, of course, your brain for stimulation. Touch your skin, inner thighs, and caress your body. Play a little dress-up as you stimulate yourself while wearing lingerie. There are no rules when masturbating, except to have fun.
And obviously, the mother of all organs when it comes to satisfaction is the clitoris, which happens to be located outside of your body, and as such, away from any period blood. Hyper-focus your attention on the clit for powerful orgasms. Using all different types of vibrators can come in handy here, as they will direct targeted stimulation on your clitoris, while you relax and focus on the rhythm.
If you're worried about getting your toys stained, try placing a condom on them before inserting them into your vagina. Alternatively, you can keep some wipes or toy cleaners nearby for when you're finished.
4. Do it in the shower
If you're feeling anxious about masturbating on your bed or couch, you could always hop into the shower for a hot and steamy session. The water clears the blood as it flows, so you don't have to worry about cleaning up, and often showering in hot water while you masturbate can make things feel extra intimate. Your partner could even join you for shower sex during your periods, without the risk of making a mess.
Just remember to play around with the angles and lubricate well. While the water will clean the blood away as it flows, it also removes lubrication, which can create friction. Friction can be especially painful if you're using toys whilst masturbating, so go gentle!
5. Or, lay down a towel or throw
If you just want to lay on your bed or sofa and enjoy the moment, have a dedicated period towel or throw to absorb the blood. Use dark colors to avoid staining, and make sure it's thick enough so that even on your heaviest flow, nothing will seep through. This way, you can avoid worrying about your sheets while still enjoying masturbating on periods.
This is also a great way to address sex during your period, allowing you to enjoy time with a partner whilst bleeding.
Finally, don't be afraid to get blood on your hands, fingers, and body. Period blood is completely normal, and embracing it is liberating. There's no reason not to get it on during your period!
Christina Izzo is the Deputy Editor of My Imperfect Life.
More generally, she is a writer-editor covering food and drink, travel, lifestyle and culture in New York City. She was previously the Features Editor at Rachael Ray In Season and Reveal, as well as the Food & Drink Editor and chief restaurant critic at Time Out New York.
When she's not doing all that, she can probably be found eating cheese somewhere.