Who are Maya Jama's parents? Everything we know about the 'Love Island' host's family life
Wondering who Maya Jama's parents are? Here's a glimpse inside the 'Love Island' host's personal life...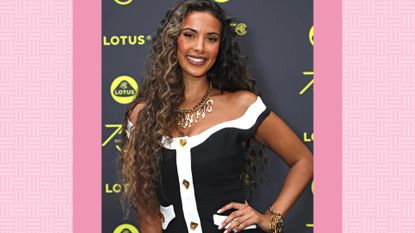 (Image credit: Dave Benett/Getty Images for Lotus)
Maya Jama has had a pretty eventful summer, hosting Love Island for the second time (here's how to watch Love Island UK on repeat if you missed it) and *reportedly* reuniting with her very famous ex. So it's natural that we're all a little bit curious about the rest of the 29-year-old's personal life; so who are Maya Jama's parents?
It's safe to say that Maya's career is seriously on the up and up (as is her style, if her iconic Maya's Love Island outfits are anything to go by!) Her role as the host of the ITV dating show is arguably her biggest gig to date, and she's also recently made the cover of British Vogue—meaning the TV star is definitely going places. But of course, with such success also comes plenty of public interest too, with fans speculating over Maya's boyfriend situation—especially surrounding her's and Stormzy's relationship. And that's before we get onto the curiosity about her family life, away from the glitz and glam of the showbiz world.
So, while we patiently wait for Love Island's winter 2024 series to see Maya front and center on our screens yet again (we know, we've still got a fair few months), here's a glimpse into the bombshell host's life IRL—including all the deets on her parents, as well as the difficulties they have faced as a family...
Maya Jama's parents: who is Maya Jama's mum?
Maya Jama's mum is Sadie, and as far as we can tell, is one of the closest people to her! Doing the math, she is around 47 years young and of Swedish descent.
Sadie had Maya at the age of 18, and the pair are thought to be thick as thieves, with Maya occasionally posting pics of her on Instagram, and Sadie often supporting her daughter at work. Maya even confessed to the Evening Standard that she reckons the smaller parent-daughter age gap has brought them closer over the years.
Maya explained: "She had me at 18, so our relationship was a bit different. I rebelled less because I was quite free.
"My mum's always been like, 'I want you to have your experiences—just tell me. I'm not going to judge you or shout at you.'' SO cool.
However, she did admit that sometimes Sadie takes the 'cool mum' vibe a *bit* too far. She hilariously confessed: "She's banned from my parties though. She gets too drunk."
Continuing on the cool mum theme though, Maya recently shared the cutest glimpse into her childhood by taking to Instagram to share her first experience at Glastonbury—when she was a baby!
The carousel saw Maya attending the iconic festival with her mum, and her mum's friends, having an absolute ball. She captioned the post: "First Glastonbury with the girlies 😅 Not gna lie I can't wait to have a mini an bring them around festivals tied to my back 😂💃🏽."
And it seems like the pair have continued that tradition recently, as Maya and her mum attended the Notting Hill Carnival; where Sadie was even seen dancing on a rooftop!
The pair were in matching camo outfits, and looked more like pals or sister than parent and child!
Back in 2020, the pair gave another insight into Maya's childhood as both Maya and her mum appeared on the talk show All Around to Mrs Brown's, where Sadie spoke about how her daughter was always destined for the spotlight.
"She's always been an entertainer. We knew she was going to be in this industry from the minute she was born. She used to sing herself to sleep. Couldn't shut her up!" she said.
Reportedly, Maya's mum named her after the legendary American writer and civil rights activist, Maya Angelou. Maya also has a younger brother too, Omar, who she was raised with, though he doesn't seem to have much of a public profile.
Who is Maya Jama's dad?
When it comes to Maya Jama's parents, the host and presenter has shared that she has had a much trickier relationship with her dad Hussein, who she explains was in and out of prison when she was younger.
Maya (and her father) have been pretty open about his difficult past, sharing that he was incarcerated multiple times during her childhood, due to violence-based crimes.
In an interview with The Guardian, Maya revealed that she stopped seeing her dad at the age of 12, and had no contact with him up until recently. The pair reconnected when Maya fronted a documentary in 2017 about growing up with a violent father, meeting up in person for the first time in decades.
In the interview, Maya reflected on visiting her father in prison as a child. She said: "I remember me and my brother being put into the back of the car with a blanket for a long journey, and then we'd get searched by dogs on the way in and then talk to my dad across a table.
"There were sweets in the car, and it was a day out. It was only as I got older that I realized my friends' families weren't like mine, that they had dads who were around, not dads who were in prison."
During her recent cover interview with British Vogue, Maya shared that she cut contact with her father when she was just 12 years old. She explained: "I was just old enough to kind of gather my own opinion."
The interviewer then shared that she did the same thing with her own father at around the same age, prompting Maya to explore how this decision they both made has affected relationships in later life.
Maya asked the interviewer: "Can I ask you a question? One of my really deep friends who goes to therapy said that she thinks the reason why I'm so able to cut off relationships with certain people is because I cut off one with my dad at such a young age. And having that experience is like, if I can cut off my own blood, it's easier to cut off people now as an adult. Do you think that?"
Despite the difficult relationship, Maya has been keen to emphasize that she still had plenty of brilliant male role models growing up. In an interview with Marie Claire, she said: "When I was 10, my mom met my stepfather and he is the loveliest man.
"So I got to see a loving relationship, which I think is what can affect young women growing up without a dad—not experiencing love first-hand and seeing how a healthy relationship should be. Dad wasn't around, but I had all the love I needed from elsewhere."
During her interview with The Guardian, she also revealed that she had lots of support from her dad's family, too, in his place.
"I never felt unloved; my childhood was as good as it could have been," she said. "There was no lack of love, and my dad's brother was around so there was a male presence."
Amy Hunt is a lifestyle writer and editor, and was previously Lifestyle Channel Editor at womanandhome.com, having been with the brand since 2015. She is passionate about everything from entertainment to books, to homes, food and wellness. When she isn't editing, researching or writing articles, he's busy burying her nose in a gripping thriller, practising yoga, or buying new homeware.