Who are Maya Jama's parents? Everything we know about the 'Love Island' host's family
Wondering who Maya Jama's parents are? Here's a glimpse inside the 'Love Island' host's personal life...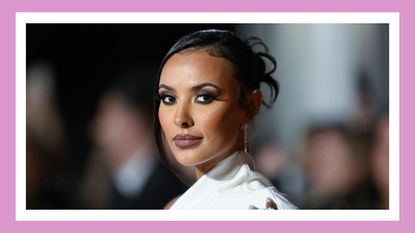 (Image credit: Getty Images: Gareth Cattermole)
With Love Island 2023 officially back on our screens, you might be wondering about the glamorous host, Maya Jama's personal life outside of the villa. So, here's everything we know about Maya Jama's parents and family...
Returning for her second round of hosting the iconic ITV dating show, it's safe to say Maya's career is on the up and up. While Love Island is arguably her biggest gig to date, she's also hosted a range of radio and TV shows, including The Circle, and her own program on Radio 1. But with public success also comes plenty of public interest too, with fans speculating over Maya's boyfriend situation—especially surrounding her and ex Stomzy—not to mention all the curiosity around her family life away from the glitz and glamour of the showbiz world.
So, while we prepare to be floored by each and every one of Maya Jama's Love Island outfits, here's a glimpse into the bombshell host's life IRL—from her parents, as well as the difficulties they have faced as a family...
Maya Jama's parents—who is Maya Jama's mum?
As far as we know, Maya Jama's mum is one of the closest people to her in her life. Her mother's name is Sadie, she's 46 years young and of Swedish descent. She had Maya at the age of 18 and the pair are thought to be thick as thieves—with Maya occasionally posting pics of her on Instagram. She even confessed to the Evening Standard that she reckons the smaller parent-daughter age-gap has brought them closer over the years.
Maya explained, "She had me at 18, so our relationship was a bit different. I rebelled less because I was quite free.
"My mum's always been like, 'I want you to have your experiences—just tell me. I'm not going to judge you or shout at you.'' SO cool.
However, she did admit that sometimes Sadie takes the 'cool mum' vibe a *bit* too far. She hilariously confessed, "She's banned from my parties though. She gets too drunk."
Back in 2020, both Maya and her mum appeared on the talk show All Around to Mrs Brown's, where Sadie spoke about how her daughter was always destined for the spotlight.
"She's always been an entertainer. We knew she was going to be in this industry from the minute she was born. She used to sing herself to sleep. Couldn't shut her up!" she said.
Reportedly, Maya's mum named her after the legendary American writer and civil rights activist, Maya Angelou—and what a great legacy that is!
Maya also has a younger brother too, Omar, who she was raised with, though he doesn't seem to have much of a public profile.
Who is Maya Jama's dad?
Out of Maya Jama's parents, the host and presenter has had a trickier relationship with her dad Hussein, who she explains was in and out of prison when she was younger.
Maya (and her father) have been pretty open about his difficult past, sharing that he was incarcerated multiple times during her childhood due to violence-based crimes.
In an interview with The Guardian, Maya revealed that she stopped seeing her dad at the age of 12, and had no contact with him up until recently. The pair reconnected when Maya fronted a documentary in 2017 about growing up with a violent father, meeting up in person for the first time in decades.
In the interview, Maya reflected on visiting her father in prison as a child. She said, "I remember me and my brother being put into the back of the car with a blanket for a long journey, and then we'd get searched by dogs on the way in and then talk to my dad across a table.
"There were sweets in the car, and it was a day out. It was only as I got older that I realised my friends' families weren't like mine, that they had dads who were around, not dads who were in prison."
Despite the difficult relationship, Maya has been keen to emphasise that she still had plenty of brilliant male role models growing up.
In an interview with Marie Claire, she said, "When I was 10, my mum met my stepfather and he is the loveliest man.
"So I got to see a loving relationship, which I think is what can affect young women growing up without a dad—not experiencing love first-hand and seeing how a healthy relationship should be. Dad wasn't around, but I had all the love I needed from elsewhere."
During her interview with The Guardian, she also revealed that she had lots of support from her dad's family, too, in his place.
"I never felt unloved; my childhood was as good as it could have been," she said. "There was no lack of love, and my dad's brother was around so there was a male presence."
Amy Hunt is a lifestyle writer and editor, and was previously Lifestyle Channel Editor at womanandhome.com, having been with the brand since 2015. She is passionate about everything from entertainment to books, to homes, food and wellness. When she isn't editing, researching or writing articles, he's busy burying her nose in a gripping thriller, practising yoga, or buying new homeware.