Meet the 'Selling Tampa' cast, the stars of the 'Selling Sunset' spin-off
Move over 'Selling Sunset,' because the 'Selling Tampa' cast is here and they're promising to be your new obsessions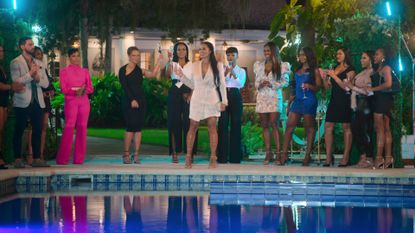 (Image credit: Netflix)
Netflix changed the game with Selling Sunset, a reality TV show all about high-moneyed real estate, and the streamer is set to do it again with the launch of a spin-off series, Selling Tampa.
Selling Tampa turns viewers' eyes to an all-Black female-led real estate brokerage in Tampa, Florida. At the helm of the luxurious Allure Realty is Sharelle Rosado, who is the brokerage's founder and CEO.
The official trailer for the series dropped a few weeks ago and it promised everything we could ask for: more glamorous houses, more drama and more incredibly stunning and fashionable realtors who are killing the game. Let's meet the new cast!
---
---
Meet the 'Selling Tampa' cast:
Where our #SunsetShawties at? Tap in. 💁🏽‍♀️Selling Tampa is coming December 15th, only on Netflix pic.twitter.com/OwtwMeNjywNovember 30, 2021
See more
The Selling Tampa cast includes brokerage owner Sharelle Rosado and fellow realtors Juawana Colbert, Alexis Williams, Anne-Sophie Petit-Frere, Colony Reeves, Karla Giorgio, Rena Frazier, and Tennille Moore. And we have all the information you need to know about them.
1. Sharelle Rosado
Sharelle is a girl boss personified. Her background as a former United States Army paratrooper gave her the skills to further her career as an entrepreneur. She's a mother, fiancé, and CEO who inspires other women to go after their goals because not only is she a broker but she's also a consultant to other real estate professionals, "sharing how technology can improve their businesses"
She opened Allure Realty in 2019 in Tampa Bay with a mission to mentor and empower minority women.
In the show, viewers will see the 33-year-old expecting a beautiful baby girl with her fiancé, former NFL star Chad (Ochocinco) Johnson, who she met by sliding into his DMs, all while managing her flourishing brokerage.
2. Juawana Colbert
Los Angeles-born Juawana is Allure Realty's office manager. With a background in economic development and being brought along to the inspections of her grandfather's own apartment buildings, Juawana has become one of the brokerage's top real estate agents.
Juawana not only kills it as a real estate agent but also as a mother and a grandmother. (Speechless! Juawana, teach us your ways!) Her bio on the Allure website says "she can be found donating her time on various boards and civic organizations."
3. Alexis Williams
Alexis Williams is a full-time real estate agent who has "a reputation for tenaciously protecting her customers' interest." She is known for exceeding her customers' expectations and bringing peace of mind to sellers and buyers alike. When she's not putting her savvy negotiating skills to the test, she is spending time with friends, family, and traveling.
4. Anne-Sophie Petit-Frere
Born in Haiti, Anne-Sophie always aspired to be a real estate agent and while it took her a while to get there, taking jobs as a freelance makeup artist and property accountant, she has more than succeeded. The agent, who can seriously pull off "Ruby Woo" MAC lipstick, is now not only known for her ability to find clients the perfect houses, but also for speaking three languages (French, Haitian Creole, and English) and turning out fire makeup and fashion looks on Instagram.
5. Colony Reeves
Similar to Anne-Sophie, while it's obvious that a real estate agent is what she's supposed to be, Colony started out as a preschool teacher before her dad suggested she become a realtor. Colony was one of the first to join the brokerage and the first person to close a deal!
Like her boss, Colony aims to change lives through real estate as she told House Beautiful that she "understands the importance of wealth building and homeownership and is excited to inform others on these topics,"
6. Karla Giorgio
Born in Venezuela before moving to Orlando, Florida, in 1994, Karla has always been selling. She was known at school as "Karla with the snacks" because of her savvy entrepreneurial skills and started out selling cars at her father's car dealership at 16 years old, which is definitely to blame for her being a car connoisseur now.
7. Rena Frazier
Born and raised in Tampa, Rena knows the area like the back of her hand. She has an engineering degree from the University of South Florida and a law degree from Stetson University College of Law. Talk about impressive! Before she was hired by Sharelle to work at Allure Realty after getting her real estate license in 2018, the mother of four was a partner at a national law firm.
Her bio on the Allure website states that Rena has made it her goal to bring "the excitement back to buying, selling, and designing properties," by combining her background in real estate law, a knack for beautiful design, and love for Tampa Bay.
8. Tennille Moore
Tennille is another multitasking real estate agent, as not only does she sell houses to her clients but she is also the CEO of a credit repair business. Prior to working at Allure Realty, she worked as the chief legislative assistant for the Florida Senate.
When she's not making deals happen or being a mum to her three kids, you'll probably find her cooking.
Selling Tampa launches on Netflix on Wednesday, December 15.
Liv is a freelance journalist currently studying English at university. She loves covering everything from entertainment and politics to lifestyle and travel. As well as writing for My Imperfect Life, Liv has bylines in The Times, HuffPost, Den of Geek, Bustle The Metro and The Bookseller.