Mississippi abortion law 2021: What does it propose and what does it mean for Roe vs. Wade?
What you need to know about the Mississippi abortion law 2021, Dobbs v. Jackson Women's Health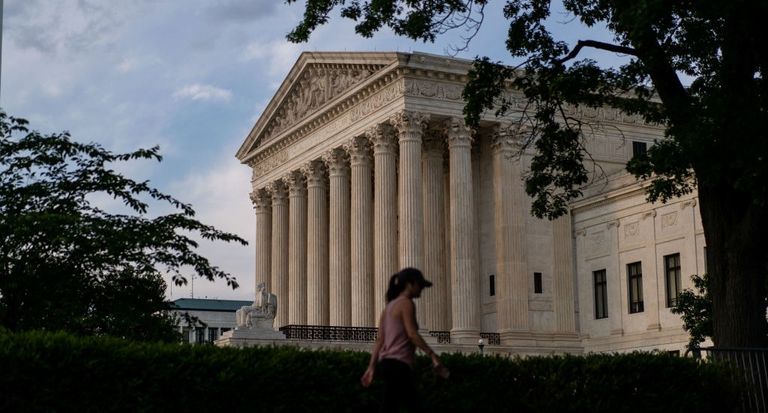 (Image credit: Kent Nishimura/Getty)
It's official: The Mississippi abortion law, 2021's highly contentious subject, will make its way to the Supreme Court of the United States later this year, as announced by the high court on Monday, May 17th.

Many suggest that Dobbs v. Jackson Women's Health, as the case is formally known, is an attempt from the court's conservative majority—including newest justice Amy Coney Barrett—to overturn Roe v. Wade, a landmark 1973 decision that grants women the right to access abortions legally across the country.

Although news of the Mississippi abortion law just broke, it is already dominating headlines nationwide and sparking disputes amongst political parties. We'll fill you in on what the Mississippi law actually entails, what to expect in the coming months, and what this means for Roe. v. Wade and women's reproductive rights.
The Mississippi abortion law 2021: What is it?
On May 17th, the U.S. learned that the Supreme Court will hear oral arguments in the Dobbs v. Jackson Women's Health case during its next term, which will begin in October. This comes after eight months of deliberation, according to The Wall Street Journal.
The Mississippi abortion law aims to make the termination of a pregnancy illegal after 15 weeks. It will fight to ensure that the medical procedure can only be conducted after 15 weeks in cases of medical emergencies or severe fetal abnormalities. According to NBC News, the Mississippi law does not include any exceptions for sexual assault victims.
15 week abortion ban: what does it mean?
Dobbs v. Jackson Women's Health aims to make abortion procedures illegal at 15 weeks after the start of a woman's last period before conceiving.
According to The New York Times, lower courts find this law to be unconstitutional under the statutes of Roe v. Wade. The 1973 ruling forbids states from banning abortions before fetal viability (when fetuses can survive outside of the womb), which is typically around 23 or 24 weeks, according to medical experts.
The Mississippi law argues that important physiological developments have been made around the 15-week mark and that undergoing an abortion after 15 weeks becomes riskier for women. The law also claims that fetuses have developed the capacity to feel pain at this time marker, says Forbes.
Supreme Court to hear abortion case: where do both sides stand?
Later this year, the Supreme Court will take on Dobbs v. Jackson Women's Health, which experts believe to be one of the biggest legal challenges to women's reproductive rights in decades.
Pro-life advocates—including Republican Mississippi Attorney General Lynn Fitch, who filed the appeal, reports The Wall Street Journal—believe the Mississippi law is a way to protect lives and promote women's health.
10 Gen Z voices we should be listening to during Women's History Month and beyond
Pro-choice advocates believe a law like this will force women to lose their rights to "bodily autonomy," per NBC News, and potentially continue with a pregnancy that could put them or the fetus in danger. Many also claim that adoption of the Mississippi abortion law would limit women's access to safe healthcare.
Three reasons why it's a safe bet to assume that the Supreme Court's five-justice hard-right majority is prepared to overrule Roe v. Wade next term: https://t.co/tQZelfl0v4 @SlateMay 17, 2021
See more
What does this mean for Roe v. Wade?
Dobbs v. Jackson Women's Health could potentially make abortion's legality vary state by state.
Jen Psaki, press secretary to President Joe Biden, states that POTUS is "committed to codifying Roe," though she did not offer more details on the Mississippi law at this time.
For updates on all things related to the Mississippi abortion law 2021, keep your eye on the SCOTUS blog.